Unearth This Materials ETF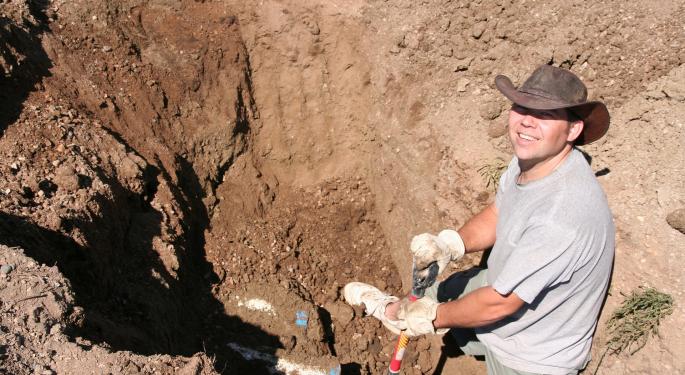 In what has been a banner year for the materials sector, plenty of the corresponding exchange-traded funds are delivering memorable performances. Somewhere between the solid showings offered by traditional materials ETFs and the spectacular returns offered by niche funds lies the SPDR Index Shares Fund (NYSE: GNR), which is up 30.3 percent year-to-date.
Digging GNR
GNR is not a small ETF — it has nearly $832 million in assets under management — but it does fly under the radar in the world of materials ETFs. GNR, tracks the S&P Global Natural Resources Index, which offers exposure to materials and energy stocks, a familiar tactic among many diversified natural resources ETFs.
GNR can hold energy, agriculture, and metals and mining equities.
"In order to better diversify the portfolio, the fund assigns equal weightings to each of the three sectors. This prevents it from tilting heavily toward energy stocks, which would receive larger representation in a market-cap-weighted portfolio," said Morningstar in a recent note.
Real assets should also be considered part of the inflation-fighting solution and that theme can be accessed with multiple ETFs, including GNR.
Valuation
Perhaps bolstering the case for energy stocks, is valuation. While the energy sector's price-to-earnings ratio is not overwhelmingly compelling by virtue of the group's contracting earnings, the sector's price-to-book ratio resides around multi-year lows. GNR allocates nearly 34 percent of its weight to the energy sector.
Holdings
Five of GNR's top 10 holdings are major integrated oil stocks, including Dow components Exxon Mobil Corporation (NYSE: XOM) and Chevron Corporation (NYSE: CVX), the two largest U.S. oil companies.
"Oil and U.S. natural gas prices have increased from depressed levels over the trailing 12 months through November 2016. Production growth in the United States, resulting from hydraulic fracturing, had previously flooded the market with supply, depressing prices. In response to weak prices, producers have reduced supply growth, while demand has strengthened. However, if prices increase, U.S. production could ramp up, limiting long-term price growth," added Morningstar.
Higher interest rates can benefit cyclical sectors, and as luck would have it, the Federal Reserve is targeting three interest rate hikes next year following one earlier this month. That could benefit GNR.
Geographic Exposure
U.S. stocks account for nearly 32 percent of GNR's lineup while the U.K. and Canada combine for about a quarter of the ETF's weight.
GNR "caps each sector's U.S. and emerging-markets exposure at 40 percent and 15 percent, respectively, and limits individual holdings to 5 percent of the total portfolio," said Morningstar.
View Comments and Join the Discussion!
Posted-In: energyLong Ideas Sector ETFs Commodities Top Stories Markets Trading Ideas ETFs Best of Benzinga