Vanguard Has Its Say In ETF Fee War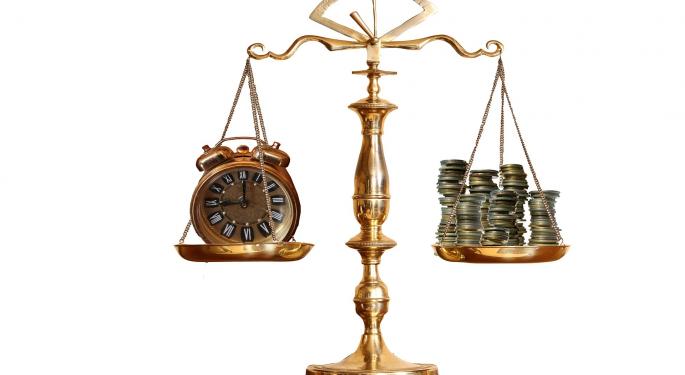 One of the primary reasons investors have embraced exchange-traded funds over the years is lower fees relative to actively managed equivalents. ETF issuers continue rewarding that faith with a "race to the bottom" outlook on ETF expenses.
Predictably, Vanguard plays a big role in the trend of lower ETF fees, and after a recent spate of fee cuts from rival issuers, the Pennsylvania-based fund giant is again making its low fee presence felt.
On Thursday, Vanguard, the second-largest U.S. ETF issuer, announced fee reductions on 35 mutual fund classes, including 11 ETFs. But before we get to that good news, there is some bad news ... sort of.
Fee Raise
Vanguard slightly raised the annual expense ratio on the Vanguard Health Care ETF (NYSE: VHT) to 0.1 percent from 0.09 percent. Fidelity, one of Vanguard's chief competitors, offers the ETF industry's least expensive lineup of sector ETFs.
Fee Cuts
The 11 ETF fee cuts unveiled by Vanguard include a significant portion of the issuer's fixed income lineup. All of the following saw annual fees reduced to 0.07 percent from 0.1 percent:
Three of Vanguard's mega-cap equity ETFs now sport annual expense ratios of 0.07 percent, down from 0.09 percent. Those ETFs are the Vanguard Mega Cap ETF (NYSE: MGC), Vanguard Mega Cap 300 Growth Index ETF (NYSE: MGK) and the Vanguard Mega Cap Value Index ETF (NYSE: MGV).
Fee Wars
"In 2004, when Vanguard managed $6 billion in ETF assets, the average expense ratio for Vanguard's ETFs was 0.22 percent. Today, Vanguard manages $593 billion in U.S. ETF assets. The average expense ratio of the firm's ETFs is 0.12 percent, or less than one-third that of the 0.53 percent industry average," said Vanguard in a statement.
Vanguard's latest fee cuts answer two such moves this year, including one this month, by rival BlackRock, Inc. (NYSE: BLK) and one fee reduction announcement by Charles Schwab Corp (NYSE: SCHW).
View Comments and Join the Discussion!
Posted-In: Long Ideas News Sector ETFs Bonds Broad U.S. Equity ETFs Specialty ETFs Markets Trading Ideas Best of Benzinga