Marvel At Momentum With This ETF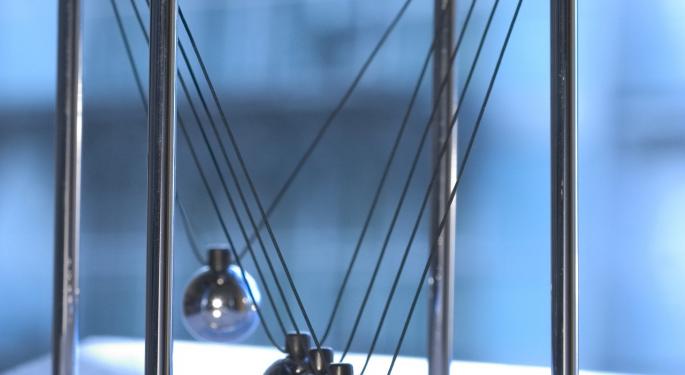 The momentum factor had its heyday, for longer than many expected, but in 2016, investors have overtly favored the low volatility, quality and value factors while momentum goes overlooked.
That does not mean the case for momentum and exchange-traded funds such as the iShares Edge MSCI USA Momentum Factor ETF (iShares Trust (NYSE: MTUM)) is dead. Actually, it can be argued that, at least in the case of MTUM, the case for momentum is showing some signs of life.
Mums The Word On MTUM? Not Any More
MTUM tracks the MSCI USA Momentum Index and there is little in the way of perceived momentum surprises in the ETF or its underlying benchmark. Investors should look elsewhere if they want an ETF heavy on telecommunications or utilities stocks. Likewise, because these sectors have displayed less-than-impressive momentum traits, MTUM offers only token industrials and materials exposure while holding no energy stocks.
"Momentum is also alive and well at the asset-class level. But, its ever-changing risk profile can make it difficult to implement. But because it is shifting across asset classes, the strategy's risk profile can change dramatically over time, which can make it difficult to put into practice. It is important to keep in mind that risk tolerance should be the primary determinant of asset allocation," said Morningstar in a recent note.
More surprising is that this is an ETF rooted in the momentum factor with a 16.6 percent weight to the healthcare sector, but just a few of MTUM's 123 equity holdings are biotechnology stocks and that quintet combines for an inconsequential percentage of the fund's weight.
More About Momentum
While momentum is an investment factor that can move in and out of favor quickly, investors have remained devoted to MTUM. The ETF is just three and a half years old and already has more than $1.8 billion in assets under management, $702.1 million of which has flowed into the fund this year.
"Momentum is a short-term phenomenon that has been observed in nearly every market studied. It likely arises from three behavioral biases: anchoring, disposition, and herding," noted Morningstar. "Modest adjustments to a simple ETF momentum strategy can reduce transaction costs and make it easier to profit from momentum in practice."
Although MTUM is not married to a particular sector or sectors, it does have some traditional momentum hallmarks as highlighted by its combined weight of 37 percent to technology and consumer discretionary stocks. Those are the ETF's two largest sector weights.
Posted-In: momentum momentum etfsLong Ideas Broad U.S. Equity ETFs Top Stories Markets Trading Ideas ETFs Best of Benzinga
View Comments and Join the Discussion!