Is Fitbit Stock A Buy?
Fitbit Inc (NYSE: FIT), the wearable technology devices company, has seen its stock face immense pressure since its IPO in June 2015. Whilst their health tracking devices have gained popularity over the past few years, rising competition from the likes of Apple, Nike and Garmin, threaten to diminish Fitbit's market share.
After falling about 59% below its IPO price and reaching a bottom of $11.65, the stock has come to attractive valuations. In fact, some long- term bulls have already picked up the stock, and it is now trading at $14.78. Regardless of the recent rally, the stock is still trading at a P/E ratio of 29.1, which is an attractive level for a young technology company with future growth potential.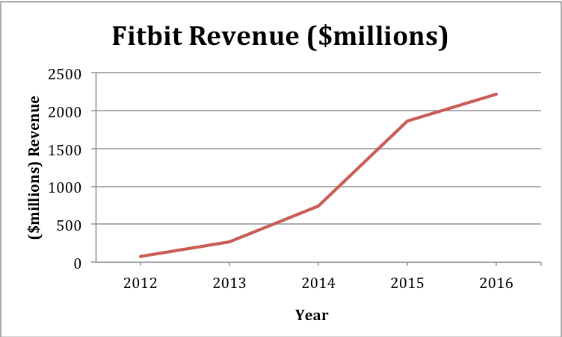 Whilst revenue growth has slowed down since 2015 due to rising competition, it is undoubtedly still growing at a fast pace. In fact, the tech stock currently has a favorable price-to-sales ratio of just 1.7, compared to a 1.9 ratio for the S&P 500. And as a pioneer of its industry, the company has tremendous brand recognition, which will allow it to retain its market share over competitors.
Though some analyst have expressed concerns over the fact that the firm is unable to translate high revenue growth into higher net income, due to soaring operating costs. The chart below demonstrates the trend in operating costs and net income since 2012.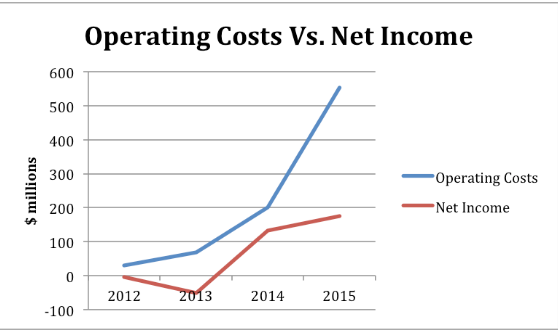 However, a deeper look into Fitbit's income statement reveals that a notable proportion of the rise in operating costs has been a result of soaring Research & Development costs, which has grown from $16 million to $150 million between 2012 and 2015, almost a 10x fold surge.
It is definitely normal for a growth company to have rising R&D expenses, as constant innovation is required to fuel future growth. So while net income may not be growing robustly at the moment, new innovations should help drive profit margins higher and maintain competitiveness over the long- term.
In fact, its latest innovations, Fitbit Blaze and Alta, have been greatly successful, contributing 54% to Fitbit's Q2 2016 revenue. The company also has notable customer loyalty, as 40% of those sales were by users of older Fitbit models.
Technical Indicators
Technical indicators are also favourable for the stock, at least at the moment. The monthly Williams %R for the stock is currently -92.25. A reading between -80 and -100 usually indicates strongly oversold conditions, so from this perspective Fitbit stock has been heavily oversold. This could be an encouraging sign to traders looking to pick up the stock.
The chart below shows the recent crossover of the 20-day and 30-day moving averages over the 50-day moving average, signalling that the bullish momentum will to continue.
Moving Averages Crossover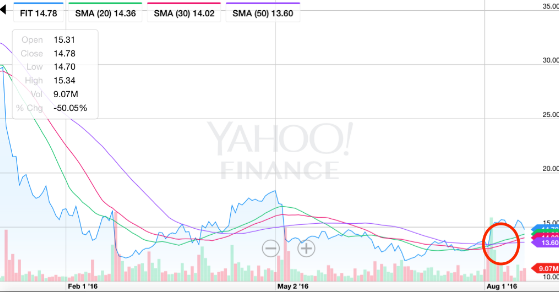 In fact, the stock's Average Directional Index is currently 47.89. A reading above 25 reflects strong momentum in the stock's movement.
Both fundamentally and technically, Fitbit appears to be a good buy at this price level. The tech stock has great growth potential through constant innovation, which will enable the firm to compete against rising competition and dominate market share over the long-term.
The author is currently long Fitbit.
Posted-In: Long Ideas Tech Trading Ideas
View Comments and Join the Discussion!