How Some ZIOP Buyers Got Screwed On Thursday Night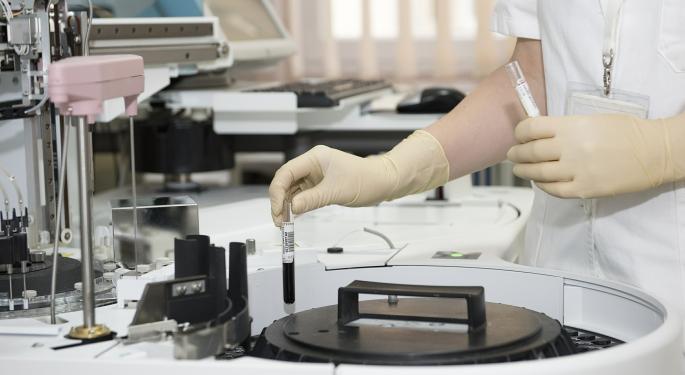 Shares of ZIOPHARM Oncology Inc. (NASDAQ: ZIOP) sold off hard Thursday afternoon after The Street's Adam Feuerstein tweeted that a funding attempt had been abandoned, and brain cancer patient had died after receiving an injection of the company's gene therapy drug.
But some traders looking to take advantage of the news with a quick short were unable to place their orders due to the alternative uptick rule. PreMarket Prep co-host Dennis Dick ranted about it on Friday's show.
What's The Alternative Uptick Rule?
The alternative uptick rule was reinstated in 2010 by the SEC. According to the rule, stocks are only allowed to be shorted above the bid. Essentially, it limits the ability for short sellers to short a stock by preventing traders from shorting by hitting the bid. When a stock falls 10 percent the alternative uptick rule applies for the remainder of that day and the next trading day.
What Happened Last Night?
In order to short, traders must post their offer above the bid. This can create a backlog of people trying to get short a stock when it's trading down. This was on display Thursday night with Ziopharm. Dick explained:
"If you look the previous day, Ziopharm went from $6.04 to $5.39, so it fell 10 percent. That means [during] yesterday's trade you could not hit the bid to get short. So [ZIOP] comes out with bad news. The stock wants to go down, but you cannot short it to get it down. So savvy traders are trying to short the stock, and if you look, it was actually a $5.39 bid. Everybody wants to hit the $5.39 but they can't. So you see the $5.40 offer just grow and grow and grow, and $5.40 has like 60,000 shares on the offer on all different exchanges because everybody's trying to get short, and the $5.39 is sitting there with like a 2,000 share bid."
Dick added that only natural sellers, or traders that own the stock, can sell the stock for a lower price tag.
"The only people that can sell it down, though, is a natural somebody who actually owns the stock because, like I said, the uptick rule applies and you can't hit the bid to get short. So what I see happen over the next 5-7 minutes is people are actually buying the $5.40 offer. They are lifting the offer of $5.40. About 10,000 shares lift the offer at $5.40."
He added that a lack of information misguided the traders that were lifting the offer.
"All those people are just uninformed. They don't realize the stock wants to price this new information but it can't price it in correctly yet because there's been no natural seller to come into the market here. It's after hours. There's not a lot of people watching that own the stock, and nobody that's a natural seller realizes that, 'Hey, I should be hitting that $5.39 bid.'"
"So then the $5.39 bid goes and gets hit, and then it's $5.30 bid, and then it's $5.31 offer because, again, you have to offer above the bid. So basically if it's a $5.30 bid you have to [offer] the $5.31 to get short. So then I sit there for another 5-7 minutes again. Then the $5.30's trade and it goes down to like $5.20, and the same thing happens--$5.21 offer for like 50,000 shares because everybody is trying to get short."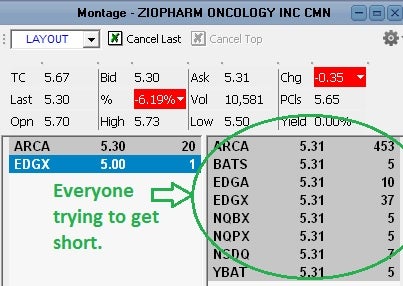 Why Some Traders Got 'Screwed'
Dick believes the uptick rule backstabbed any traders attempting to make moves in first few minutes following the news.
"Anybody lifting it in that 15-20 minutes that it took to digest this news because of the alternative uptick rule is getting basically screwed. They're buying a stock that wants to be lower. Is it really up to every retail trader to be watching the news ticker for information there? It would be better if the [stock] would be able to just price out to where it wants to immediately, but that alternative uptick rule was impeding the price discovery process.
"We have the alternative uptick rule, and I hate it. Bottom line, I think we should get rid of all the uptick rules."
Listen to Dick's rant at the 59:58 mark in the clip below. PreMarket Prep is a daily trading ideas show hosted by two veteran traders with a focus on technical analysis. You can catch it live every morning from 8-9:30 a.m. ET here, or listen to the podcast on iTunes, Soundcloud, or Stitcher.
Posted-In: Long Ideas News Education Short Ideas Markets Movers Trading Ideas Interview Best of Benzinga
View Comments and Join the Discussion!