Rent Vs. Own: This Chart Shows A Huge Gap In Housing
A decade after the height of the U.S. housing bubble, the impact of its collapse is still playing out in the U.S. market. The graph below shows how the percentage of Americans that own homes and the percentage of Americans that rent housing have changed since 2000.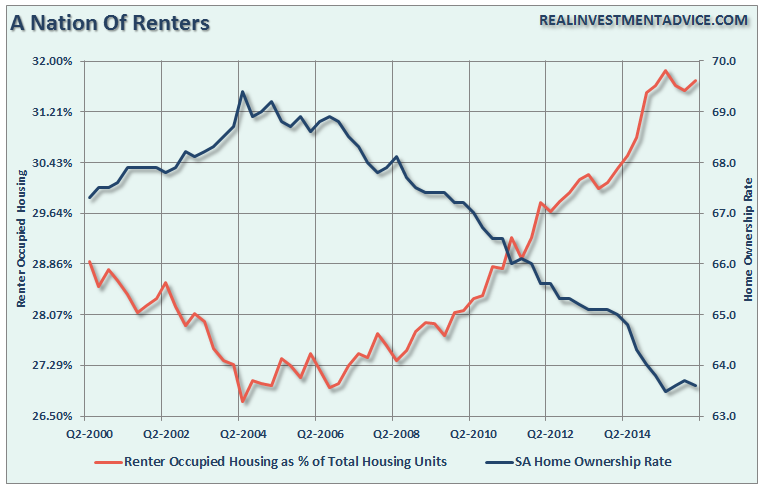 Home ownership rates peaked at above 69 percent in 2004 before beginning a steady decline that has continued into 2016. The home ownership rate now sits at just above 63.5 percent.
Renter-occupied housing, however, bottomed out at around 27 percent in 2004 and has since steadily increased to nearly 32 percent.
Even though the housing market has improved in recent years, the rising number of renters has driven up rental prices. From 2000 to 2014, rent prices rose about 3.0 percent, roughly doubling the 1.5 percent pace of inflation in that time.
Related Link: Growth In Home Improvement Sector Should Last At Least Another 3 Years
The housing bubble and its fallout still have many Americans leery of buying a house.
"We went through a wrenching experience with the biggest housing bubble and the biggest collapse since 1890," Nobel laureate and Yale economics professor Robert Shiller explains.
"This is an anxious time."
In the past five years, the residential rental REIT ETF iShares FTSE NAREIT Resi Index Fnd (ETF) (NYSE: REZ) is up more than 50 percent.
Disclosure: the author holds no position in the stocks mentioned.
© 2021 Benzinga.com. Benzinga does not provide investment advice. All rights reserved.
---