Google Self-Driving Cars Could Face More Legal Issues Than You Think, Barron's Says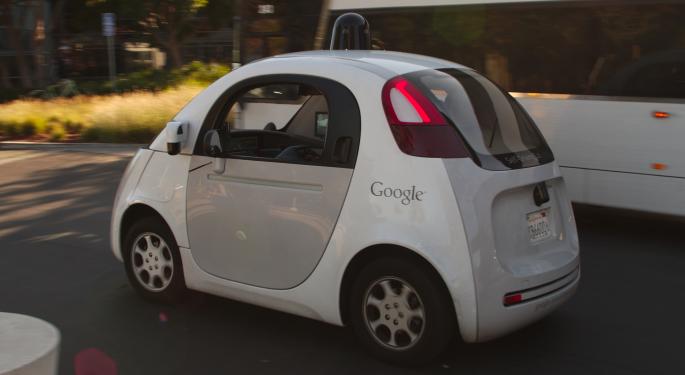 The first-ever accident caused by a self-driven Google (Alphabet Inc (NASDAQ: GOOG) (NASDAQ: GOOGL)) car shows it still needs some fine tuning and could even put regulators in a bind.
On February 14, a Google self-driven car had pulled toward the right-hand curb to prepare for a right turn. It then detected sandbags near a storm drain blocking its path, so it needed to come to a stop. After waiting for some other vehicles to pass, the vehicle, still in autonomous mode, began angling back toward the center of the lane and made contact with the side of a passing bus traveling at 15 mph.
"Our car had detected the approaching bus, but predicted that it would yield to us because we were ahead of it," Google said in its monthly report of its self-driving efforts.
Related Link: The Autonomous Car Market Is A $270 Billion Opportunity For Apple, Tesla And Google
"Our test driver, who had been watching the bus in the mirror, also expected the bus to slow or stop. And we can imagine the bus driver assumed we were going to stay put. Unfortunately, all these assumptions led us to the same spot in the lane at the same time. This type of misunderstanding happens between human drivers on the road every day," Google added.
Though no one was hurt, this event is a classic case of the limitations of a self-driven car and triggering debates over whether autonomous vehicles can really substitute human drivers and whether the existing laws are sufficient to regulate self-driving vehicles.
The Legal Side
Last month, the National Highway Traffic Safety Administration (NHTSA) told Google that its self-driving system could be viewed as a driver under existing regulations. There will be lots of questions like whether the occupant of Google's self-driving vehicle need to possess a license or what kind of policy should be followed if a Google car travels interstate.
"Insurers and regulators need to solve liability issues. Computers are unlikely to make mistakes, and eventually they'll talk to each other, conceivably eliminating the need for stoplights," according to a report from Barron's.
David Strickland, who served as NHTSA administrator from 2010 to 2014, told Barron's that innovations like electronic stability control and automated braking reached cars without any related regulation. The federal monitors oversee technology on a reactive basis, forcing recalls when necessary.
"It's going to be very difficult for the Department of Transportation and the NHTSA to issue a prescriptive, pre-market regulation for automated vehicles," Strickland said. "That's not what the agency does. But you will see, working with the states, some foundational expectations about how these systems should work."
Moving Forward
However, Google has admitted its mistake and said it would refine its software to avoid such issues in future.
"In this case, we clearly bear some responsibility, because if our car hadn't moved there wouldn't have been a collision. We've now reviewed this incident (and thousands of variations on it) in our simulator in detail and made refinements to our software. Our cars will more deeply understand that buses and other large vehicles are less likely to yield to us than other types of vehicles, and we hope to handle situations like this more gracefully in the future," Google said.
According to the latest monthly report, Google's self-driven vehicles have travelled 1,452,177 miles since the start of project in 2009, and averages around 10,000–15,000 miles per week on public streets.
Google said there are 23 Lexus RX450h SUVs currently self-driving on public streets: 14 in Mountain View, California; eight in Austin, Texas; one in Kirkland, Washington. There were also 33 prototypes currently self-driving on public streets: 26 in Mountain View, California, and seven in Austin, Texas.
Image Credit: By Michael Shick - Own work, CC BY-SA 4.0, Wikimedia
Posted-In: Long Ideas News Travel Legal Markets Tech Media Trading Ideas Best of Benzinga
View Comments and Join the Discussion!