How To Invest In The Global Shopping Explosion With The 'Retail Therapy' ETF
No matter where you are in the world or what time period you look at throughout history, there is at least one trend that is constant: people love to shop. The global retail business has undergone a major shift in recent decades with the emergence of new online retailers, and retailers now generate more than $22 trillion in annual revenue around the globe.
Become A Part Of The Retail Boom
While investors that missed the explosion in online retail in the past 10 or 20 years have certainly let an opportunity pass them by, it's not too late to invest in the future of retail. Boston Consulting Group projects that U.S. consumption alone will grow by $2.6 trillion between now and 2020. In addition, the firm projects an additional $2.3 trillion in consumer spending growth in China and $1.6 trillion in spending growth in India, all within the next five years.
If you're looking for a way to capitalize on this consumption growth, Stash's "Retail Therapy" ETF, more commonly known as the SPDR S&P Retail (ETF) (NYSE: XRT) might be worth a look.
The ETF is nicknamed "Retail Therapy" because it includes shares of 100 of the world's leading online and offline retailers of travel services, cars, fashion, home furnishings, food, electronics, entertainment and more.
Which Companies Are Included?
Many of the companies included in "Retail Therapy" are household names in the retail business because we all buy their products and services every day. Top holdings include Amazon.com, Inc. (NASDAQ: AMZN), which sells virtually any product imaginable via its massive online retail marketplace. In fact, Amazon generated more than $107 billion in revenue in 2015 alone.
Another top holding in the fund is Pep Boys – Manny Moe & Jack (NYSE: PBY), which sells auto products and services to millions of Americans.
Not all of the "Retail Therapy" holdings are about products, however. The explosive growth in top holding Netflix, Inc. (NASDAQ: NFLX)'s streaming video service helped make the stock the biggest gainer in the entire S&P 500 in 2015.
Returns
How good of an investment is "Retail Therapy"? Let's just say that Netflix isn't the only stock that has been a big gainer in recent years. In fact, in the past five years, the fund has generated a 57.4 percent return, nearly 20 percent more than the S&P 500, according to Morningstar.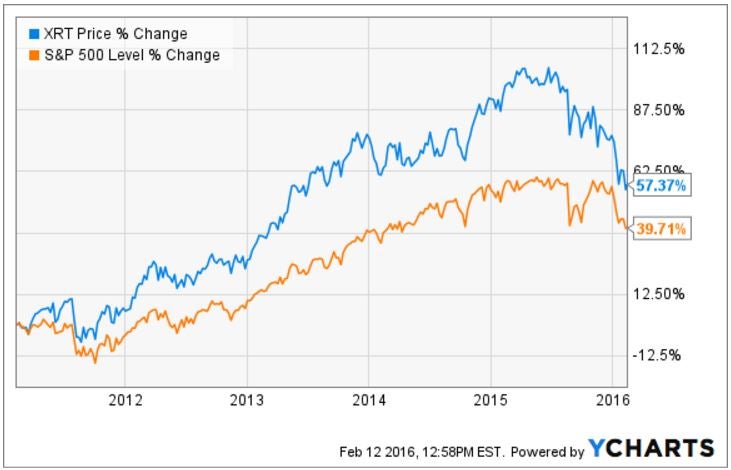 Takeaway
The "Retail Therapy" fund is one of the many "I Like" investments that allow investors to avoid hundreds of dollars in trading fees and invest in a wide range of stocks they believe in all at once by buying just one single ETF.
Disclosure: the author holds no position in the stocks mentioned. Past performance is not indicative of future results.
Posted-In: Retail Therapy StashLong Ideas Trading Ideas
View Comments and Join the Discussion!