How One Interview Moved Sunedison Down 30%
Sunedison Inc (NYSE: SUNE) shares fell by 30 percent on the first half of trading on January 12, before rebounding to close the day down 8 percent. The crash came after commentary from Axiom analyst Gordon Johnson told Benzinga's PreMarket Prep morning show that he was concerned about Sunedison's ability to survive the calendar year.
After reducing its debt by $738 million in January, some Sunedison shareholders viewed the move as a good thing. Johnson disagreed. "I think this deal makes me more cautious on the company's ability to make it through 2016," he said on the Premarket Prep broadcast. "Given the number of deals and the type of deals that they've done…if they're unable to sell those projects, I don't know how much longer the equity can last."
Here's a visual of how shares reacted to Gordon's commentary, first reported on the Benzinga Pro Newswire.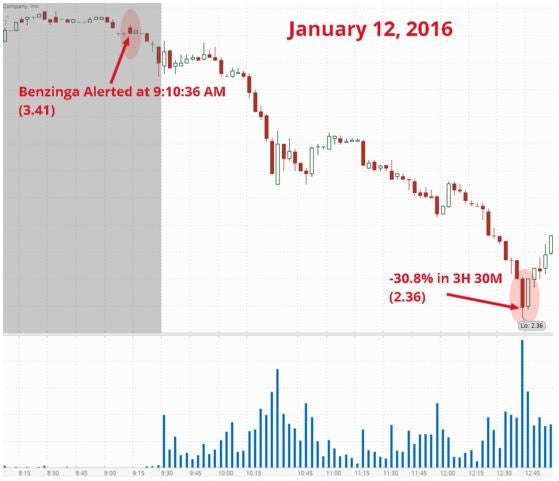 Thus far, the financial information given by Sunedison doesn't provide enough details to analyze the future of the company, Johnson added. "We would argue those assumptions [made by bulls] are not founded in reality, it's founded in your biased views."
The Story Isn't Over
After the initial Benzinga report, Bloomberg, TheStreet and ValueWalk picked up Johnson's commentary. Avondale analyst Michael Morosi also said the stock is still worth $7.00.
Keep an eye on Benzinga Pro for more market-moving commentary from Sunedison analysts and be the first to act.
© 2021 Benzinga.com. Benzinga does not provide investment advice. All rights reserved.
---