Does ESPN's Recovery Lie In China?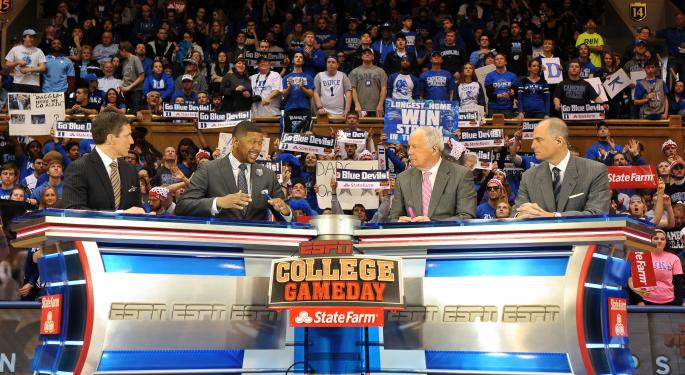 Walt Disney Co (NYSE: DIS)'s ESPN has some exciting developments ahead, on the back of some disappointing subscriber numbers out late last year.
In November 2015, Walt Disney released information that over three million subscribers were "lost." According to a regulatory filing, as paraphrased in MarketWatch, "The ESPN faithful are down to 92 million as of the fiscal year ended Oct. 3." This drop is reminiscent of the customer numbers from a decade ago, when ESPN subscribers came in at 92 million; in the midterm, the sports network saw 99 million in 2013 and 95 million in 2014.
Following the subscriber drop, Disney shares experienced a related drop in share price. However, not all news has been bleak for Disney. For Q4 fiscal 2015, the company may have upset on the revenue end, but did post a profit increase of 7.3 percent. Placed within a larger context, at the time of the announced subscriber drop, shares of Disney were up 26 percent year-to-date; as of February 3, Disney is essentially flat year-over-year with a 0.72 percent dip.
Related Link: Disney's ESPN Subscriber Numbers Concern May Be Overhyped
The Exciting News Ahead
While the tale of the tape looks more like one of the Mouse's amusement park rollercoaster rides, the story is still developing for Disney, and ESPN in particular.
According to ESPN Media Zone, ESPN will collaborate with China media mogul Tencent. "The groundbreaking agreement builds on Tencent's vast user base across the globe and ESPN's expertise in sports content creation," the report stated.
What To Expect
"Tencent's live sports coverage and digital products in China will now feature exclusive Chinese-language (Mandarin) ESPN content," according to ESPN Media Zone.
The content will be a conglomerate of original and local content
Fans can expect an emphasis on NBA and international soccer coverage
Tencent's NBA coverage will feature on-site ESPN experts, beginning at the 2016 NBA playoffs
Fans won't miss out on March Madness, "Tencent will also license from ESPN the exclusive, live digital rights in mainland China to the NCAA Men's Basketball Championship Tournament […] more than 100 regular season college basketball games and the X Games," according to the report.
The hope of this endeavor is for Tencent to help ESPN initiate and build upon "its most significant digital presence ever in China."
Executive Vice President of ESPN International, Russell Wolff, commented, "We are thrilled to collaborate with one of China's most innovative companies, and our relationship with Tencent marks an exciting new era for ESPN's global business. This agreement will help us serve millions of Chinese fans and bring our coverage of basketball, international soccer and other sports to them like never before."
At time of writing, Disney was trading down 0.28 percent at $92.87.
Posted-In: ESPN ESPN Media Zone March MadnessNews Global Top Stories Markets Tech Best of Benzinga
View Comments and Join the Discussion!