'Kung Fu Panda 3' In Prime Position To Help DreamWorks Animation Maintain Momentum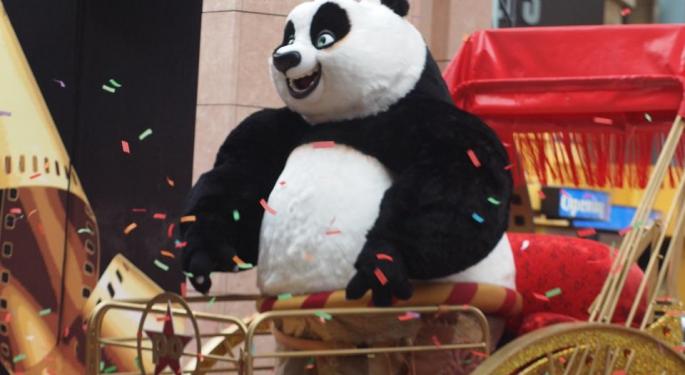 After a whiteout blizzard impacted the box office last weekend, theaters are expected to get a little busier in the coming days. Chief among those reasons is Dreamworks Animation Skg Inc (NASDAQ: DWA)'s "Kung Fu Panda 3."
The latest film in the "Panda" franchise will again feature an all-star voice cast toplined by Jack Black. In addition, Dustin Hoffman, Angelina Jolie, Jackie Chan, Lucy Liu and Seth Rogen will return joining newcomers J.K. Simmons and Bryan Cranston.
Banking On Those Snow Banks
"Panda" is expected to capitalize on the country's recent blizzard-induced case of "cabin fever." Early estimates have the movie opening at over $40 million, but that number could grow as the film marks the first real tentpole release of 2016.
Related Link: DreamWorks Makes FBR's "Top Picks" List On Netflix, "Kung Fu Panda 3" Outlook
Regardless of the depressed totals from last weekend , Wall Street would have had its eyes on the project. DreamWorks Animation is no longer the powerhouse it was when it had "Shrek" anchoring its slate. Recent releases (including "Turbo," "Mr. Peabody & Sherman" and "Penguins of Madagascar") have completely missed the mark.
The string of flops, distributed under a partnership with Twenty-First Century Fox Inc (NASDAQ: FOXA), forced DreamWorks Animation to completely revamp its release schedule, which resulted in just one new release last year.
Ironically, the film, "Home," ended up over-performing
with $54 million in opening week earnings. "Home" not only won the box office, but it beat out the Kevin Hart/Will Ferrell comedy "Get Hard" and knocked "Divergent" sequel "Insurgent" from the top slot at the box office.
DreamWorks Animation shareholders were obviously thrilled with the news, but many wondered if "Home" was a fluke.
'Panda' Has Potential
This weekend those same shareholders get their answer as "Panda" leaps into the mix. While $40 million is the projection, many believe that's on the lower end and we could see another surprising performance. It helps that "Panda" is the first mainstream film that could lure both kids and adults since last year's "Star Wars: The Force Awakens."
The other aspect of "Panda" investors are keeping an eye on is that the film has gone out of its way to lure Spanish and Mandarin speaking audiences. The film will screen in select cinemas with a special Spanish or Mandarin dubbed audio track – in some cases even with subtitles.
All this has combined to give the film a solid critical reaction (as gauged by Rotten Tomatoes) and enough pre-orders to top both "Home" and "Kung Fu Panda 2" according to Fandango.
While nobody is expecting the $60 million debut of the original, the pieces are in place for "Panda 3" to power up the box office.
Image Credit: By Walter Lim from Singapore, Singapore - Universal Studios Grand Opening - 28 May 2011Uploaded by Themeparkgc, CC BY 2.0, https://commons.wikimedia.org/w/index.php?curid=27379022
View Comments and Join the Discussion!
Posted-In: Long Ideas News Short Ideas Previews Topics Events Tech Trading Ideas Best of Benzinga