Head Of Fiat Explains How FCA Group Works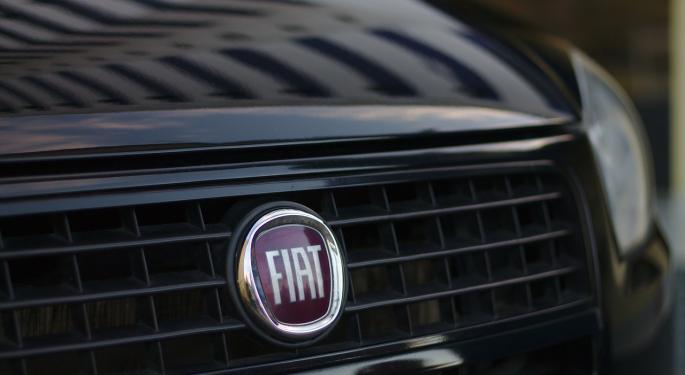 Benzinga partner Robb Report built a studio on the show floor of the 2016 North American International Auto Show, where host Katrina Szish had the chance to interview Olivier François, head of the Fiat brand and chief marketing officer at Fiat Chrysler Automobiles NV (NYSE: FCAU).
To kick off, Szish asked about the overall marketing strategy. What connects all of the members of the Fiat Chrysler Automobiles family?
The Fiat Chrysler Family
"We want to act as leaders. Hence, we are striving to be unique. Each of our brands has to be absolutely unique," François explained. His job as a CMO is to develop "a very unique persona, a personality, a way to behave and a way to look at the world" for each of these bands, he added. "Every brand has to stand for something different in order to connect to different customers."
Related Link: Rolls-Royce On Big NAIAS Unveil: It's The 'Sexiest' Car We've Ever Built
But, investments to develop a new car are massive, François continued. So, FCA tries to "communalize" its investments as much as possible – in order to make them rational. So, a gearbox or engine that's good for one particular car or brand (i.e., Alfa Romeo), can also fit another one of the brands in the company's portfolio (i.e., Fiat or Dodge).
"On the other hand, most of these cars are going to be sold in the same showroom… So, the worst thing would be to have our brands interchangeable; to have cross shopping. The last thing I want is to have my Dodge customer step in a showroom and start hesitating between a Dodge and a Chrysler… I want a Dodge customer to go purchase a Dodge, and I want the Chrysler customer to buy a Chrysler. Although the platform can be the same, although they might share some technologies, they have to have some specific, unique attitudes."
Disclosure: Javier Hasse holds no positions in any of the securities mentioned above.
Image Credit: Public Domain
Posted-In: Long Ideas News Topics Events Exclusives Tech Trading Ideas Interview Best of Benzinga
View Comments and Join the Discussion!