How To Play The Dollar's Whims In 2016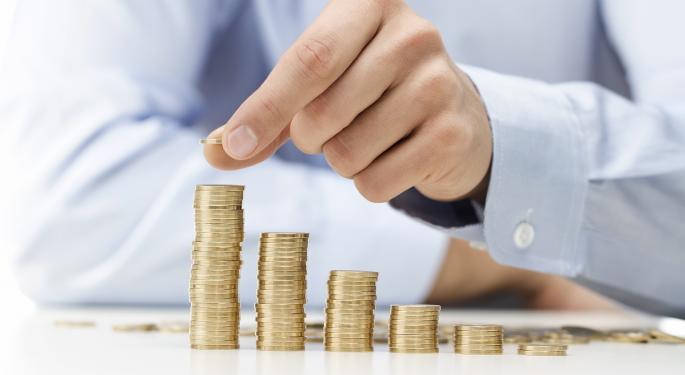 With the U.S. Dollar Index cruising toward a 2015 gain of more than 6 percent, it is safe to say this year has been kind to the greenback. Of course past performance is not a guarantee of future returns, but it is worth noting the typical dollar bull cycle lasts about eight years, meaning the U.S. currency potentially has a couple of more years of upside left.
That could to be fortuitous for the WisdomTree Strong Dollar U.S. Equity Fund (NYSE: USSD) while dollar retrenchment could be a boon for the WisdomTree Weak Dollar U.S. Equity Fund (NYSE: USWD). Both ETFs debuted earlier this year.
Dollar-sensitive industrial, consumer staples and technology stocks combine for less than a quarter of the USSD's weight. That's good news. The even better news is that domestic-dependent banks, utilities and healthcare names combine for 45 percent of the fund's weight. With banks and utilities, it is arguably obvious these sectors derive the bulk of their revenue from inside the US, but health care is a credible strong dollar sector, too.
Since the indexes USSD and USWD track were created, the former's constituents have sported superior earnings and revenue growth.
"WTUSSD was more than 6% and 7% higher, respectively, compared to constituents of WTUSWD. We believe constituents of WTUSSD, or companies that generate more than 80% of their revenue domestically, tend to be less impacted by a strong-dollar environment—they aren't focused on selling their goods and services abroad, and their import costs decrease with the rising purchasing power of the dollar," according to a WisdomTree research note.
USWD's top holdings include Apple Inc. (NASDAQ: AAPL), Amazon.com, Inc. (NASDAQ: AMZN) and Microsoft Corporation (NASDAQ: MSFT). Marquee names in USSD include Dow components Verizon Communications Inc. (NYSE: VZ) and Home Depot Inc (NYSE: HD) along with Wells Fargo & Co. (NYSE: WFC).
Attributable in part to the dollar's strength and the aforementioned superior earnings and sales growth, USSD's underlying index has recently traded at a premium to the S&P 500. Investors should also be mindful of the complexities faced by exporters in a strong dollar environment and those issues are not always immediately reflected.
"As the U.S. dollar strengthened, the ratio of exports over imports weakened. Historically, we found that the impact can have a lag of around 36 months, so if history is any guide, we may not have seen the worst impact on exporters yet. At WisdomTree, our base case is still for a strengthening U.S. dollar, which may provide a continued headwind to U.S. multinationals with global revenue, but, depending on investors' views, they can use the above Indexes to track the performance of either basket," adds WisdomTree.
Posted-In: Long Ideas News Broad U.S. Equity ETFs Currency ETFs Forex Markets Trading Ideas ETFs Best of Benzinga
View Comments and Join the Discussion!