Alibaba Buys South China Morning Post, Will Take Down Paywall And Make Content Free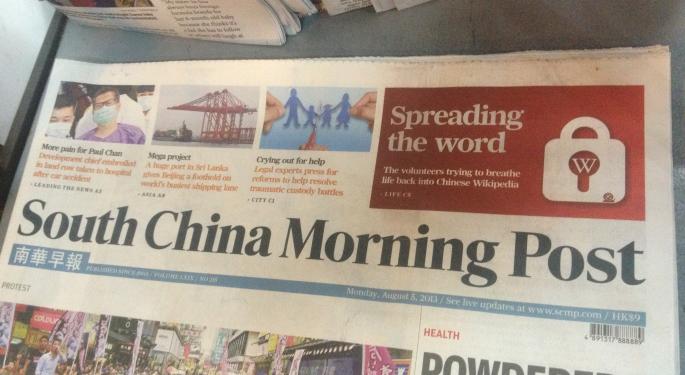 Shares of Alibaba Group Holding Ltd (NYSE: BABA) have lost nearly 20 percent since the start of 2015.
Alibaba confirmed on Friday its acquisition of the South China Morning Post media outlet.
The company cited the media outlet's "iconic status" in the region and "strong reputation" across the world.
Alibaba's founder and chairman, Jack Ma, was eyeing an acquisition of a struggling Chinese newspaper, the South China Morning Post (SCMP).
The acquisition was finalized and confirmed by the company on Friday. The question at the top of many investors' minds is simply why an e-commerce giant would acquire a struggling media outlet with an age difference between the two companies of nearly 100-years.
Alibaba answered that exact question in a public letter.
Related Link: Jack Ma Might Buy A Crucial Yet Struggling Chinese Newspaper
Alibaba's Public Letter
According to Alibaba's letter, the company doesn't see the traditional media space as being a "sunset industry." The company noted that the SCMP holds an "iconic" status in the region and a "strong reputation" across the world for its "quality and credibility of its journalism."
Alibaba continued in its letter that like many print media outlets, the SCMP indeed faces "challenges." However, the company believes that the SCMP could complement its business.
"We see a compelling business case for the acquisition because we believe that Alibaba is best positioned to take the SCMP to the next level," Alibaba wrote. "The foundation for this work must be the quality of the content. And what underpins this will be editorial excellence: a clear pre-requisite to maintaining readers' trust and, ultimately, achieving commercial success. Be assured, we get that."
"In other words, we see the perfect opportunity to marry our technology with the deep heritage of the SCMP to create a vision of news for the digital age," the company added.
Alibaba's Vision
Alibaba stated that the SCMP is "uniquely positioned" to report on China-based news with "objectivity, depth and insight" – all of which is in high demand by regions across the English-speaking world. To better inform the world of news developments within the second largest global economy, Alibaba will remove the pay wall on SCMP.com and offer free content to readers.
Alibaba further pledged to keep the news reporting "objective, accurate and fair," which implies "having the courage to go against conventional wisdom." In fact, the editorial decisions will be made by the newsroom and not in the "corporate boardroom."
Image Credit: Sebastian Wallroth [CC BY 3.0], via Wikimedia Commons
View Comments and Join the Discussion!
Posted-In: Jack Ma South China Morning PostLong Ideas M&A News Global Markets Trading Ideas Best of Benzinga