6 Winners Following A Rate Increase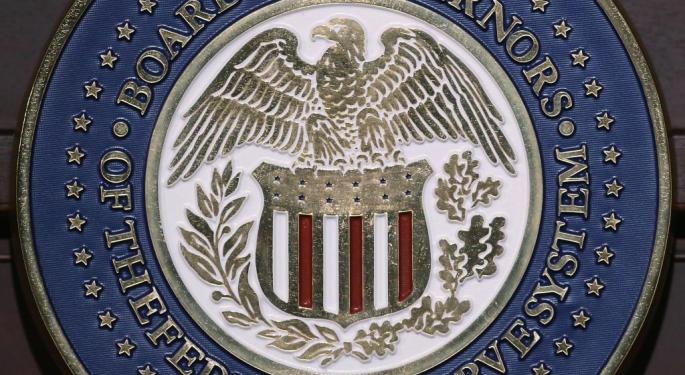 With most analysts betting on an interest rate hike in December, there has been a lot of chatter about the negative effects likely to follow. The U.S. Federal Reserve is widely expected to raise its base interest rate at its policy meeting next week, something that will pull the bank into uncharted territory. So far, no central bank has been able to sustainably raise interest rates after such a long period of accommodation, leaving the Fed up against more than a few naysayers.
Many believe that raising interest rates will hurt U.S. firms as it will make the greenback even stronger and will in turn make their products less competitive in the global market.
Others say the effects of higher interest rates will be felt by U.S. consumers, causing them to pull back sharply and stall economic growth.
The housing market may suffer with mortgages becoming more expensive, and emerging markets are expected to struggle with higher borrowing costs.
While there is a great deal that could go wrong following the Fed's rate hike, many believe market fears are overdone and argue that a hike is necessary. The Fed adopted ultra-accommodative policies when the Financial Crisis hit, and with that period firmly in the past, many believe it is time to get back to normal. The Fed has also promised to keep its pace of rate increases gradual, so as to give the economy time to adjust to a period of tightening.
Related Link: Top 5 Losers When The Fed Raises Rates
Like Winter, A Rate Hike Is Coming
Whether you believe a rate hike is a good idea, one thing is for sure: It's coming. If a rate hike doesn't happen in December, it will almost certainly take place in the coming year, so it's safe to say that traders need to prepare for what's to come. All of the negative consequences that come with a rate hike have been plastered all over newspapers for months, but here's a look at some of the biggest winners come a Federal Reserve rate increase.
Banks
The financial sector is plagued by a high percentage of variable debt, or interest payments linked to the Fed's interest rate, so many companies in this industry could be hard hit by the Fed's rate hike, as their debt payments will become more expensive.
However, banks are also some of the largest beneficiaries of a rate increase; the amount they charge borrowers is directly linked to the Fed's target rate. Banks typically hold a lot of U.S. debt as well, so the rise in U.S. Treasury bill yields and other American debt will also be to their benefit.
Another way U.S. banks will benefit from a rate hike is through increased confidence. Markets have been uncertain in recent weeks, as the Fed's meeting approaches, but many believe a rate increase is an overall good sign for the U.S. economy, indicating strength. A strong economy is good for banks because it means that private companies will spend on expansion, the financing for which they will obtain through banks.
Related Link: Corporate Bond ETF Ideas For A Rising Rate Environment
The Greenback
The dollar is expected to appreciate as the Fed raises interest rates. The U.S. currency has already been on the rise in recent days, as markets prepare for what they believe to be an imminent rate hike.
While some believe that the dollar won't skyrocket as much as expected, others say the current global economy has paved a path for the greenback to take off. Other central banks like the European Central Bank and the Bank of Japan are moving in the opposite direction by rolling out more accommodative policies, and they are expected to continue doing so in the year to come. That means their currencies are getting progressively weaker at a time when the dollar is set to rise.
While other factors go into exchange rate calculations, the majority of market participants agree that the dollar will gain momentum following a rate hike. That can be good or bad news, depending on your position. For tourism in foreign countries, a strong dollar is great news; it will persuade American travelers to visit. However, for U.S. multinationals, a stronger dollar cuts down on margins and makes their products less competitive.
Life Insurance Firms
Life insurance companies stand to benefit from a Federal Reserve interest rate hike, as they typically earn a large proportion of their income by investing their customers' premiums.
Most insurers look to the bond market for these investments, a space that has been battered in recent years due to the Fed's accommodative policies. While all types of insurers typically invest in order to make money, it is life insurers who stand to benefit the most from rising bond yields because of the length of time their policies are held for.
The insurers aren't the only ones who will benefit from the rate increase either. Consumers will also find life insurance plans coming down in price, as insurers are better able to mitigate their costs and increase margins without raising premiums.
Quality Investments
There is much discussion over whether traders will benefit from the Fed's rate hike plans. While many are preparing for a market correction, others say that wise investments will continue to make money despite uncertainty. This is especially true for well-established companies with strong financials and low amounts of debt.
Goldman Sachs put together a list of what it deems to be "High Quality Stocks," stocks the company believes will continue to perform come the Fed's rate hike. Topping the list with a quality score of 95 out of 100 was Priceline Group Inc (NASDAQ: PCLN).
The information technology space appeared to be one of the most resilient industries with five firms receiving scores above 90. The most appealing IT firm was Internet giant Alphabet Inc (NASDAQ: GOOG) (NASDAQ: GOOGL), followed by MasterCard Inc. (NYSE: MA) and Cognizant Technology Solutions Corp (NASDAQ: CTSH).
Other firms that received scores over 90 included Dollar Tree, Inc. (NASDAQ: DLTR), O'Reilly Automotive Inc (NASDAQ: ORLY) and Apple Inc. (NASDAQ: AAPL).
Savers
A rate increase is expected to be a negative for the U.S. public in that it represents a shift in monetary policy from "easy money" to more expensive borrowing. That means things like credit card debt, student loans, auto loans and mortgages will all become progressively more expensive, as the bank slowly continues increasing its target rate in the coming years.
However, it won't be all bad for everyone; savers and those with low debt could actually benefit from the Fed's interest rate hike.
At the moment, savings accounts are paying out very little interest to customers because banks are struggling to eke out profits due to low rates. Once the Fed begins raising rates, banks will see larger margins and will be better able to pass those higher rates on to customers.
Most analysts agree that it will take time for consumers to reap the benefits of the Fed's rate increase; many banks will likely hold off on passing the higher rate down for as long as possible in order to beef up their profits.
Related Link: Jobs Report May Have Cinched Fed's Rate Raise
The Fed
A successful interest rate increase would definitely be a major win for the U.S. Federal Reserve, as the bank's main objective has been to help support the U.S. economy. There was much debate over whether the bank's easy-money policies would pay off, and a rate hike illustrates there has been economic improvement – the bank's overarching goal.
Many also believe ending the ongoing market speculation about when the bank plans to raise rates will ultimately be good for traders, as it will take away some of the volatility that has come ahead of each FOMC meeting for the past year.
On the other hand, the bank could be in for a rude awakening if its rate hike plans are not well received. Some say the Fed's rate hike scheme will end badly and disrupt the nation's economic progress since the Financial Crisis. In this case, the bank would probably have to lower rates again, but it would have very few options at its disposal if more damage control needs to be done.
Posted-In: Long Ideas Short Ideas Topics Top Stories Economics Federal Reserve Markets Trading Ideas Best of Benzinga
View Comments and Join the Discussion!