5 Tech Trends To Watch In 2016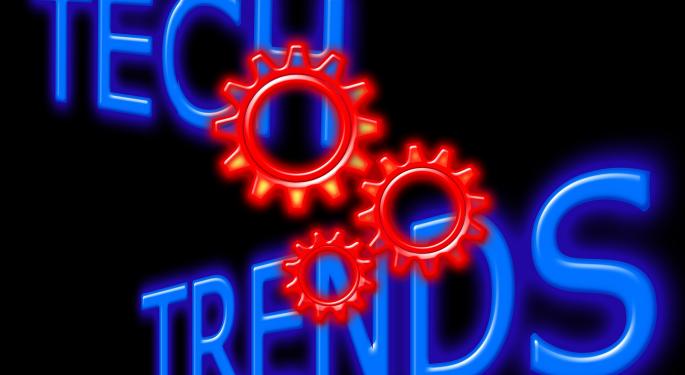 Tech is an ever-changing landscape that has provided investors and venture capitalists with an unending supply of "next big things."
Over the past decade, Internet use has completely upended the way most companies do business and built an entirely new industry based on connecting people with each other. Now, with the tech space overflowing with new startups and great ideas, many investors are wondering where to place their bets in the year to come.
Here's a look at five tech trends to watch in 2016.
1. The Internet Of Things
Connected devices are expected to become a huge part of the future in the coming year as more companies work to give appliances, automobiles and even lightbulbs an Internet connection.
The idea of connecting several aspects of life and being able to control them with the click of a button has grown in popularity, leading many to look into services like Hive, a system that remotely controls a home's heating system. On a larger scale, some cities are beginning to plan major overhauls that will allow residents to track things like real-time traffic and pollution levels and give planners the ability to regulate energy usage by installing remotely controlled lightbulbs and monitoring building conditions.
Related Link: More Connections Means More Security
Where To Look
There are a wide variety of companies participating in the shift toward a more connected world. One firm that has been at the forefront of connected technology is International Business Machines Corp. (NYSE: IBM). The firm recently unveiled an IoT "starter pack" that allows users to take readings from the environment using sensors attached to the device. The kit can be used on a small scale, for homeowners, or in a much larger capacity by a city planner.
Cisco Systems, Inc. (NASDAQ: CSCO) is another interesting play, as the company has also begun working on smart city planning involvement. The company has already agreed to provide automated solutions that connect important city functions in major places like Barcelona and Hamburg.
2. Wearables
Wearable technology took off in 2015 when Apple Inc. (NASDAQ: AAPL) entered the space with the highly anticipated Apple Watch.
Competing products like Jawbone's UP and FitBit's activity trackers also saw a rise in popularity as more consumers began to focus on living a healthier, active life.
However, just because this year was a big one for the wearables market doesn't mean the opportunity to jump on board is over. Many believe that wearable technology is still in its infancy and that new and improved devices will help the trend expand even further.
At the moment, the idea that a smartwatch can do things like direct a wearer to the correct grocery aisle is novel, but many believe that the technology will expand to do even more impressive things in the future.
Related Link: Research And Markets: Wearables Generating The Next Wave Of Personal Finance Experiences
Where To Look
The obvious pick for wearable devices is Apple, as the company has established itself as a leader in new consumer technology. The Apple Watch arguably put wearable devices on the map this year, and many believe that new versions due out in the coming months will attract even more fanfare.
However, for investors looking even further into the future, companies like SAMSUNG ELECT LTD(F) (OTC: SSNLF) and Intel Corporation (NASDAQ: INTC) may be good bets.
Samsung has developed a new line of circuit boards that are about the size of postage stamps, making them ideal for use in things like fitness trackers. The company is expected to use the boards in its own line of products, as well as selling them on to other firms interested in using them in wearables or connected appliances.
Intel similarly created a bite-size computer chip that the company believes will make an impact on the wearables market. The firm says that watches are only the beginning of the trend and that its computer chips could be used in clothing designed to track the wearer's biometrics.
3. Big Data
It should come as no surprise that big data will remain a huge part of corporate strategy in the coming year. The advent of cloud computing has given companies the ability to pull together and analyze huge data sets in order to run their business more effectively. Everything from comparing best practices to analyzing medical conditions has benefitted from improvements in data analysis, and that practice is only expected to become more commonplace in the coming year.
A study conducted by the analyst firm Gartner showed that over 75 percent of companies are planning to invest in big data over the next two years. Gartner researchers said the research's findings illustrated big data research itself is becoming the norm among most companies as they work to improve things like customer experiences and cut down on costs.
Related Link: Harte Hanks Launches Data Refiner Platform
Where To Look
When it comes to big data, companies like Amazon.com, Inc. (NASDAQ: AMZN) have a massive advantage, because the volume of customers using their service to shop, watch movies and listen to music has created a valuable store of data allowing for more accurate targeted marketing.
However other companies like International Business Machines and Microsoft Corporation (NASDAQ: MSFT) also offer interesting investment opportunities, as those firms offer services that allow companies to make better use of their data collection by mining and analyzing customer data. So far, IBM appears to be a leader in this industry, as the firm offers developers and businesses a popular suite of products to help them manage big data.
4. 3D Printing
3D printing is a controversial tech trend that some say has been over-hyped during the past few years. While that may be true, 3D printing technology has come a long way recently, and many believe that 2016 could be its breakout year.
The technology has proven most useful in specific capabilities, such as providing replacement parts for machinery or helping engineers create scalable models. However, new use-cases for 3D printing have started to crop up, leading many to believe that the industry will continue growing in the New Year.
NASA has said that 3D printing technology could prove useful on missions into space; the devices have already been used to print tools for astronauts aboard the international space station. 3D printing technology has also changed to allow for printing bio-materials, something that could revolutionize medical testing.
Related Link: Add 3D Printing To Your Portfolio With These Stocks
Where To Look
Investors who are interested in tapping into the 3D printing space often look to firms like Stratasys, Ltd. (NASDAQ: SSYS) or 3D Systems Corporation (NYSE: DDD).
Stratasys has been a market leader in the 3D printing space, as the company has already sold and installed thousands of devices that generate a steady revenue from replacement sales. 3D Systems has a much smaller reach, but the firm offers a wider variety of printers that are able to cater to several different industries – something that could give the firm a leg up as more and more businesses see a need for 3D printing technologies.
5. Cybersecurity
With the pace of technological innovation rapidly increasing, the need for security has risen dramatically. A spate of high-profile hacking attacks and data leaks over the past year has raised awareness among both consumers and CEOs of the importance of a comprehensive security program.
Consumers are using the Internet for everything from banking transactions to controlling their heating system, and the growing number of connections means threats to companies' databases is rising as well.
Related Link: Adding Some Volatility To The Cybersecurity ETF Trade
Where To Look
When it comes to investing in cybersecurity, there is a plethora of options. For investors looking to benefit from increasing interest in cybersecurity on the whole, an ETF like PureFunds ISE Cyber Security ETF (NYSE: HACK) could be a good play. The fund tracks a range of different companies and gives investors exposure to the industry as a whole.
For a more targeted route, some investors are looking into companies like NXP Semiconductors NV (NASDAQ: NXPI). NXP is the company responsible for the security behind Apple Pay, making it a valuable investment for those who see interest mobile payment ballooning over the next year.
Image Credit: Public Domain
Posted-In: Fitbit Gartner HiveLong Ideas News Markets Tech Trading Ideas Best of Benzinga
View Comments and Join the Discussion!