This Chinese Internet Portfolio Surged 6X More Than The S&P 500 Over The Past Month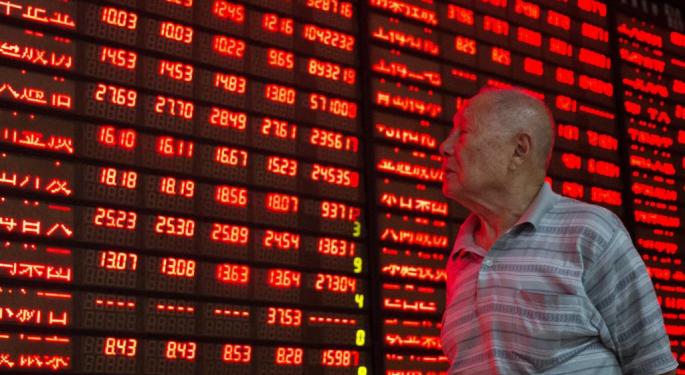 Motif Investing constantly looks for "trends, ideas and world events that could create an investment opportunity."
They then picks 10 to 30 related stocks to build portfolios around, weighing them based on their exposure to the coinciding idea, event or trend.
Among the site's portfolios with highest returns, investors can find one composed by U.S.-listed Chinese Internet companies.
Despite the very low penetration rate of the Internet in China, the country already has the largest Internet market in the world. However, room for growth is still huge. So, how can investors capitalize from this?
China Goes Online
As experts at Motif noted, the Chinese Internet market is mostly dominated by local companies. Users shy away from Google search, and they use Baidu Inc (ADR) (NASDAQ: BIDU) instead. In fact, Baidu has a 91 percent market share in mobile search.
Related Link: Fatten Your Bank Account With This Junk Foods Moderate-Volatility Portfolio
"China's online advertising market reached $11 billion in 2012, up 46.8 percent over 2011 and is expected to grow further. China has already surpassed the U.S. as the world's largest market for smartphones and by the end of 2013 it is expected to be twice the size of the U.S. market," Motif added. All of this has many investors looking East for increased profits.
Performance And Allocation
The China Internet motif was the best performing motif over the last month, having returned 17.6 percent versus the S&P 500's 2.86 percent surge. Over the past year, the portfolio returned roughly 5.5 percent, versus the S&P's 1.76 percent rise.
In terms of allocation, 31.5 percent of the portfolio's assets are placed in Internet portals, 30.4 percent in e-commerce sites, 24.8 percent in gaming companies, 10.6 percent in social networking stocks and 2.7 percent in subscription networks.
As for individual stocks, the top companies in this portfolio in terms of allocation are:
20.5 percent: NetEase Inc (ADR) (NASDAQ: NTES)
19.9 percent: Baidu Inc
10.4 percent: Vipshop Holdings Ltd - ADR (NYSE: VIPS)
7.0 percent: Ctrip.com International, Ltd. (ADR) (NASDAQ: CTRP)
5.8 percent: Weibo Corp (ADR) (NASDAQ: WB)
5.0 percent: JD.Com Inc(ADR) (NASDAQ: JD)
3.3 percent: Changyou.Com Ltd (ADR) (NASDAQ: CYOU)
3.3 percent: Sohu.com Inc (NASDAQ: SOHU)
3.3 percent: 58.com Inc (ADR) (NYSE: WUBA)
3.1 percent: Momo Inc (ADR) (NASDAQ: MOMO)
2.7 percent: SouFun Holdings Ltd (NYSE: SFUN)
2.7 percent: Tuniu Corp (NASDAQ: TOUR)
Disclosure: Javier Hasse holds no positions in any of the securities mentioned above.
Posted-In: Motif InvestingLong Ideas Emerging Markets Top Stories Markets Tech Trading Ideas Best of Benzinga
View Comments and Join the Discussion!