10 Firms Looking To Use The Force To Boost Their Bottom Line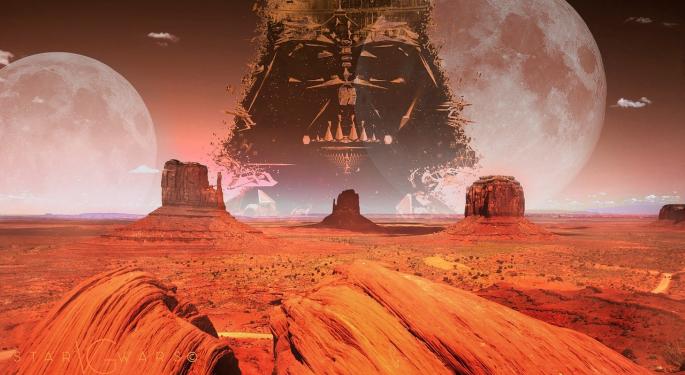 The trailer for the upcoming "Star Wars: The Force Awakens" film has hit social media and hype is already starting to build for the film's American debut on December 18.
The franchise that began back in 1977 has created a pop culture phenomenon that has boosted the bottom lines for companies from various sectors. Now, with what many are expecting to be the last film set to be released in time for holiday shopping, several firms are likely to profit from renewed Star Wars enthusiasm.
1. Walt Disney Co (NYSE: DIS)
In 2012, Disney acquired Lucasfilm, bringing the distribution rights for the first two trilogies and any future films under the firm's umbrella.
Not only has "Episode VI"I been built up as the biggest movie of the holiday season, but Disney's theme parks in Florida and California are preparing to open Star Wars themed attractions to capitalize on excitement in the wake of the film.
Related Link: Sky-High "Star Wars Battlefront" Expectations Mean Good News For This Stock
2. IMAX Corporation (USA) (NYSE: IMAX)
Ahead of the film's release, Disney made a deal with IMAX to show the film on its 72-foot screens in theaters across the country over a four-week period.
Internationally, IMAX locations will likewise show the film for a month. As the film is sure to be packed with intergalactic action scenes, seeing it on a bigger screen is sure to appeal to fans.
3. Cinemark Holdings, Inc. (NYSE: CNK)
Any movie theater chain showing the Star Wars film are sure to benefit from an influx of patrons.
However, promotions that pull viewers into one theater over another will be an important way for theaters to make the most of the film's debut. Cinemark is offering fans exclusive Star Wars 3D glasses to watch the film in 3D if they purchase tickets to the first XD show. Otherwise, they can get the glasses by purchasing special concession combos.
4. AMC Entertainment Holdings Inc (NYSE: AMC)
AMC is similarly running a promotion to tempt patrons to view the new film at their locations. Those who purchase tickets on Sunday will receive a Star Wars print.
Not only that, but the company is expected to run a Star Wars movie marathon leading up to the release, allowing fans to watch all of the franchise's other films before the midnight premier.
5. Hasbro, Inc. (NASDAQ: HAS)
Hasbro will benefit from the aftermath of "The Force Awakens" premier as the company has obtained a license to sell Star Wars branded games and toys.
With the film set to be a big hit during the holiday season, many children are likely to put Star Wars memorabilia on their Christmas lists.
6. Mattel, Inc. (NASDAQ: MAT)
Mattel is likely to get in on the Star Wars action in time for the holidays as well.
The firm's Hot Wheels brand announced plans to create a new line of vehicles based on those seen in the new film.
Related Link: Watch: Disney Finally Unveils "Star Wars: The Force Awakens" Trailer
7. Electronic Arts Inc. (NASDAQ: EA)
While Hasbro and Mattel will have a monopoly on the kids' Star Wars purchases, Electronic Arts is likely to appeal to adults who've been following George Lucas' franchise since they were young.
Electronic Arts has an exclusive licensing deal with Disney to produce Star Wars content through 2023. The firm is gearing up to release its latest games in November to ensure they are on the shelves when the holiday shopping season begins.
8. Amazon.com, Inc. (NASDAQ: AMZN)
E-commerce giant Amazon has become a holiday shopping staple for busy consumers who don't want to brave the crowds.
As Star Wars toys and memorabilia are likely to be hot-ticket items in toy stores around the country, many parents are likely to turn to Amazon for a calmer shopping experience.
9. Wal-Mart Stores, Inc. (NASDAQ: WMT)
Wal-Mart is going through a period of weakness at the moment, but some believe that Star Wars hype may help bring shoppers through the doors on big shopping days like Black Friday.
The discount chain is likely to draw in customers with deals on video games and toys, something that could help boost sales of other items as well.
Related Link: 4 Ways To Play Wal-Mart's Historic Crash
10. Kraft Heinz Foods Co (NYSE: HNZ)
Kraft has already begun marketing efforts for its Star Wars themed foods including macaroni and cheese in the shape of the film's characters. The firm's mac-n-cheese boxes will also include character portraits and are said to be collectable.
The Star Wars themed meal is expected to appeal to children, but also to adults who have grown up eating the orange, cheesy staple.
And Others
Those ten firms aren't the only ones who will jump on the Star Wars bandwagon. As the film has been touted as the most highly anticipated movie ever, many companies are working on their own Star Wars inspired ad campaigns.
Southwest Airlines Co (NYSE: LUV) has begun using the tagline "#FeesDontFly: The Fares Awaken," and companies like Verizon Communications Inc. (NYSE: VZ), General Mills, Inc. (NYSE: GIS) and Subway have all signed on with Disney to use Star Wars branding.
Image Credit: Public Domain
View Comments and Join the Discussion!
Posted-In: George Lucas LucasfilmLong Ideas Topics Events Top Stories Trading Ideas General Best of Benzinga