Is Tonight's Presidential Debate A Trading Opportunity?
With the first primary debate of the 2016 election season kicking off tonight, Benzinga took a look at historical stock market trends relating to U.S. presidential election cycles. The election of the leader of the world's largest economy has huge implications on global markets, and the process of selecting that leader has historically been a major market-mover.
Presidential Election Cycle Theory
The person credited with the idea that the U.S. presidential election could be a tradable event is Yale Hirsch. According to Hirsch's theory, U.S. markets historically perform better during the second half of a president's four-year term than during the first half.
Related Link: Sarcasm Presents Data Problem For 2016 Presidential Candidates
In fact, the S&P 500 returned an average annual return of 16.05 percent during the second half of presidential terms from 1948 to 2008. The first half of a presidential term produced annual returns of only 8.8 percent during the same period.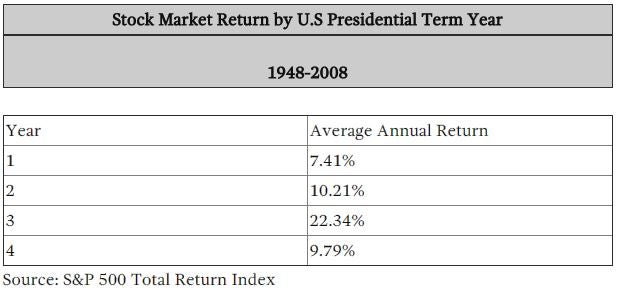 Testing The Theory
A 2012 Pepperdine study by Marshall Nickles and Nelson Granados demonstrates just how profitable historical trading of the election cycle could have been. Nickles and Granados compared the performance of two hypothetical traders: one trader who invested in the Dow Jones Industrial Average during the two favorable years of the cycle and commercial paper rates during the two unfavorable years, and the another trader who did exactly the opposite.
Nickles and Granados found that, from 1953 to 2012, a $1,000 initial investment would have ballooned to $204,689 by trading in line with the cycles, whereas trading counter to the cycles would have grown the initial investment to only $5,198.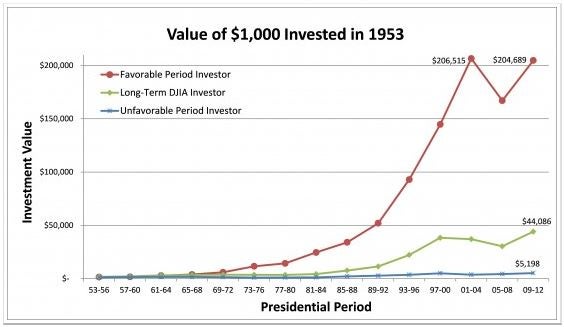 Is The Theory Sound?
Some argue that the Presidential Election Cycle Theory is nothing more than a statistical coincidence that was discovered via data mining. However, if the theory is sound, U.S. markets currently stand less than a third of the way into the two-year period of favorable returns for the market.
For those looking for an even shorter-term trade, Benzinga looked back at market performance during the six-month period following the first presidential primary debate for each election from 2000 to 2012. If the next six months mirror the average performance of the market during the last four election cycles, traders can expect a modest 3.8 percent gain for the S&P 500 by February 2016.
Image Credit: Public Domain
Posted-In: Marshall Nickles2016 presidential election Nelson GranadosLong Ideas News Politics Events Trading Ideas General Best of Benzinga
View Comments and Join the Discussion!