Americans Are Dining Out More: Here's How To Play The Trend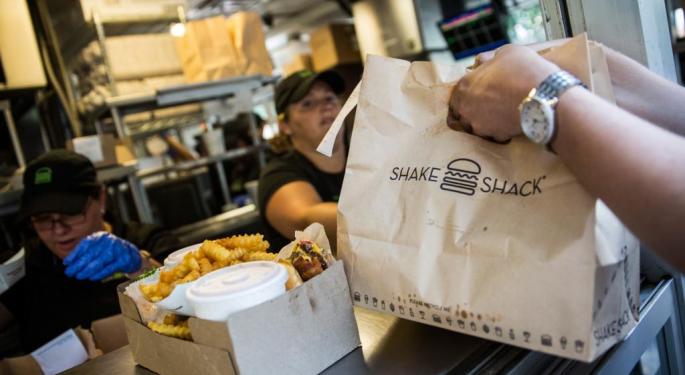 This article was written by Motif Investing CEO Hardeep Walia.
This year, Americans are spending more money dining out than eating at home.
Like I said on CNBC, restaurants and bars are seeing faster growth than any other type of discretionary spending.
While total discretionary spending rose just 2 percent during the first six months of this year compared to the same time period a year ago, establishments serving food and beverages brought in 8.8 percent more revenues.
Grocery stores, by contrast, only registered a 2.9 percent increase. This contrast becomes more striking considering the fact that restaurant prices have been increasing—they are up 3 to 4 percent over last year.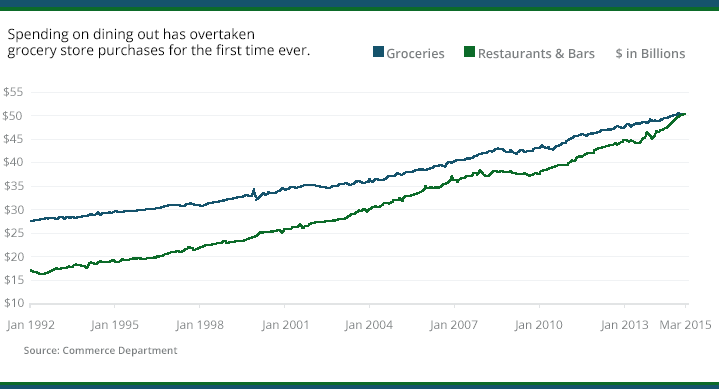 Yet grocery prices have been stabilizing.
This difference between restaurants and grocery stores means that the growth is not simply due to rising food prices.
A key driver appears to be the overall rise in consumer confidence. It currently ranks in the top 37 percent of monthly measurements of this sentiment since June 1977.
This may be a stronger driver for Millennials, those born between around 1980 and 2000; 43 percent of their food and beverage spending goes toward consumption outside of the home. Baby Boomers spend about 37 percent of their food budget that way.
Longer term growth among eateries will likely result from Millennials continuing to enter the workforce. This year, people born between around 1980 and 2000 are expected to usurp the Baby Boomers as the most populous generation living. Millennials' spending power will grow over the next decade to account for 75 percent of the growth in restaurant revenues.
How do you invest in this trend? Picking restaurant stocks can be very difficult and involves numerous risks. The Eating Out motif is a basket of 25 individual stocks focused in the restaurant industry. It is up 28 percent over the past year, almost three times the performance of the Standard & Poor's over the same time period.
The stocks with the heaviest weighting in the motif include McDonald's Corporation (NYSE: MCD), Yum! Brands, Inc. (NYSE: YUM), Chipotle Mexican Grill, Inc. (NYSE: CMG), Darden Restaurants, Inc. (NYSE: DRI) and Dunkin Brands Group Inc (NASDAQ: DNKN).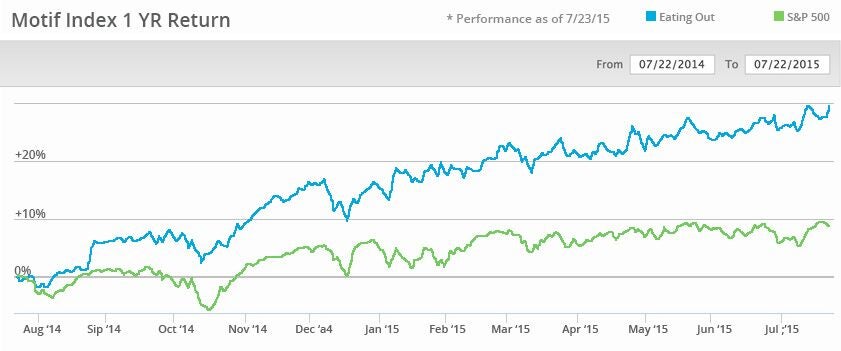 The stocks in the restaurant category have some risks bearing consideration. First, the companies are susceptible to any decline in consumer confidence, which currently may be supported by variables such as stable wages, low gas prices, and an improving housing market.
Additionally, changing consumer preferences may require restaurants to adapt to demand for healthier food and socially conscious sourcing of ingredients. This can pose challenges for larger chains that have been in business longer and thus have more established supply chains.
A third risk concerns new and pending legislation raising minimum wages, which have the potential to negatively impact restaurants with already low margins and low wages.
To mitigate these risks, diversifying your portfolio beyond the restaurant category may be the investment equivalent of eating a balanced diet.
Whatever your tastes may be, you might be satisfying them at restaurants more often than you used to. The next time you go out to eat, pay attention to all the signs that this industry is growing.
The content contained herein is for informational purposes only and is not a solicitation or a recommendation that any particular investor should purchase or sell any particular security. Motif does not assess the suitability or the potential value of any particular investment. You are responsible for understanding the risks involved with investing in securities and for all investment decisions you make. Investments in small cap companies and companies within a particular sector involve additional risks unique to those companies which you should be aware of before making any investment decision. The information contained herein is obtained from sources believed to be reliable, but its accuracy or completeness is not guaranteed. Performance of motifs is for informational purposes only and is not not based on results you could expect to achieve. See how returns are calculated.
The preceding article is from one of our external contributors. It does not represent the opinion of Benzinga and has not been edited.
Posted-In: Motif InvestingLong Ideas Restaurants Trading Ideas General Best of Benzinga
View Comments and Join the Discussion!