Can The Univar IPO Bring Together A Fragmented Industry And Profit?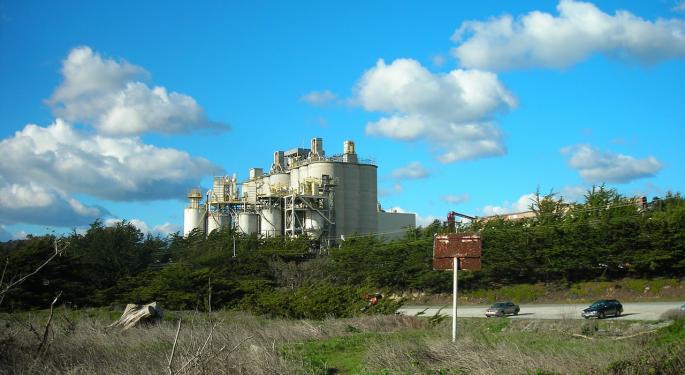 Global chemical distributor Univar Inc (NYSE: UNVR) hopes to raise $420 million by offering 20 million shares between $20 and $22 per share. The company will list on the NYSE under the ticker UNVR on Thursday. At the offering's midpoint, Univar would have a market value of $2.9 billion.
Based in Downers Grove, Illinois, Univar's broad product knowledge and marketing expertise helped make it the North American chemical distribution leader and the second largest in Europe. According to its S-1, "The company sources chemicals from over 8,000 producers worldwide and offers a wide array of products and services to over 110,000 customer locations in over 150 countries."
From a global perspective, the chemical industry is very fragmented, which gives Univar its competitive advantage. It works to offer customers a "one-stop-shop" for chemical products and services.
Univar's Niche
The bulk of Univar's business consists of buying and selling large quantities of chemicals to its customers. Its distribution business consists of inventory management, product knowledge and technical expertise through its team, in addition to a mixing, blending and repackaging component.
Related Link: Option Alert: Dow Chemical Jul $55 Call; 6004 Contract Trade At Ask @$0.29
Univar offers the following value-added services: ChemCare, which collects waste products and specialized blending; MiniBulk, which provides a storage and delivery system for plant safety and production; and a distribution platform called ChemPoint.com.
Univar's competitive advantage is its ability to provide customers more efficiency and better costs due to its market access and geographic reach. Since the company hired president and CEO, Erik Fyrwald, in May 2012, Univar has greatly improved its management team and put in place a series of initiatives built to drive growth and operating performance through better margins.
Throughout its history, Univar has grown through several acquisitions – a few of which include McKesson Chemical Corporation in 1986, Ellis and Everard in 2001, Chemcentral in 2010, and Key in 2015.
Related Link: How To Get Positive Returns From Oil And Gas Stocks
The Market Potential
At $3.4 trillion, the global chemical industry is not small. The fragmentation provides an opportunity for Univar to create a more efficient flow of products and services for more than 100,000 chemical suppliers. The company is focusing its efforts on "attractive, high-growth end markets, including oil, gas and mining, water treatment, agricultural sciences, food ingredients, pharmaceutical ingredients and personal care."
Univar's business is organized into four main segments: The U.S., Canada, EMEA and emerging markets. Most of the growth has come from emerging markets such as the Asia-Pacific, Middle East, Central Europe, Eastern Europe and Latin America. The U.S. has seen a resurgence in chemical manufacturing activity because of improved demand from shale formations.
Based on information released by the American Chemical Council, "More than 135 new chemical production projects, valued at over $90 billion, were announced in the U.S. This could lead to an incremental $66.8 billion per year in U.S. chemical output." Univar intends to leverage its size and scale to capitalize on this expected future growth.
Financials
Revenue increased year over from 2012 to now. From 2012 to 2014, revenue grew from $9.78 billion, $10.32 billion and $10.37 billion. In Q1 2015, revenue decreased by 8.6 percent to $2.23 billion from $2.52 in 2014. The decrease was partly due to a stronger U.S. dollar. The U.S. represents the largest market for the company with $1.4 billion in sales compared with $293.2 million from Canada, $476.4 million from EMEA and $134.7 million from the rest of the world.
Univar turned a profit of $19.7 million in the first quarter from a loss of $(2.8) million a year earlier. The company's losses from 2012 to 2014 were $(197.4 million), $(82.3) million, and $(20.1) million, respectively.
At the end of the first quarter this year, Univar has $181.4 million in cash. Total assets are listed at $5.9 billion with total liabilities at $5.8 billion.
European private equity firm CVC Capital Partners acquired Univar for $2.07 billion in a 2007 leveraged buyout. $1.0 billion was invested for 75 percent stake. Another private equity firm in 2010, Clayton Dubilier, based in New York, invested $800 million to help the chemical company acquire Basic Chemical Solutions and now owns 40.5 percent.
Related Link: Dow Chemical CEO Reportedly Under SEC Investigation
CVC received a $544 million dividend and sold down its stake to 52.0 percent. According to an article by Bloomberg, "An IPO at that valuation would give Univar an enterprise value of $7.8 billion, or a stock market capitalization of about $4 billion after deducting debt. That would give Clayton Dubilier about a 100 percent unrealized profit on its investment. CVC would have more than a 150 percent gain." The comparison was made by evaluating German competitor Brenntag, the largest in Europe.
Conclusion And Pricing Info
With the U.S. in a recovery and Europe bottoming out, along with developing nations like India and Indonesia growing, Univar can expect to see its revenue continue to grow. Management has a strategy to steer the company to continued profitability along with its private equity backers.
Univar expects to net $389.0 million for its IPO. The company is also conducting a private placement worth approximately $350 million. It intends to use the net proceeds from the IPO and private placement to:
Redeem, repurchase, or acquire $600 million of its 2017 subordinated notes and $50 million of 2018 subordinated notes
Pay related fees and expenses
Pay equity sponsors a $26 million fee to end its consulting agreements
Univar plans to offer 20 million shares between $20 and $22 per share through the main underwriters for Deutsche Bank, Goldman Sachs and Bank of America Merrill Lynch. The company will list on the NYSE under the symbol UNVR. Pricing is expected to occur Wednesday night.
Image Credit: Public Domain
Posted-In: Basic Chemica Solutions Brenntag ChemCentral Clayton DubillierLong Ideas Technicals IPOs Trading Ideas
View Comments and Join the Discussion!