Northstar Realty Finance Presentation Highlights From REITWeek 2015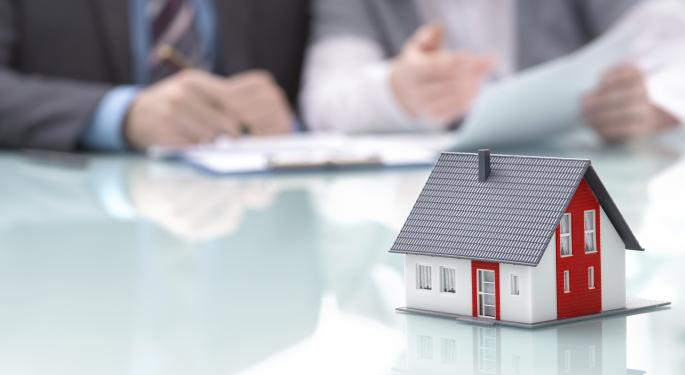 First and foremost, Northstar Realty Finance (NYSE: NRF) President Albert Tylis went to great lengths in his NAREIT Investor Forum opening remarks to distance NRF, and its external manager Northstar Asset Management (NYSE: NSAM), from other external managers.
He lambasted "self-interest" focused REIT external managers, who have "poor track records," and have engaged in "poor behavior … couched in terms of doing things for shareholders."
Tylis unequivocally stated that "we're not that."
Related Link: REITWeek: RMR Managed REIT Executives Tout External Manager Deal
Immediately prior to REITWeek, one of the biggest REIT stories had been the terms of the REIT Management & Research LLC (RMR) partial sale of a large minority interest, to shareholders of its four publicly traded managed REITs.
Last year NSAM was created by a pro rata spin-out of shares to all NRF shareholders on a pro-rata basis, without any special voting rights.
Tale Of The Tape - Past Five Years
In addition to outstanding NRF share price appreciation, the total return from owning NRF shares has actually been much higher due its competitive dividend, currently yielding just over 9 percent.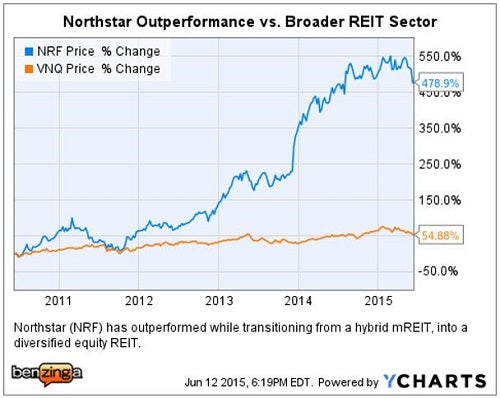 The Vanguard REIT Index ETF (NYSE: VNQ) tracks the MSCI REIT Index (RMZ) a good proxy for equity REIT performance.
Northstar Outperformance vs Broader Markets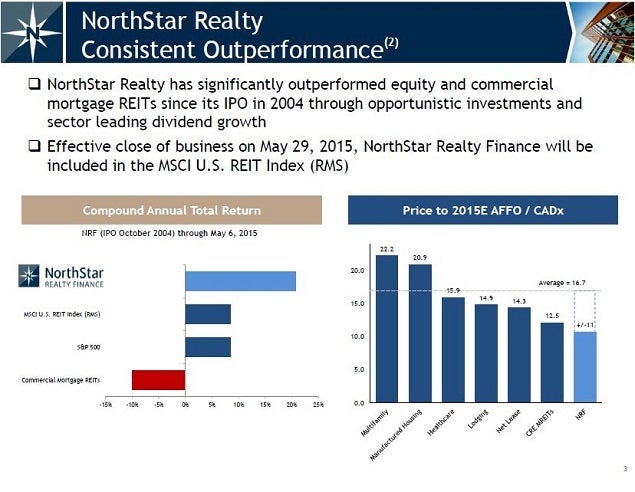 Northstar Realty was recently added to the RMZ, which highlights its transformation into a highly diversified equity REIT generating ~85 percent of revenues from balance sheet real estate assets.
NRF's Portfolio - Opportunistic Growth
The flexibility of NRF management to acquire undervalued assets regardless of REIT sector is both a blessing and a curse. On one hand, this real estate strategy has materially contributed to the ability to outperform the market; but it also makes Northstar more complicated to understand.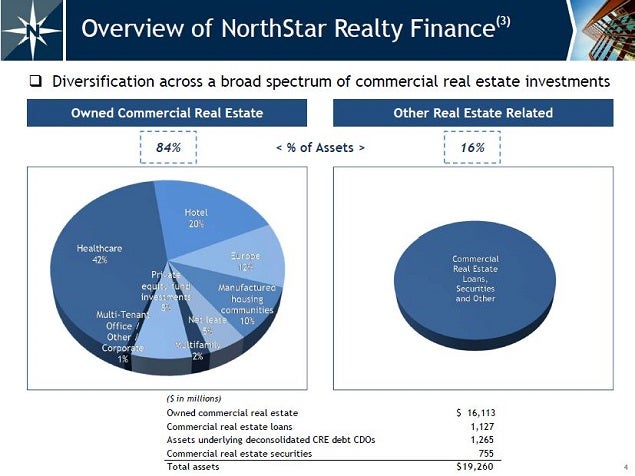 Notably, by investing in multiple REIT sectors and more recently multiple countries -- along with investments in joint ventures, partnerships and private equity -- NRF is less transparent and harder for Wall Street analysts to model and value.
This has resulted in NRF shares trading below intrinsic real estate value and generating such a high dividend yield.
Related Link: Northstar Realty Finance: CEO David Hamamoto's Views On Performance and Spin-Outs
NRF - REITWeek Presentation Highlights
Capital Allocation Advantages: Tylis believes the NRF process of analyzing many investment alternatives forces management to be "intellectually honest," about allocating capital.
He also shared, "as you get further into the real estate cycle … it makes a difference where [in the capital structure] and with whom you invest;" citing NYC investments with Scott Rechler led RXR Realty as an example, where Blackstone Group LP (NYSE: BX) recently purchased a 50 percent interest.
Private Equity: Tylis pointed to the recent announcement of the sale of 11 Madison for $2.6 billion to SL Green Realty (NYSE: SLG), mentioning NRF as being "not insignificant owners of the private equity fund that owns 49 percent of that asset. He also shared that the "NAV was sub-$2 billion in terms of where it was being carried… and a lot lower when we bought it."
European Portfolio: NRF started the process 18 months ago, which has resulted in an estimated run-up of ~20 percent in value of the $2 billion primarily Class-A office portfolio.
European REITs are trading in a range of 20x to 30x FFO, a significantly higher multiple than those assets are currently being valued as part of NRF.
Additionally, Tylis thinks that "the opportunity in Europe is vast right now," and NRF has a very significant acquisition pipeline under consideration -- including one "iconic property."
These assets are planned to be spun-out to shareholders into a stand-alone European focused REIT (NRE) by the end of 2015.
Manufactured Housing: Tylis described this ~$2 billion investment as being a "phenomenal business," with low capex and a durable income stream -- with NOI currently growing about 7 percent.
At this point, NRF could either "double down" on the business through M&A, or monetize the portfolio, depending upon what created better value for shareholders.
Leverage Philosophy: While NRF leverage might appear to be high at ~60 percent, only 6 percent is recourse debt, with the balance being non-recourse property level debt which "helps to compartmentalize debt obligations and minimize overall risk."
Tylis anticipates NRE will be capitalized "south of 40 percent debt," consistent with its European peer group, where higher multiples make high leverage unnecessary to generate acceptable returns.
Posted-In: Long Ideas News REIT Sector ETFs Dividends Events Top Stories Trading Ideas Best of Benzinga
View Comments and Join the Discussion!