Digital Realty CEO Bill Stein: 'Data Center REITs Undervalued'
On May 19, Bill Stein CEO of global data center REIT Digital Realty Trust, Inc. (NYSE: DLR) participated in the J.P. Morgan Global Technology, Media and Telecom Conference.
Digital Realty was a pioneer in the data center REIT space, and Stein has witnessed the evolution of both the sector and his company over the past decade. Stein was Digital's CFO when the company filed its IPO back in 2004, and he took over the reins as CFO during 2014.
In his opening remarks, he pointed out that DLR is now one of the 20 largest REITs; and in his closing remarks, Stein shared that since its IPO, Digital's total return to shareholders (including dividends), has been the best in the entire REIT industry.
Tale Of The Tape – Since IPO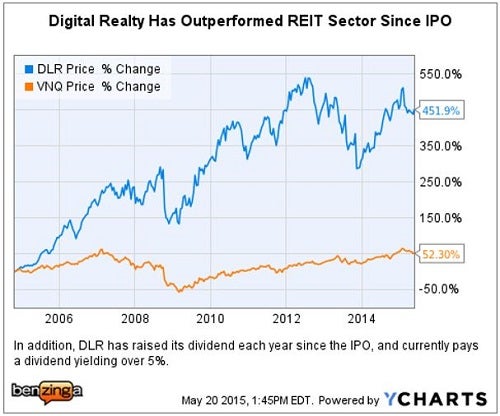 The Vanguard REIT Index ETF (NYSE: VNQ) is a good proxy for the equity REIT sector.
Related Link: The MSCI REIT Index Is Adding These 5 REITs – Should You?
It tracks the MSCI REIT Index (RMZ) a market cap weighted index which includes 144 REITs, or about two-thirds of the sector.
Digital Realty – By The Numbers
Digital Realty has a market cap of $9 billion and enterprise value (EV) of about $20 billion. The company operates 130 data centers, containing ~25 million SF, located in 30 markets across N. America, Europe and Asia/Pacific.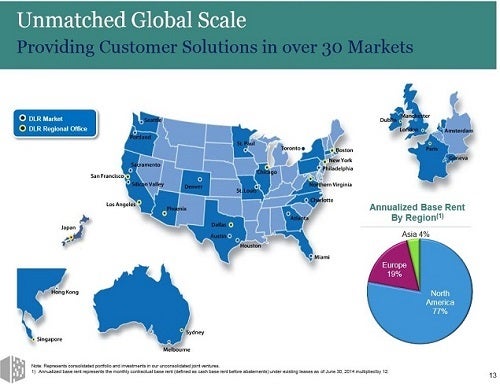 Digital has more than 2,000 signed leases with over 600 customers. DLR has another 1.2 million SF available for immediate development, as well as 1.3 million SF held for future development.
CEO Stein – Key Takeaways
1. Never Late Innings: Stein made the point that there are always new growth drivers for data centers, so the industry is perpetually in the early to mid-innings.
However, the business environment changes over time, with too much capital having been invested creating an over-supply of space in 2012 -2013. Today, supply/demand for data center space currently is in equilibrium, "with rents stable to trending up" in most markets.
2. Growth Markets: Northern Virginia, Dallas and Singapore currently have facilities under development which have gone from 50 to 90 percent pre-leased in just one month.The three U.S. markets where demand is high enough to justify 1 to 2 MW spec space builds are: Chicago, N. Virginia and Dallas.
International development projects underway include: Singapore, Hong Kong, Sydney, Melbourne and Dublin, Ireland; with a build-to-suit for Rackspace having just been completed in London.
Related Link: Digital Realty – Rackspace Partnership Sprouts Innovative Green Data Center
Digital continues to search for expansion locations in the financial hubs of Tokyo, Japan and Frankfurt, Germany where the barriers to entry are high and alternatives are scarce.
3. Competitive Advantage: Stein pointed out that Digital Realty has a BBB investment grade rating on its unsecured debt. When interest rates inevitably rise, DLR will have a lower cost of capital than its smaller REIT sector peers, helping DLR to maintain its margins.
4. ROIC Focus: DLR targets a 10 to 12 percent unlevered return on development projects. In the past, Digital had built shell space on speculation in multiple markets which has remained vacant and negatively impacted the ROIC goal.
At the beginning of the year Stein rolled out a new sales commission program with incentives designed to speed up the absorption of the vacant space. Year-to-date the lag between lease signing and lease commencement has been reduced to 3.7 months, an indication that the program is working as intended.
Digital is actively working to recycle capital by disposing of assets that are either non-data center, located in non-core markets or are underperforming.
5. Dry Powder/M&A: The DLR balance sheet is currently at ~5x net-debt to EBITDA, with a 3.4 to 3.5 times fixed charge coverage vs. leverage targets of 5.5x and high 2s, respectively.
This leaves Digital with plenty of capacity to make accretive acquisitions utilizing debt.
Related Link: QTS Realty Trust: Carpathia Hosting Acquisition Can Be Immediately Accretive
Investor Takeaway
Stein's closing point was that data center REITs were growing faster than the broader REIT sector, yet they still trade at lower FFO multiples compared with other sectors in the RMZ.
He believes data center REITs are still considered to be a relatively new asset class, and that over time, multiples will increase.
When you add in a yield north of 5 percent for DLR common shares, investors are being paid an attractive and growing dividend while they wait.
© 2020 Benzinga.com. Benzinga does not provide investment advice. All rights reserved.
---