Microsoft Is Fairly Valued By The Market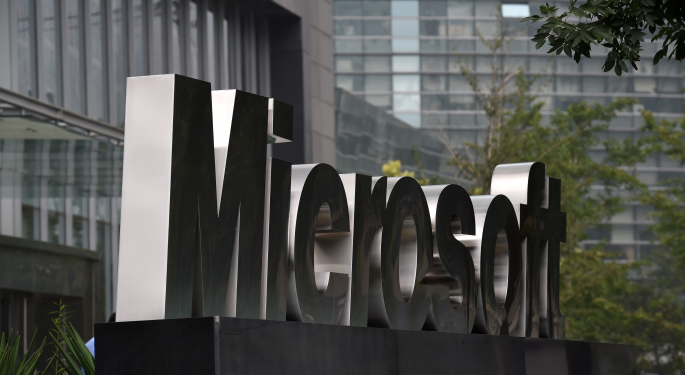 This article, The Morning Monte, was originally published here.
Global technology giant Microsoft is fairly valued at $41.35; Prudena's Monte Carlo simulation estimates a mean value of $40.55. Microsoft's performance will depend on successful growth in mobile and cloud computing markets.
Company Background
Microsoft is a global technology company providing software, hardware and related services. Microsoft is the global leader in operating system market share, holding roughly 80 percent share across all devices. The company's popular licensed software includes Windows and Office for consumers and businesses as well as server products for enterprise customers.
Microsoft's hardware products include Lumia phones, Surface tablet and X-Box gaming console. The company also offers cloud based services like Azure and Office 365 to its customers.
The company is organized into two large units, Commercial, and Devices and Consumer. The Commercial unit includes Licensing and Other segments, while the Devices and Consumer unit is comprised of Licensing, Computing and Gaming Hardware, Phone Hardware, and Other segments.
The Commercial unit generated approximately 51 percent of total revenue in the first half of Microsoft's 2015 fiscal year, the vast majority of which were licensing fees. The Consumer unit contributed 49 percent of total revenue in the first half of fiscal 2015. Hardware and Licensing revenues contributed 47 percent and 35 percent of Consumer unit revenue, respectively.
Related Link: How Is The Market Actually Valuing JP Morgan Chase?
Microsoft's assets totaled $174.8 billion at the end of Q2 for the fiscal year 2015. Approximately 70 percent of the company's revenue came from its software licensing activities during 2014. The remaining revenue was attributed to the sale of hardware and enterprise cloud services of the company. Commercial segment is subdivided into Commercial Licensing and Commercial Other.
Microsoft is a large software and services company that leads the PC operating system market.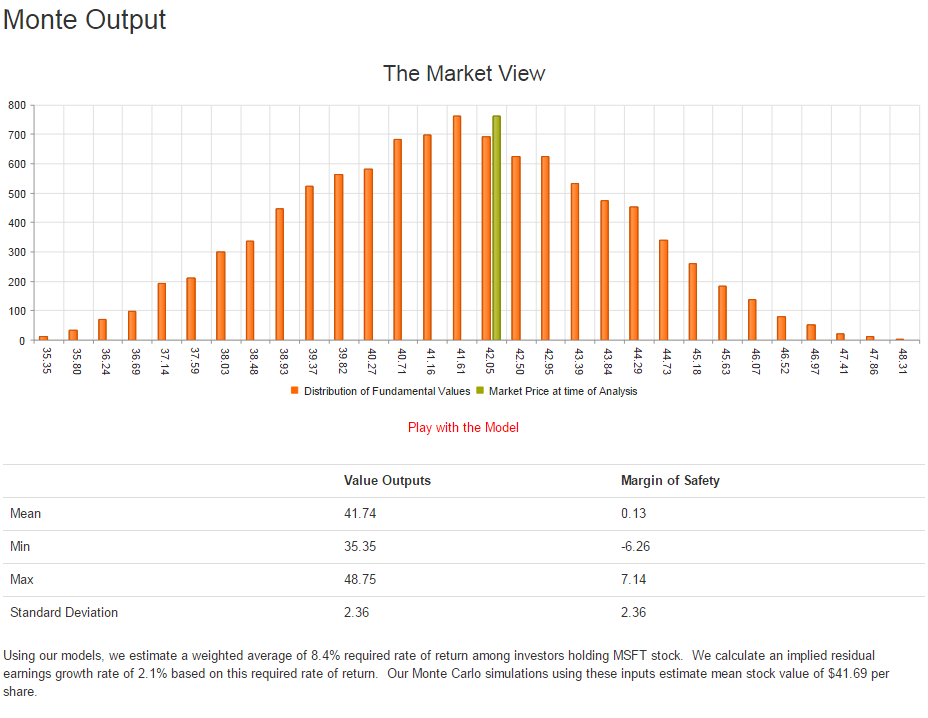 Bull Case
Microsoft is building upon its globally dominant PC-focused licensing model by transitioning towards cloud based delivery of services and expanding its presence in the mobile hardware and software space. Success in these categories should allay concerns that technology is moving beyond Microsoft's traditional offering.
Initial signs are promising, with services like Microsoft Azure and Office 365 gaining traction. The period ended December 2014 was the sixth consecutive quarter of triple digit revenue growth in commercial cloud. Microsoft's transition to cloud-based offerings like Office 365 will shield applications like Office from the decline in PC sales amid the rise of small form-factors.
Microsoft's recent partnership with Samsung to make available its productivity apps for select Samsung tablets will boost the company's mobile footprint.
Microsoft's top-line growth has been stable in recent years, bolstered in recent periods by cloud services. D&C Other segment, which includes Office 365 for consumer, registered 23.8 percent year-over-year growth during the six months period ended December 31, 2014. Commercial
Other revenue, which includes commercial cloud services, grew by 47 percent to $5 billion during the six months ended December, 2014.
Earnings per share have grown steadily until the temporary effects of restructuring and the Nokia acquisition took hold. After the non-recurring general administrative restructuring expenses cease, Microsoft will realize savings from reduced headcount and improved engineering efficiency.
Microsoft has generated sufficient cash flows to fund investment and has maintained adequate financial health ratios.
Bear Case
Microsoft's traditional offering is being threatened by the slowdown of the PC market. This has forced Microsoft to transition to new markets occupied by strong incumbents. Cloud based services are lower margin than conventional software and services, with some major competitors offering free cloud services.
Microsoft operates in highly competitive industries against competitors including giants like Apple Inc. (NASDAQ: AAPL), Samsung, Google Inc (NASDAQ: GOOG), Amazon.com, Inc. (NASDAQ: AMZN), Hewlett-Packard Company (NYSE: HPQ), International Business Machines Corp. (NYSE: IBM), and Oracle Corporation (NYSE: ORCL). Such an environment requires substantial ongoing investments and R&D expenditure, and Microsoft lacks first mover status in its new growth fields.
Microsoft's strategy is partially dependent on acquisitions which come with integration and other risks. The $7 billion acquisition of Nokia in April 2014 is still offering challenges to realize synergies. Integration and restructuring expenses reduced EPS by $0.13 in Q2 15. Difficult macro conditions in Japan, Russia and China also offer hurdles to operating performance. A strong dollar will negatively impact top-line growth in the short term.
Microsoft's consumer licensing revenue declined 17 percent year-over-year while commercial licensing was almost flat during the six months ended December 31, 2014. Operating margin has trended downward, declining every fiscal year since 2011.
Discussion
Stock Analysis
Microsoft will continue to benefit from global operating systems leadership in coming years. The company's challenge will be effective transition to a new product focus. Cloud services and mobile products are promising growth opportunities, but will mark entry in to highly competitive markets and will likely entail margin erosion.
The degradation of Microsoft's traditional offering and the uncertainty of expansion into new markets has led to some divergence among analyst estimates. Prudena models suggest that MSFT is fairly priced based on our inputs, which matches neutral average analyst recommendations.
Quality of Estimates
2015 earnings consensus among analysts is 7.7 percent revenue growth and a reduction in EPS to $2.38 from $2.63 in 2014. Analysts are not as bullish in their 2016 revenue estimates, forecasting 4.6 percent revenue growth in the year. Consensus estimates have been off by at least 7.9 percent in three of the past four quarters.
The highest analyst estimate for forward earnings is 18 percent higher than the lowest estimate.
Written by: Ryan Downie and Prudena Contributors
Editied by: Charlie Strout
NOTE: The Morning Monte is high-level, and any investment requires a deeper analysis than is presented here. The comments in the Morning Monte are intended to help guide your research and ground you in the fundamentals of the company. In no way should the comments in The Morning Monte be taken as advice to buy or sell a particular equity. Some of the statements are forward looking. As such, these statements are speculation--so beware! The comments represent the views of the author and are not necessarily the views of PRUDENA™.
The following article is from one of our external contributors. It does not represent the opinion of Benzinga and has not been edited.
Posted-In: Microsoft Monte Carlo Microsoft valuation Monte Carlo valuationLong Ideas Technicals Tech Trading Ideas Best of Benzinga
View Comments and Join the Discussion!