4 Commodities Bucking The Falling Price Trend
The collapse in crude oil prices has ushered in the weakest commodity-price environment in over a decade. The Bloomberg Commodity Index, which tracks the prices of 22 different commodities, recently traded at its lowest point since 2002.
However, even in the horrendous environment, there have been several commodity investments that have paid off for investors over the past year. Here's a list of four commodities that are bucking the trend.
1. Palladium
While the more common metal investments such as gold and silver have suffered over the past year, shares of ETFS Physical Palladium Shares (NYSE: PALL) are up about 4 percent over the past year.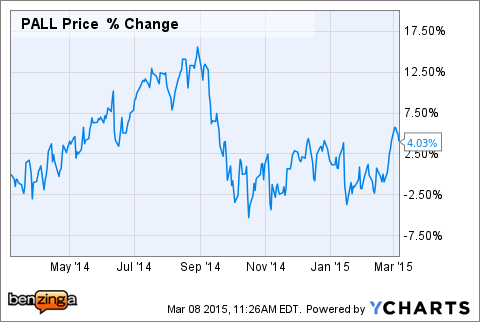 Palladium prices were boosted in 2014 partially due to economic sanctions taking the Russian palladium supply off the market for U.S. manufacturers.
2. Aluminum
The spot price of aluminum is up more than 6.5 percent over the past year, driven by increased demand in the auto industry.
Shares of the iPath Bloomberg Aluminum Subindex Total Return SM (NYSE: JJU) have lagged the returns of spot during the past year, but investors have still avoided the big hit that other metals have taken.
Related Link: 2 Great Ways To Invest In Commodities
3. Cattle
A recent USDA report confirmed that beef supply will remain tight in the near future, and live cattle futures are up 6.8 percent in the past year. ETFs such as iPath Bloomberg Livestock Total Return Sub-Index ETN (NYSE: COW) and E-TRACS USB Bloomberg Commodity Index Exchange (NYSE: UBC) both have more than 55 percent of their assets allocated to cattle.
However, both have been dragged down over the past year because of exposure to lean hogs, which have fallen in price by more than 40 percent.
4. Cocoa
Increased demand for chocolate, particularly cocoa-rich dark chocolate, drove prices up 7.1 percent over the past year.
Investors in iPath Bloomberg Cocoa Subindex Total Return SM (NYSE: NIB) have avoided the huge price collapse endured by other agricultural commodities in the past year.
Image credit: Stephen Codrington, Wikimedia
© 2021 Benzinga.com. Benzinga does not provide investment advice. All rights reserved.
---