11 Key Quotes From Warren Buffett's New Shareholder Letter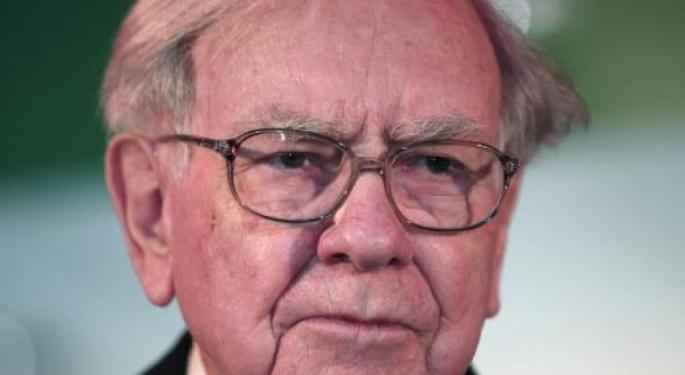 Berkshire Hathaway Inc. (NYSE: BRK-A) (NYSE: BRK-B)'s annual shareholder letter is out for the 50th time.
Here are some of the key quotes:
1. "Berkshire's gain in net worth during 2014 was $18.3 billion, which increased the per-share book value of both our Class A and Class B stock by 8.3%. Over the last 50 years (that is, since present management took over), per-share book value has grown from $19 to $146,186, a rate of 19.4 percent compounded annually."
2. "Two years ago my friend, Jorge Paulo Lemann, asked Berkshire to join his 3G Capital group in the acquisition of Heinz...We expect to partner with 3G in more activities."
Related Link: EXCLUSIVE: Warren Buffett Says Mr. Market Is A 'Drunken Psycho'
3. "In October, we contracted to buy Van Tuyl Automotive, a group of 78 automobile dealerships that is exceptionally well-run...Our purchase was recently completed, and we are now "car guys.""
4. "With the acquisition of Van Tuyl, Berkshire now owns 91⁄2 companies that would be listed on the Fortune 500 were they independent (Heinz is the 1⁄2). That leaves 4901⁄2 fish in the sea. Our lines are out."
5. "Berkshire increased its ownership interest last year in each of its "Big Four" investments – American Express (NYSE: AXP), Coca-Cola (NYSE: KO), IBM Corp (NYSE: IBM) and Wells Fargo (NYSE: WFC)."
6. "...it's worthwhile for Todd Combs and Ted Weschler, our two investment managers, to each have oversight of at least one of our businesses. A sensible opportunity for them to do so opened up a few months ago...Combined, the two earn $100 million annually on about $125 million of net tangible assets. I've asked Todd and Ted to each take on one as Chairman"
7. "Berkshire has now operated at an underwriting profit for twelve consecutive years, our pre-tax gain for the period having totaled $24 billion. Looking ahead, I believe we will continue to underwrite profitably in most years."
8. "Our gecko never tires of telling Americans how GEICO can save them important money. The gecko, I should add, has one particularly endearing quality – he works without pay. Unlike a human spokesperson, he never gets a swelled head from his fame nor does he have an agent to constantly remind us how valuable he is. I love the little guy."
9. "Every dime of depreciation expense we report is a real cost. That's true, moreover, at most other companies. When CEOs tout EBITDA as a valuation guide, wire them up for a polygraph test."
10. "Berkshire has one major equity position that is not included in [the standard equity portfolio]: We can buy 700 million shares of Bank of America at any time prior to September 2021 for $5 billion...We are likely to purchase the shares just before expiration of our option. In the meantime, it is important for you to realize that Bank of America (NYSE: BAC) is, in effect, our fourth largest equity investment – and one we value highly."
11. "The unconventional, but inescapable, conclusion to be drawn from the past fifty years is that it has been far safer to invest in a diversified collection of American businesses than to invest in securities – Treasuries, for example – whose values have been tied to American currency."
Posted-In: Berkshire Hathaway 50th letterLong Ideas News Management Events Economics Success Stories Trading Ideas Best of Benzinga
View Comments and Join the Discussion!