Is Options Activity A Magic 8-Ball? Looking To The Staples-Office Depot Merger For Answers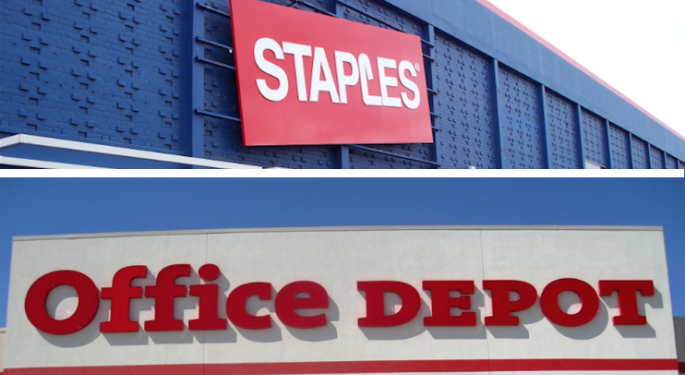 Benzinga Pro is a streaming news platform that gives traders an edge, 24-7-365. Below is an example of the Pro Advantage.
This past Wednesday, Staples, Inc. (NASDAQ: SPLS) announced the acquisition of Office Depot Inc (NASDAQ: ODP).
Was options activity a "magic 8-ball" in this instance? Let's take a look.
Through the course of the merger process and the subsequent release of information over the past six months, an alert trader could have taken advantage of a Benzinga Pro Option Alert issued to the Pro community in August of 2014.
On August 14, 2014 at 1:29PM EDT, Benzinga published an options alert to the Pro community:
The January 2015 $6 Call was purchased at $0.225. The community of Benzinga Pro Mach II, Mach III, and Mach IV subscribers were alerted through the Benzinga Pro platform.
Little was known about Office Depot's potential merger with Staples at the time of the option alert. However, in early September, the Benzinga News Desk highlighted positive comments from Bank of America/Merrill Lynch.
Clearly, Office Depot was beginning to not only expand, but produce tangible results for shareholders ahead of schedule.
On September 8, the News Desk highlighted bullish comments from Bank Of America:
On September 8, the January 2015 $6 Call closed trading at $0.375, a profit of 66.00 percent.
On November 4, Office Depot reported an earnings beat:
Almost a month after the Bank of America note highlighted Office Depot's stronger-than-expected performance after merging with OfficeMax, the contracts for January 2015, which initially traded for $0.225 at the time of the alert, traded at $0.60 on November 4, a profit of 166 percent.
On December 10, Starboard raised its Office Depot stake and entered Staples:
A little over a month after strong earnings were released by Office Depot, the January contracts from August, if held through the November earnings release, would be worth $1.00, a profit of 344 percent over the original price of $0.225.
On December 11, Benzinga alerted the Pro community to Starboard's comments regarding a merger:
Mid-morning on December 11, rumors began to swirl around the Street that Starboard was looking to merge Staples and Office Depot. This came one day after Starboard's stake in Staples was announced.
The Benzinga News Desk compiled a piece highlighting other notable hedge fund investors exposed to both companies:
On December 15, Benzinga covered B. Riley's comments on the potential merger:
Research from B. Riley on December 15 covered comments from the Staples CEO, how the FTC may view the merger, and the potential for cost-savings.
On December 15, the January 2015 $6 Call contracts traded at $1.875, a profit of 733 percent.
Image credit: Stan Zemanek, LizSummers; Wikimedia
Posted-In: Long Ideas Trading Ideas Best of Benzinga
View Comments and Join the Discussion!