Celgene Sells Off, But Begins Move Back Up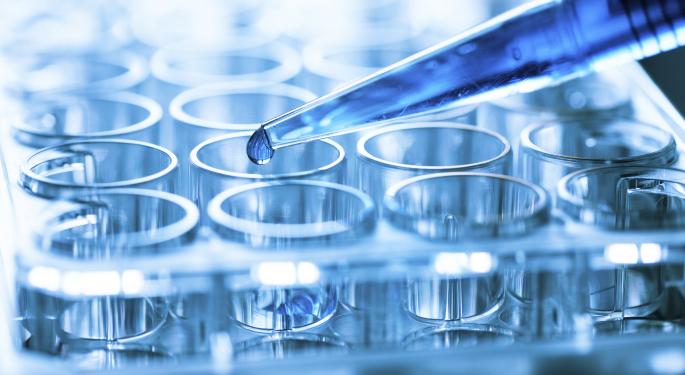 Tuesday was a crazy day for the market.
At its high, the S&P 500 index was up about 28 points, but then came the selloff that wiped out every point. Thankfully for investors, the S&P gained back some of the 20 points the index was down late in the day.
That type of price action caused a lot of stocks to form bearish reversal patterns that commonly lead to lower prices.
To see one example of a bearish reversal day, and get a possible heads up of a pullback on the stock, check out the breakdown of this biotech.
The company: Celgene Corp.
Ticker Symbol: (NASDAQ: CELG)
Sector: Healthcare
Industry: Biotechnology
Celgene Corporation, a biopharmaceutical company, discovers, develops and commercializes therapies to treat cancer and immune-inflammatory related diseases in the United States and internationally.
Related Link: Big Short Interest On These 5 Biotech Stocks
Celgene has strategic drug discovery collaboration with Abide Therapeutics, strategic collaboration with Sutro Biopharma and strategic alliance with Forma Therapeutics.
Review the one-year chart of Celgene with the added notations:
Celgene has been trending nicely for the last nine months.
In December the stock hit resistance at around $120 on two different occasions. A break above that price Tuesday led to a high of almost $124, but then the reversal came.
When a stock opens, rallies significantly, then declines back down to where it opened, and closes near there, it ends up with a common candle pattern known as a shooting star.
One look at Celgene's candle from Tuesday will somewhat explain where the name of the candle comes from.
After a meaningful run-up, this is generally a bearish sign of some extent in that it shows that a stock was unable to hold big gains.
The stock closed at $119.98, just below resistance. It recently traded Wednesday at $121.54, up 1.3 percent.
Posted in: Biotech Long Ideas Short Ideas Health Care Technicals Trading Ideas General Best of Benzinga