Why This REIT Just Hit An All-Time High (Hint: The Answer's In Nigeria)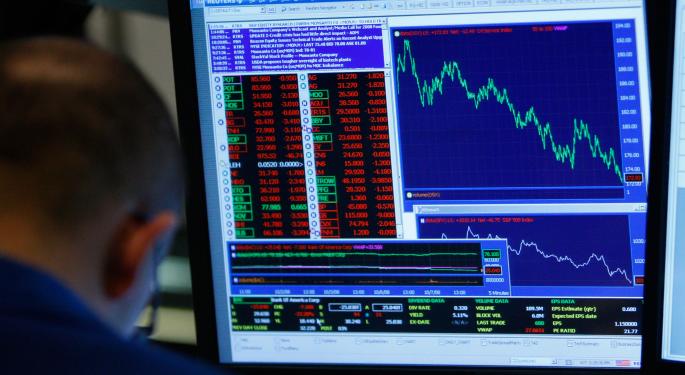 American Tower Corp. (NYSE: AMT) followed up its $1.2 billion purchase of 6,480 Brazilian wireless towers from TIM Celular S.A. on November 21, with yet another $1.05 billion announcement on Monday, November 24.
This latest deal was for more than 4,800 towers located in Nigeria, purchased from Indian telecom giant Bharti Airtel Limited.
Mr. Market continues to view American Tower's international expansions in a positive manner with AMT shares hitting an all-time high of $102.48 at the close of trading on November 24.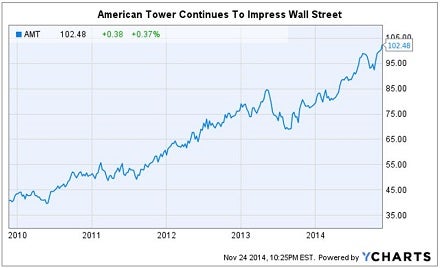 Entire U.S. Cell Tower Sector Near 52-Week Highs
Competitor SBA Communications (NASDAQ: SBAC) has also been expanding in Latin American markets such as Brazil, while Crown Castle International (NYSE: CCI) has focused on expanding in the U.S. market.
Related Link: Morgan Stanley Boosts AMT Price Target
In addition to its leading U.S. tower portfolio, Crown Castle also owns 1,800 towers covering most of Australia.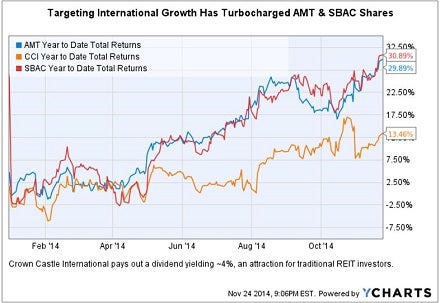 Both American Tower and SBA Communications underwrite double-digit IRR returns for international tower leases to help compensate for the complexity of doing business overseas.
By way of comparison, Crown Castle typically underwrites tower portfolios it has purchased in the U.S. at a 5 percent initial cap rate, increasing about 1 percent each year on average.
It is notable that more than two-thirds of American Tower revenues still come from domestic U.S. tower leases.
Tower Economics 101
The example below is from an American Tower investor presentation.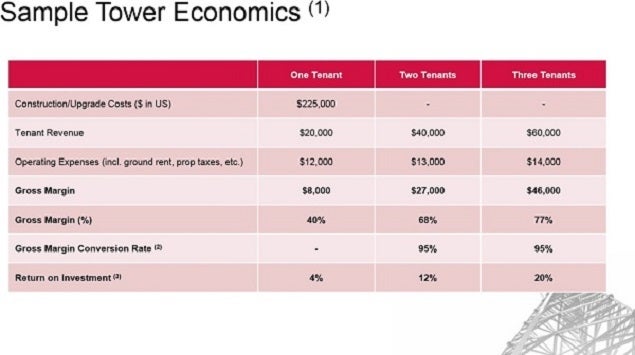 The ability for these independent tower operators to sign additional leases to add more wireless carriers onto each tower is crucial to delivering high ROIC for shareholders.
AMT Basic Criteria For New Markets
According to American Tower EVP of International Operations Hal Hess, speaking at the most recent Morgan Stanley TMT conference in held in Barcelona, Spain, there are three broad requirements that the company evaluates prior to making the decision to expand into a new marketplace:
1. A stable political and positive economic environment.
2. A dynamic wireless market -- at least three to four carriers.
3. The terms of the specific transaction, including assessment of counterparty risks.
AMT Is Experienced In Africa
While these are the first tower assets AMT has purchased in Nigeria, the company already owns wireless towers in Ghana, South Africa and Uganda. American Tower understands the myriad of operational challenges involved in operating wireless towers in Africa, such as the sources and quality of electrical power and incomplete road networks.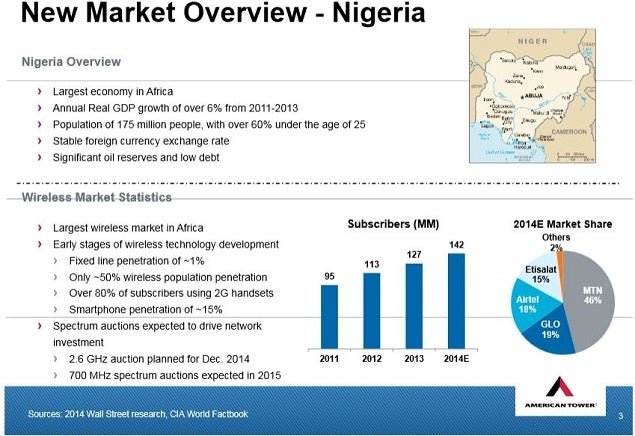 According to CEO Jim Taiclet, "With the largest population and economy in Africa and relatively underdeveloped wireless infrastructure, we [the company] view Nigeria as a tremendous growth opportunity. Further, we expect this investment to support our long-term objective of generating double-digit AFFO per share growth for our stockholders."
Why This Particular Portfolio?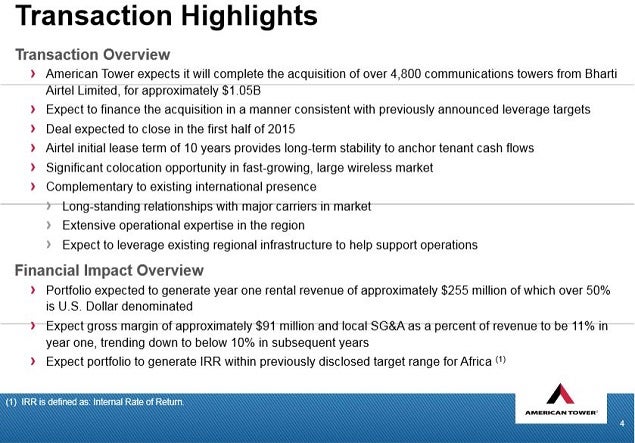 Consistent with most of American Tower leases, this Airtel deal in Nigeria is for an initial 10-year term. However, the recently announced TIM Brazilian tower network acquisitions will have TIM as the tower anchor tenant for an initial term of 20 years.
Trading Idea
The growth of wireless data and evolution of carrier networks continues to require large capital commitments by the wireless carriers. One way these companies can recoup money already invested is to sell and lease-back tower assets to third-party independent companies, which understand the myriad of governmental and operational issues these assets entail.
Wireless tower companies such as REIT pioneer American Tower offer investors a pure-play to cash in on the exponential growth rates of wireless data.
Posted-In: Bharti Airtel Limited TIM Celular S.A.Long Ideas REIT Trading Ideas Real Estate Best of Benzinga
View Comments and Join the Discussion!