The 3 Most Volatile Biotech Stocks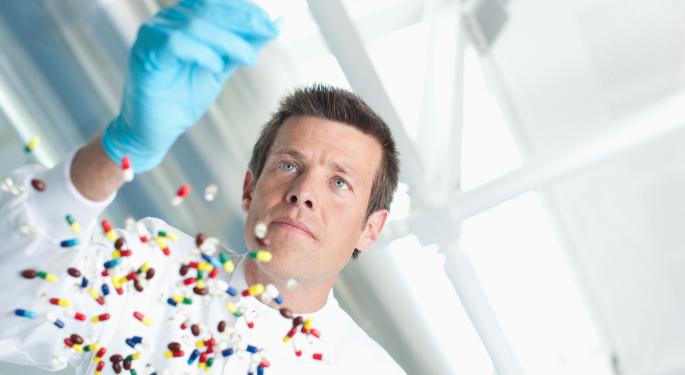 When volatility picks up the market is typically in the midst of a decline. It can also be very difficult to navigate the larger swings that inherently come with those declines.
However, investors might invite increased volatility if it were to the upside. So, why not be prepared for a market rise by having stocks selected with higher volatility?
One of the most common ways to measure the volatility of a stock is with its beta.
Beta 
is a quantitative measure of the volatility of a stock relative to the S&P 500. Specifically, beta is the performance the stock has experienced as the S&P 500 moved 1 percent up or down.
Related Link: Top 5 Biotech Stocks Over The Past Year
A beta of 1 indicates the stock's price will move with the S&P 500. A beta of less than 1 means it will be less volatile than the S&P 500.
Keep in mind though that beta measures volatility, but it does not predict direction. A stock that does 50 percent worse than the S&P 500 and a stock that does 50 percent better than the S&P 500 will both have a high beta.
So, which biotech names have the highest one-year annualized beta?
The biotech company with the third-highest beta is Arrowhead Research Corp (NASDAQ: ARWR).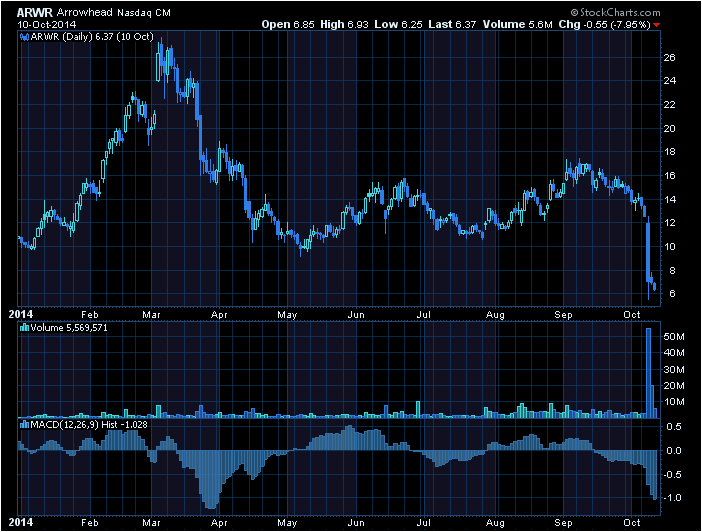 Arrowhead develops targeted RNAi therapeutics in the United States. The company's product candidates include an RNAi-based therapeutic that has completed a Phase 1 clinical trial for the treatment of chronic hepatitis B virus (HBV) infection.
Arrowhead's 2.58 beta is certainly on display in the chart above. From $10 up to $27 and back down to $6, the stock can certainly move. Unfortunately, most of the movement as of late is downward.
Runner-up on the list of the most volatile biotech stocks is that of Inovio Pharmaceuticals Inc (NASDAQ: INO).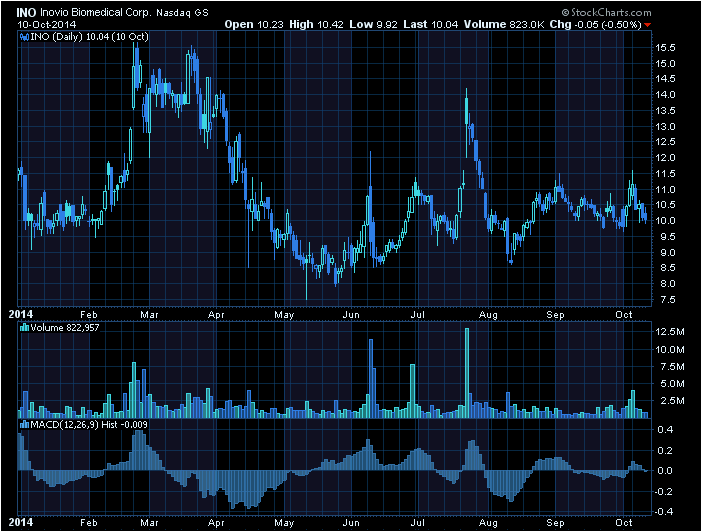 Inovio discovers and develops synthetic vaccines and immune therapies focusing on cancers and infectious diseases.
Although Inovio's overall range is narrower than that of Arrowhead, a beta of 2.6 means the stock is moving an quite a bit within that range.
Finally, coming in as the most volatile biotech stock is Vanda Pharmaceuticals Inc. (NASDAQ: VNDA).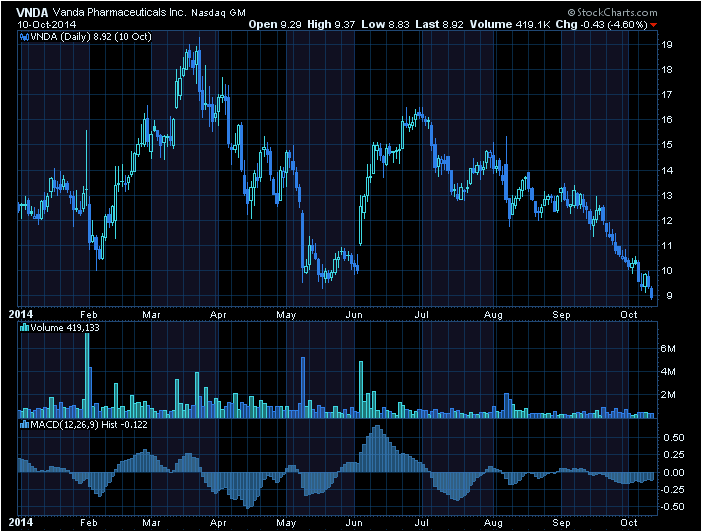 Vanda engages in the development and commercialization of pharmaceutical products. Its product portfolio includes HETLIOZ, a product for the treatment of Non-24-Hour Sleep-Wake Disorder.
The stock has a 3.92 beta and has been anywhere from $9 to $19 over the last 12 months. It's a name that can certainly run when it decides to go.
The screening criterion utilized to identify this list was one that isolated biotech stocks trading above $5 per share with at least 500,000 shares per day (90-day average volume).
Investors should conduct their own due diligence before investing in any stock.
Posted in: Long Ideas Short Ideas Health Care Technicals Trading Ideas General Best of Benzinga