Biogen Idec, Inc. Suddenly Struggling To Keep Up With The Biotech Joneses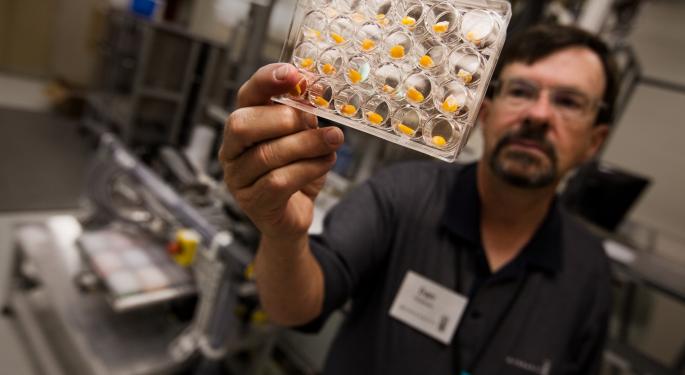 Up from $42.92 in March of 2009, Biogen Idec Pharmaceuticals has posted an "eight-bagger" in terms of returns for their loyal longs.
Does the company's expected growth going forward justify further gains?
Biogen Idec (NASDAQ: BIIB) shareholders have been rewarded handsomely for holding the stock for the long term over the years. After the March peak at $358.89, however, the stock has failed to approach new all-time highs.
Is the recent choppiness the "pause that refreshes" or symptomatic of internal/operational issues at the company? Let's take a look at the stock from a couple of different views.
The Bulls See The Following Positives For The Company…
Biogen Idec sports beautiful gross (36.23 percent) and net (25.64 percent) profit margins that create more than $2.5 billion per year in levered free cash flow.
The balance sheet for the company is nearly immaculate with more than $1.57 billion in cash versus only $589 million in total debt, a current ratio of 2.05 and a debt-to-equity ratio of only 6.16 percent.
Related Link: Celgene Easing Back After Run To New All-Time Highs
Biogen's price-to-earnings ratio of just over 20 (based on 2015 earnings estimates) is on the cheaper side of neutral when compared to estimated EPS growth of 23.1 percent and estimated revenue growth of more than 15 percent.
The bulls love the idea of being able to buy one of these growth-oriented biotech stocks well off the highs like where BIIB shares are trading right now.
The Bears' View Of The Company Includes The Following Bullet Points:
Biogen's valuations are not "cheap" at all if you look at a market capitalization that trumps the enterprise value, a price-to-book ratio of 8.07 and a price-to-sales of 9.25.
With no other blemishes on the fundamental side of the equation, the bears quickly turn to the fact that while Biogen's peers are just now easing back of their all-time highs, Biogen peaked months ago and is still struggling to find its footing. Why buy the laggard of the group (if you can really call this stock a laggard), they note?
The Technical Take…
Technicians note that BIIB shares are trading at $332.30, and have uptrend line and horizontal line support at $317. As long as that level of support holds up, they note, it would be crazy to be aggressively betting against Biogen.
If that level breaks, then much more upside will open up and the bulls should protect their capital. On the other hand, if support holds, then a move back up to the high of $358.89 and beyond may well play out.
Overall…
Biogen Idec longs have had to put up with several months of digestion after gorging themselves on massive gains for more than five years. Such a pullback period could be very healthy overall as long as the uptrend line support noted by technicians holds up.
With nothing overly alarming on the fundamental front (at least on the surface), buyers should be readying their cash for the rest of the pullback to play out.
Stock chart:

Posted-In: Long Ideas Technicals Movers Trading Ideas Best of Benzinga
View Comments and Join the Discussion!