A Closer Look At Three Hot Restaurant IPOs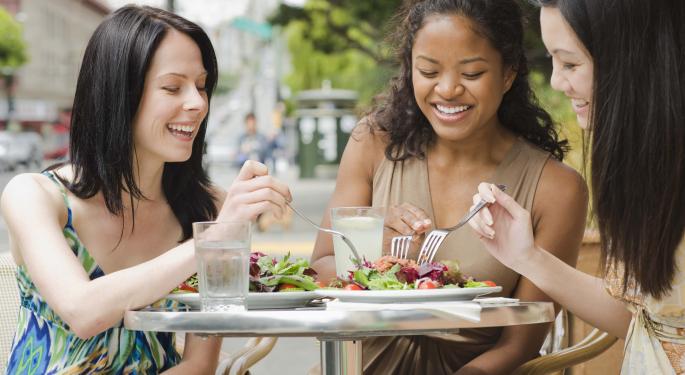 It has been an outstanding year thus far for companies looking to raise money and go public. In fact, while 2013 was a record year for new offerings, 2014 may be even better.
One of the more active sectors for IPOs in 2014 has been the restaurant industry, in particular the quick-casual segment. Despite financial difficulties at a number of high-profile chains, such as Quizno's and Sbarro, investor appetite for deals in the space has remained strong.
No one wants to miss out on the next Chipotle or Panera Bread. Investors have thrown significant amounts of money at up and coming companies that have a chance of delivering high growth and consistent profitability. As the space gets more crowded, however, companies may be hard pressed to meet Wall Street's expectations.
While it is yet to be seen if the class of 2014 will yield another astounding success such as Buffalo Wild Wings, a number of very interesting restaurant concepts have hit the public markets in recent months.
Related Link: 3 Restaurant Stocks That Have Outperformed So Far in 2014
Here's a closer look at three of these recent IPOs:
Zoe's Kitchen (NYSE: ZOES)
This small-cap restaurant chain went public in April 2014. The company raised $87.5 million after pricing its IPO at $15, above the initial expected range of $11 to $13. The stock soared on its first day of trading on the New York Stock Exchange, and Zoe's had nearly doubled from its IPO price within a few days.
Zoe's is based in Plano, Texas and currently employs fewer than 3,000 people. In recent days, the stock was trading slightly above $28 per share, giving the company a market-cap of $547 million. This is very impressive considering that Zoe's only operates 111 restaurants and lost nearly $4 million in fiscal year 2014. The company's rich valuation is also underscored by its price/sales ratio of 4.
What investors are attracted to with this company is its very impressive sales growth. Zoe's has grown its sales from just $32 million in fiscal year 2010 to more than $116 million in fiscal year 2014. On a year-over-year basis, Zoe's revenue rose 46 percent between 2013 and 2014, and Wall Street analysts are projecting growth of 24.4 percent next year. The company is also expected to begin turning a profit, with earnings per share estimates sitting at $0.02 for the current quarter. In fiscal year 2015, the Street is modeling EPS of $0.07.
Zoe's menu is focused on Mediterranean food served with Southern hospitality. Its signature dishes include pitas, hummus, kebabs and rice pilaf. Looking ahead, this is a name that growth-oriented investors will want to keep an eye on, as the company plans to double its store count over the next four years. If Zoe's can continue its torrid sales growth, the stock's hot start on the public markets could be a sign of bigger things to come.
Related Link: 3 German Stocks For Your Portfolio After The World Cup Win
Papa Murphy's Holdings (NASDAQ: FRSH)
This chain operator of "Take 'N' Bake" pizza locations went public in May 2014 at $11 per share, which was at the low end of the expected range. The weak IPO pricing indicated slack demand for the deal at the time, and this trend has continued over the last couple of months with the stock trading down to around $9. At these levels, Papa Murphy's has a market capitalization of just $152 million.
Papa Murphy's is already a large chain, with about 1,400 mostly-franchised stores, but it intends to grow to 4,500 locations in the United States alone. Currently, the company operates in 38 states, Canada and the United Arab Emirates. While the pizza space is very crowded with around 71,400 domestic stores, Papa Murphy's "Take 'N' Bake" model is significantly differentiated. Customers pick the sauce and toppings that they want on their pizza, which is then prepared fresh by employees but not baked. Instead, consumers pick up their pizza and bake it at home in the oven.
While Papa Murphy's recorded choppy revenues between 2009 and 2012, the company has managed to post some solid growth over the last couple of years.
Between fiscal years 2012 and 2013, for example, top-line sales rose more than 20 percent to $80.50 million. Looking ahead to fiscal year 2014, Wall Street analysts are projecting that sales will rise around 18 percent to $94.88 million. Unfortunately, the Street does not see this trend continuing into 2015, when sales are estimated to only rise 3 percent.
Currently, Papa Murphy's is profitable with earnings per share expected to be $0.41 in fiscal year 2014 and $0.43 in fiscal year 2015. Although this is a small, niche operator, Papa Murphy's will be an intriguing name to watch in the coming years. The pizza business is highly competitive, but companies such as Domino's and Papa John's have produced tremendous returns for shareholders in recent years.
Potbelly (NASDAQ: PBPB)
This Chicago-based chain of sandwich shops went public last October at $14 per share. The stock promptly more than doubled in its first day of trading amid very heavy demand.
At first glance, it appeared that company insiders left quite a bit of money on the table, even though the expected deal price was bumped up twice leading up to the IPO from an original range of between $9 and $11. In hindsight, the $14 price tag for newly public Potbelly shares seems more than fair, as the stock has tanked badly ever since its splashy debut.
After falling more than 51 percent in 2014, the shares were last trading below $12, leaving Potbelly with a market-cap of just under $350 million. The problem for the company has been falling sales for the last four quarters. During this time period, top-line revenue has slipped from $78.19 million to $73.88 million, exacting a heavy toll on the share price. Net income also took a dive in fiscal year 2013, declining from $24.05 million in 2012 to a paltry $1.26 million the following year.
All may not be lost for Potbelly investors, however, as Wall Street is predicting a turnaround for the company. Sales in 2014 are estimated to be up 8 percent to $323.73 million, followed by a better than 12 percent jump to $362.80 million in fiscal year 2015. Furthermore, earnings per share are expected to grow from $0.19 in fiscal year 2014 to $0.26 in fiscal year 2015, putting the company back on track to solid profitability.
Nevertheless, the stock's free fall makes it difficult to own. Cautious investors may want to wait for this name to put in a solid bottom before scooping up shares.
Still, this sector is one to watch: A myriad of long-term winners have made early shareholders rich. Among the most obvious examples are companies such as McDonald's and YUM! Brands.
Posted-In: Papa Murphy's Potbelly Zoe's KitchenLong Ideas IPOs Top Stories Trading Ideas Best of Benzinga
View Comments and Join the Discussion!