Using Social Media To Cash In On Lionsgate And 'The Hunger Games'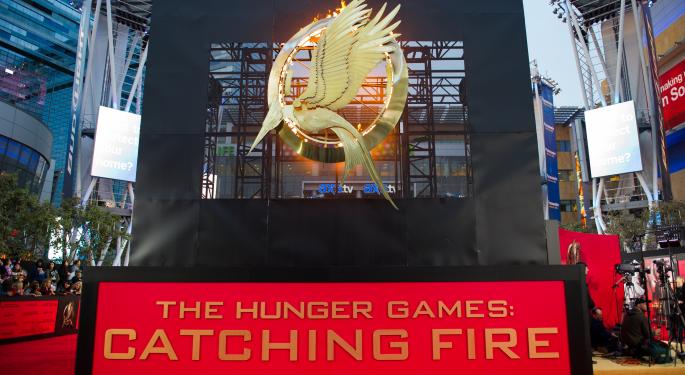 Were you one of the lucky investors to notice Lionsgate (NYSE: LGF) before its first blockbuster was released?
Chris Camillo, a self-directed investor and author of Laughing at Wall Street, became interested in the company after recognizing the potential for The Hunger Games.
"There was a point in time when The Hunger Games was simply a book that Lionsgate had licensed," Camillo told Benzinga. "That book was getting tremendous traction on the social Web, especially with the young female audience, but also the young male audience. There was an opportunity at that time when Lionsgate was a $7 to $12 stock to realize that they had come across probably one of the most important media properties of this decade."
Camillo said that, some time before Wall Street put that together, any investor could have seen "what a jewel Lionsgate had come across."
"The Hunger Games, at the time, was trending on social media just about as strong or stronger as any book-to-film franchise to date," Camillo explained. "So it was very obvious to read that on social media."
Related: Will The Hunger Games Disappoint Like John Carter?
Camillo is currently preparing to launch a hedge fund exclusively based on the analysis of social chatter. He admitted that The Hunger Games could have flopped, but said that he willing to take that "calculated" risk.
"And I believe that the best information to assess that risk is information at the [main street] level, information that anyone can pick up in real-time as it's unfolding rather than waiting for that information to get digested and repeated by the Street, at which time most of it has already been factored into the stock price," said Camillo.
He estimated that if the firm could get the male audience and the overall mainstream audience, it would become a $3 billion to $5 billion franchise. If it failed to do that, Camillo believed The Hunger Games films would still earn $1 billion to $2 billion collectively.
"For that first movie -- if it had done a billion, who knows?" said Camillo. "If it had done half a billion, it still would have moved the needle significantly for Lionsgate."
Lionsgate picked up The Hunger Games in March 2009 -- three years before the film was released. At the time, Lionsgate was trading in the $5 range. Consumers -- much less Wall Street -- barely reacted the news. The first Hunger Games novel was only six months old.
When director Gary Ross came aboard in November 2010, Lionsgate was trading in the $7 range. But it plummeted and couldn't get above $6 for the next several months.
The stock didn't rebound until fall 2011, which coincided with the beginning of Lionsgate's massive media push for The Hunger Games. By then, all three books had been released and became very successful worldwide.
Related: Why Did The Hunger Games Make $155 Million?
Shares of Lionsgate increased 129 percent between October 3, 2011 and March 21, 2012. This period included the January 2012 acquisition of Summit Entertainment, the studio that produced the Twilight films.
But on March 22 (one day before the first Hunger Games film arrived in theaters), shares began to tumble. By April 24, 2012, Lionsgate had lost more than 20 percent of its value.
The stock was a fighter though. It came back and ended 2012 with a total gain of 94.5 percent. Lionsgate continued to rise in 2013, gaining an additional 87.6 percent.
According to Box Office Mojo, the first Hunger Games film earned $691 million worldwide. It became the biggest DVD of the year with more than seven million units sold in the United States.
Catching Fire, the second Hunger Games film, earned $863 million worldwide. The DVD arrives on March 7, 2014.
The Hunger Games: Mockingjay, Part 1 will be released in theaters on November 21, 2014.
Disclosure: At the time of this writing, Louis Bedigian had no position in the equities mentioned in this report.
View Comments and Join the Discussion!
Posted-In: Chris CamilloLong Ideas News Hedge Funds Success Stories Tech Trading Ideas General Best of Benzinga