3 Reasons To Buy JetBlue On The Decline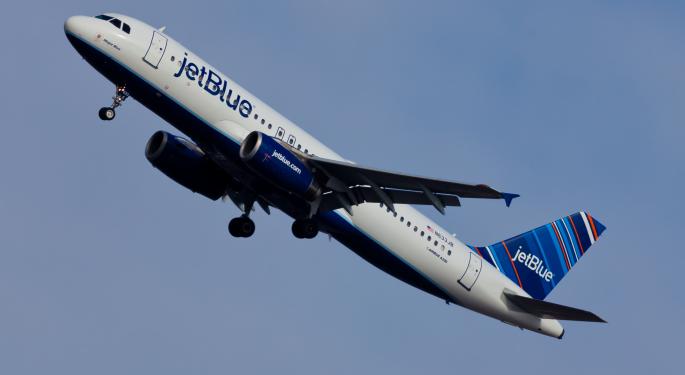 Due to the terrible weather in the United States, JetBlue (NASDAQ: JBLU) and other airlines have had to cancel many flights. JetBlue cancelled 300 flights on Monday, reducing operations at New York Kennedy, New York LaGuardia, Newark and Boston. In a prepared statement, JetBlue advised that, "to ensure recovery of our operations as efficiently as possible and to be fully operable by tomorrow. This plan allows for 17 hours of rest for our equipment and crew members and time to service aircraft."
While the stock price of JetBlue declined due to this short-term situation, there are three reasons investors should expect it to take off again; and rise for the long term.
The first is that there is a bullish outlook for JetBlue due to the American Airlines merger with U.S. Airways. JetBlue along with Southwest Airlines is expected to pick up routes and landing slots. Many of these should be in the lucrative Northeast corridor. That is very bullish for the stock.
Related: Big-Time Investors Like the Rental Car Companies
The next reason is a the macro outlook for the airline industry.
Air carriers have come back very strong from The Great Recession. The exchange-traded fund for the industry, Guggenheim Airline (NYSE: FAA), is now around $43 a share. Due to the impact of The Great Recession, it was under $24 in October 2012. It has risen about 20 percent over the last year of market action. The economy in the United States is improving, which is a very positive development for JetBlue and other airline companies. A recent article on Benzinga noted that JetBlue had "a strong domestic presence."
There is also momentum, as JetBlue is up more than 45 percent for the previous 52 weeks.
Momentum investors should be particularly bullish about JetBlue as it is up for the last week, month, quarter, six months, and year of trading. Volume has also been strong. Due to the bull market and improving economic numbers from the United States, investors like JetBlue and other stocks do better when growth is rising. Guggenheim Airline has done well in recent market action, too. Buying should pick up again for JetBlue after this likely temporary dip.
JetBlue is now just under $8.70. The most recent recommendation for JetBlue was a buy on November 22, 2013 from CRT Capital with a target price of $12 a share.
Posted-In: Long Ideas News Sector ETFs Upgrades Technicals Events Economics Analyst Ratings Best of Benzinga
View Comments and Join the Discussion!