Rio Tinto is Bullish on China: Does that Make the Stock a Buy?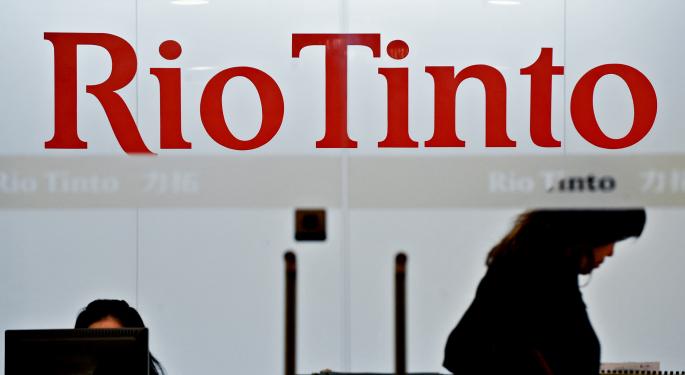 Rio Tinto (NYSE: RIO), the British industrial minerals firm, is so bullish on China it is spending $2 billion to increase production of iron ore in Australia by 25 percent.
As detailed in a previous article on Benzinga, BHP Billiton (NYSE: BHP), a natural resources firm headquartered in Australia, is also moving ahead on development projects; an action based on increasing demand from the world's most populous country. For growth, value and income investors, Rio Tinto is appealing -- due to China's rising need for iron ore.
Rio Tinto is a commodities play on the steel consumed by the People's Republic.
Before the Great Recession, there was nothing better. But the price of iron ore collapsed as growth declined in China. However, China is coming back and, as a result, so is the exchange traded fund for steel, Market Vectors Steel (NYSE: SLX), up by more than 20 percent for the last six months. Unsurprisingly, over the same period, the main exchanged traded fund for China, iShares China Large-Cap (NYSE: FXI), increased more than 16 percent.
During that same span, Rio Tinto stock rose more than 25 percent.
Value investors should like the forward price-to-earnings ratio of around 10. That is about half the average price-to-earnings ratio for a member of the Standard & Poor's 500 Index. The forward price-to-earnings ratio for BHP Billiton is 13.24.
While the price-to-earnings ratio for Rio Tinto is far below the average for a Standard & Poor's 500 company, the dividend yield is far above it. The average dividend for an S&P 500 member is about 1.9 percent. Rio Tinto pays a dividend of 3.12 percent.
Demand for steel, meanwhile, is not just coming from China.
It should also increase from India, Brazil and other emerging market countries. Rio Tinto also controls profitable mines in stable countries, that are at a premium in that industry. As the need for steel continues to rise, so should the share price for Rio Tinto, based on all of those factors.
Posted-In: Long Ideas News Sector ETFs Dividends Dividends Emerging Markets Emerging Market ETFs Technicals
View Comments and Join the Discussion!