3 Reasons to Buy Suncor Energy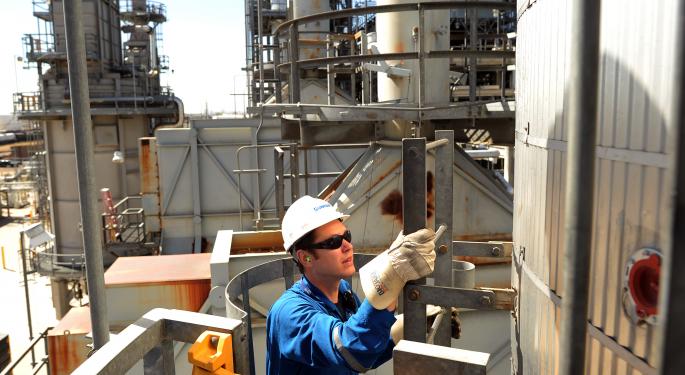 It's not often that a Warren Buffett buy falls in price. But that is happening now with Suncor Energy (NYSE: SU). 
That is one of three main reasons why investors should take advantage of the falling price of the Canadian major oil and natural gas firm.
"The Oracle of Omaha" has been moving steadily into the oil and natural gas sector.
It was recently disclosed that Buffett had invested billions in Exxon Mobil (NYSE: XOM). Previous purchases include ConocoPhillips (NYSE: COP) and PetroChina (NYSE: PTR), among others. Buffett sold out of PetroChina and recently reduced his position in ConocoPhillips.
Suncor Energy compares favorably with these companies.
As detailed in a previous article on Benzinga, the future is very bullish for this sector. The International Energy Agency predicts gobal energy demand will soar in coming years. And most of that increasing demand will have to be met by oil and natural gas. Suncor Energy is situated as well as any firm to prosper from those bullish market forces.
Related: 3 Stocks to Profit from the Rise in Hospital Spending
The next reason is that Suncor Energy operates from Canada.
The market is placing a premium on North American energy assets. According to an article in The Wall Street Journal, China has spent $44 billion on energy resources in the United States and Canada. Repsol (OTC: REPYY), a Spanish oil firm, is reported by the Financial Times of London to be looking to spend up to $10 billion energy resources in North America. That is very bullish for Suncor Energy and other entities with strong holdings in the region.
Suncor Energy pays its shareholders well, too.
The average dividend for a member of the Standard & Poor's 500 Index is around 1.9 percent. For Suncor Energy, the dividend is around 2.25 percent. That is in line with what Exxon Mobil pays. Suncor Energy has a modest payout ratio, so there is plenty of cash to raise the dividend or initiate stock buyback programs to reward loyal shareholders.
The fact that Warren Buffett is a major shareholder is often enough for many investors. That is certainly seen by the high price for Berkshire Hathaway (NYSE: BRK-A), which is up almost 30 percent for 2013. Over the same period, Suncor Energy has risen less than 6 percent.
The weakness of the Canadian dollar partially accounts for the recent decline. Investors should take advantage of the price drop, over 2.6 percent for the last month, to pick up shares of Suncor Energy at a discount that should result in higher long term total returns.
Posted-In: Long Ideas News Dividends Emerging Markets Commodities Events Global Economics
View Comments and Join the Discussion!