Exclusive: Short Sellers Pull Out of SodaStream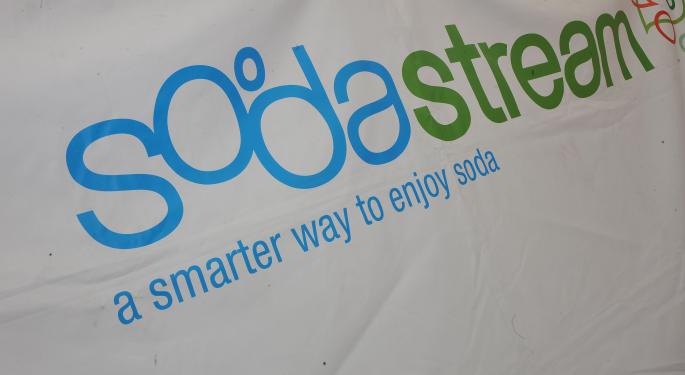 SodaStream International (NASDAQ: SODA) is a company that has been rattled with short sellers for several years. In an exclusive interview with Benzinga, Astec Analytics' Executive Vice President Tim Smith discussed how security borrowing has changed in the time surrounding SodaStream's earnings report. 
SunGard's Astec Analytics tracks real-time securities lending data, which correlates extremely well to short interest data.
SodaStream is a "Hot" Stock
A high interest rate to borrow shares is a key indicator of a hot short. "People are paying the order of 11 to 12 percent on an annualized basis to borrow the shares in order to maintain or put on new short positions," Smith said. However, since the 23rd of October, there has been a shift in interest.
Recent Security Borrowing
About a week before the company reported earnings, "new transactions were going out in the order of 15 or 16 percent," he noted. However, as can be seen by lending rates, demand for shares has tapered off.
"We have actually seen today, [last Friday] more people are returning the security than borrowing it," Smith continued. "It shows that maybe people are beginning to say 'okay, perhaps there's not much more to get out of it at the moment, and we will start doing bit of short covering.'"
Related: Exclusive: Short Sellers Pile Into Tesla
Shares Rising Last Week
Smith also addressed the changes in the share prices over the past few days. "Since the 28th of October, the demand has actually moved five or six percent upwards," he sald. "So the actual amount of shares being borrowed has crept up over the last six or seven trading sessions."
An increase in share price, along with an increase in shares sold short, indicates that SodaStream was seeing especially strong long interest.
On Friday, Smith's data suggested a net covering of short positions.
Looking Ahead
"If people want to short the stock," he said, "there is plenty of available supply to enable them to borrow securities to put on or establish actual position."
Shares of SodaStream closed down 0.32 percent to $56.14 Tuesday.
Posted-In: Astec Analytics SunGardLong Ideas News Short Ideas Trading Ideas Interview General Best of Benzinga
View Comments and Join the Discussion!