Australia Should Boom Now that China is Growing Again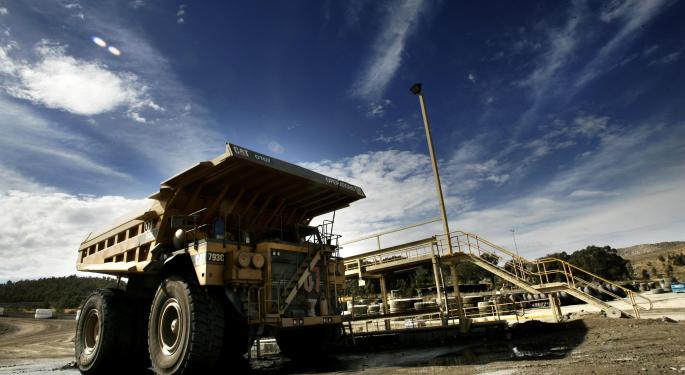 With the Chinese economy increasing in growth to 7.8 percent for the most recent quarter, up from 7.5 percent previously, global financial exchanges have rallied strongly. Perhaps the biggest long term winners will be companies operating in the natural resources sector of Australia.
There is an established relationship with commodities from Australia, such as copper, iron ore and gold, feeding the voracious appetite of the business and investing communities of China.
Perhaps no other company demonstrates this more than BHP Billiton (NYSE: BHP), the world's largest natural resource company, based in Melbourne, Australia.
Down more than eight percent for 2013, BHP Billiton has roared back with the Chinese economy. Over the last week of market action, BHP Billiton is up more than 3.6 percent due to bullish news from the People's Republic.
With a profit margin and return-on-equity that are both over 30 percent, investors should be positive about the share price of BHP Billiton continuing to climb. Societe General just upgraded BHP Billiton. A dividend of about 3.4 percet pays for the wait.
As the People's Republic is the world's biggest consumer of aluminum, Alumina (NYSE: AWC) is also rallying.
Active in all phases of the aluminum production and delivery process, Alumina is down for the year but up for the quarter. Analysts project that earnings-per-share will average 42.20 percent for the next year. That is so high due to the low level, but it is still a bullish projection; and certainly in the right direction as earnings-per-share for the past five years dropped an average of 15.80 percent annually. JP Morgan upgraded Alumina in July.
A number of small caps operating in the Australian natural resources sector should do well, too.
China is the world's largest consumer of energy; and InterOil Corporation (NYSE: IOC) does business producing oil in New Guinea from its headquarters in Cairns, Australia. Wishbone Gold PLC (OTC: WISHY) is a London-based company with gold and silver properties in Australia's Queensland Territory. Now trading around $64 a share, the mean analyst target price for InterOil over the next year of market action is $100. Wishbone Gold PLC was just recommended by Beaufort Securities. As China is the second largest buyer of gold in the world, Wishbone Gold PLC is ideally situated for demand coming from the People's Republic.
There is nothing more bullish for the Australian economy than China growing again. That was clearly demonstrated by the bearish performance of BHP Billiton, Alumna, and others when the People's Republic was stumbling. Now that the economy of China is improving, so should the outlook for BHP Billiton, Alumina, InterOil, Wishbone Gold PLC, and other companies doing business in the natural resources sector of Australia.
Posted-In: Long Ideas News Emerging Markets Futures Commodities Events Global Economics Best of Benzinga
View Comments and Join the Discussion!