The Case Against: Lady Gaga and Katy Perry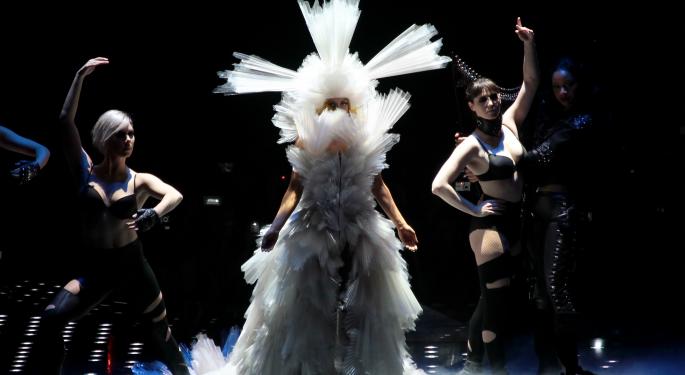 'The Case Against' is a recurring analysis of why a company, person or other business venture is not a good long-term investment. All opinions are the author's and are not a recommendation to buy or sell any stocks, bonds or other financial instruments.
To put things in a 1980s perspective, in the battle of pop music superstars, Katy Perry looks to have the longevity (and sales might) of Madonna, while Lady Gaga appears to be following a career arc closer to that of Cyndi Lauper. And though both remain successful in a number of ways, Perry appears likely to sell more albums for Capitol Records than Gaga does for Interscope.
Lauper exploded on the scene with her "She's So Unusual" album in 1983 only to see her pop career largely evaporate by the time she released her third album 1989's "A Night to Remember." Gaga is three albums in and, like Lauper, she remains incredibly famous due to her wacky outfits and oversized personality, but her actual sales are falling dramatically.
Perry, on the other hand, has only built upon her success, with her last album "Teenage Dream," producing six hit singles, including five number ones on the Billboard charts. And, while she hasn't had to constantly reinvent herself like Madonna, she has shown a pop staying power similar to that of the Material Girl.
Of course, from an investment, standpoint, you don't have to bet on one pop princess over the other because both record labels are owned by Vivendi's (OTC: VIVHY) Universal Music Group. And, perhaps, more importantly, individual albums are not like blockbuster movies and even the most expensive ones -- should they flop or hit -- almost never have a material impact on earnings for a company as large as Vivendi.
Both Perry ("Prism") and Gaga (Artpop) have new albums out soon and both released first singles that were pushed on the MTV Video Music Awards. Gaga opened the show with a bizarre, Cher-esque multi-outfit performance of "Applause" while Perry closed the show in a cute and tamely sexy sports bra/boxing shorts-clad rendition of "Roar."
The Gaga act was entertaining-ish, but the song lacks a real pop hook and it has been a disappointment on the sales side. Whereas "Roar" sold 557,000 downloads in its first full sales week — making it the third biggest digital debut and sixth largest sales week for a digital song ever -- Gaga's "Applause sold a middling, 218,000 downloads.
This follows the pattern from Gaga's "Born This Way" album, which was a disappointment compared to Perry's Teenage Dream. So, as an investor, the obvious scenario would seem to be to invest in the Katy Perry brand, but avoid Lady Gaga's.
That, however, is where things get complicated. Since you can't invest in one artist without also buying the other in the form of Vivendi stock, you instead have to look for ancillary opportunities such as the stocks of companies endorsed by Gaga or Perry.
Currently, Perry has two perfumes and appears in a handful of commercials including one for Proactiv, an acne medication. None of her major endorsements are for publicly traded companies, so you can't buy a stock based on her involvement, but, would you want to?
Pop princesses, like Perry tend to be only as connected with their fans as their latest single. And, though an avid hitmaker, Perry falls into that category. She has fans, but those fans lack the cult-like intensity of Gaga's "Little Monsters."
Though Gaga may be a declining asset as pop star, she commands a fan loyalty that's extremely devoted. Because of her message of tolerance and acceptance, Gaga has been a beacon for LGBT culture, outcasts and teens and twenty-somethings or those lacking an identity. These fans don't see Gaga as a singer, but almost as a religious leader. This type of fan, though smaller in number, may be more likely to respond to a celebrity endorsement.
Still, opportunities are limited, as Gaga, like seemingly all female celebrities, has a perfume line, but her only real work for a publicly traded company is for Mac Cosmetics -- owned by Estee Lauder (NYSE: EL). And, in this case, it seems that, while Gaga may command an army of millions, she can't move enough cosmetics to bring any real value to investors.
So, if you're betting on pop success, then put your proverbial dollars on Katy Perry, but, if you're looking for a real investment opportunity, neither the former Mrs. Russell Brand, nor the one-time Stefani Joanne Angelina Germanotta offer much value for investors.
Daniel B. Kline is a Benzinga staff writer and editorial consultant who can be reached at dan(at)notastep(dot)com.
View Comments and Join the Discussion!
Posted-In: A Night to Remember Artpop Born This Way Capitol RecordsLong Ideas Topics Trading Ideas General Best of Benzinga