Japan, the Small-Cap Hedged Way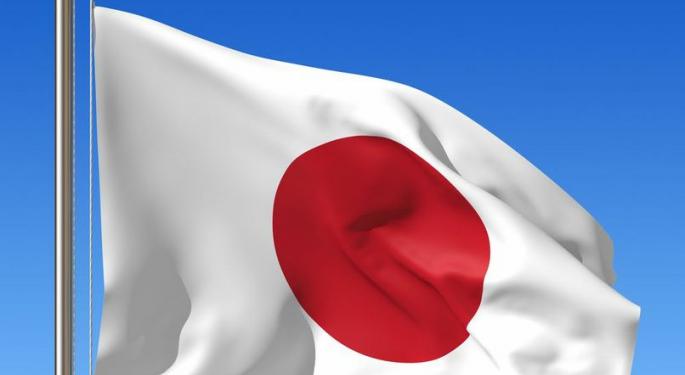 The WisdomTree Japan Hedged Equity Fund (NYSE: DXJ) is one of the biggest success stories among ETFs this year. A plunging yen has made Japanese stocks Asia's best performers and that has made DXJ the top asset-gathering U.S.-listed ETF. So a small-cap version of this wildly popular fund was bound to come along at some point.
That point is today with the debut of the WisdomTree Japan Hedged SmallCap Equity Fund (NYSE: DXJS). The new WisdomTree Japan Hedged SmallCap Equity Fund was designed to "to capture the small cap portion of the equity markets that we believe are more levered to local Japan consumption and revenue," said WisdomTree Research Director Jeremy Schwartz in a statement.
DXJS features the same hedged USD/JPY component that has made DXJ so popular. The short yen feature has helped DXJ outperform the rival unhedged iShares MSCI Japan Index Fund (NYSE: EWJ) this year by 820 basis points.
Another element of DXJ's success that frequently goes overlooked is that the ETF's underlying index screens constituent companies to ensure those firms generate the bulk of their revenue from outside of Japan. The new DXJS takes the opposite approach by focusing on Japan's domestic economy, giving investors some exposure to the reflation trade there.
Japanese Prime Minister Shinzo Abe "has a goal of spurring local economic growth. And Japanese small caps are more plugged into the local demand and revenue base than their large cap, global peers. Hedging the yen can be critical to capitalizing on the market's equity returns during a declining yen environment," said WisdomTree.
At the sector level, consumer discretionary and industrial names combine for nearly half of the new ETF's weight. Japanese small-caps in those sectors derive an average of 79 percent of their revenue from Japan, but large-caps from the same groups garner an average of just 44 percent of sales from inside Japan, according to WisdomTree data.
Those are not the only sectors where Japanese small-caps are dependent on the world's third-largest for the bulk of their revenue. Believers in Abenomics should be believers in Japanese small-caps because, just to name a few sectors, financial services, health care and staples depend on Japan for most of their top line growth.
Those three sectors combine for over 28 percent of the new ETF's weight. DXJS is not WisdomTree's first foray in Japanese small-caps. The firm also sponsors the $224.5 million WisdomTree Japan SmallCap Dividend Fund (NYSE: DFJ).
DXJS has annual expense ratio of 0.58 percent compared to 0.48 percent for DXJ.
For more on ETFs, click here.
Posted-In: Long Ideas News Short Ideas Specialty ETFs New ETFs Small Cap Analysis Currency ETFs Forex Best of Benzinga
View Comments and Join the Discussion!