Russia ETFs: Putin Pressing For Dividends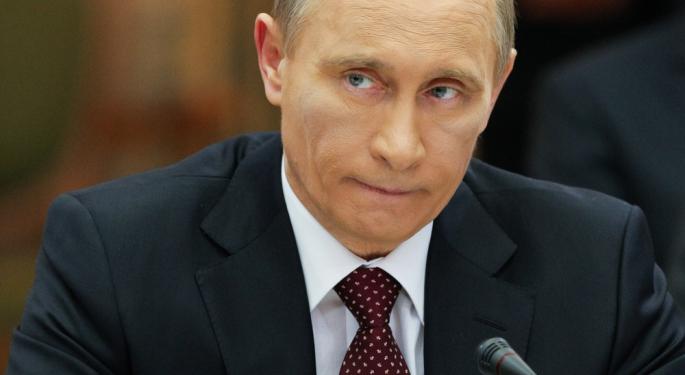 Emerging markets have provided investors with ample disappointment this year and the BRIC nations have been among the ringleaders when it comes to developing world negativity.
While some members of the quartet share discouraging traits in common, stocks in each country have also been plagued by various domestic factors.
In Russia, a slew of dividend disappointments have weighed on stocks there and hampered the government's goals of attracting more foreign investors to the oil-rich country. To be clear, Russia's dividend disappointments do not necessarily mean cuts or suspensions. Rather, the consternation for investors comes from the reluctance of Russia's state-controlled enterprises to go along with President Vladimir Putin's demands that these companies would start paying out 25 percent of their net income in dividends this year.
A frequently used selling point for Russian equities is that the RSX), the largest Russia-specific ETF, had a P/E ratio of about five and a price-to-book ratio of just 0.44 as of May 31. The iShares MSCI Emerging Markets Index Fund (NYSE: EEM) has a P/E of 18 and a price-to-book ratio of three.
Valuations have not been enough to lure buyers to Russian stocks and ETFs. Not at a time when emerging markets equities are being pounded and Russia's highly profitable state-run companies are rebuffing Putin, a leader accustomed to getting his way. Putin was successful in getting OAO Rosneft, Russia's largest oil company, to go along with the 25 percent of net income as dividends plan.
However, Gazprom, Russia's state-controlled natural gas monopoly is only paying a dividend that equals 25 percent of last year's profits using an accounting gimmick. Other companies are resisting the 25 percent of net income dividend plan as well. Sberbank and VTB Bank OJSC are planning dividends that amount to 17 percent of net income.
Those four stocks combine for about 23.6 percent of RSX's weight and 37.4 percent of the iShares MSCI Russia Capped Index Fund's (NYSE: ERUS) weight. The average 30-day SEC yield on the two ETFs is about 2.5 percent, or almost 10 basis points less than what investors will get on 10-year U.S. Treasurys.
For his part, Putin is not letting Russian companies skirt the 25 percent rule forever. Starting in 2014, the prime minister's approval will be needed to exempt companies from a payout equivalent to at least 25 percent of profit under international accounting methods, Bloomberg reported, citing Russian Deputy Prime Minister Igor Shuvalov.
The objective is to make Russian state-controlled companies more attractive to foreign investors as the Kremlin prepares to pare its stakes in banks, oil companies and others.
Should the plan prove successful, investors that do not want the commitment or risk of a Russia-specific ETF bet should consider the WisdomTree Emerging Markets Equity Income Fund (NYSE: DEM). Russia is DEM's largest county weight at 18.5 percent, by far the largest allocation to the country of the major diversified global emerging markets ETFs. Four Russian companies are found among DEM's top-10 holdings. Rosneft and Gazprom are the ETF's top-10 holdings combing for 9.2 percent of the fund's weight.
For more on ETF's click here.
Posted-In: Long Ideas News Short Ideas Dividends Dividends Emerging Market ETFs Commodities Global Best of Benzinga
View Comments and Join the Discussion!