Them is Fightin' Words For South Korea ETF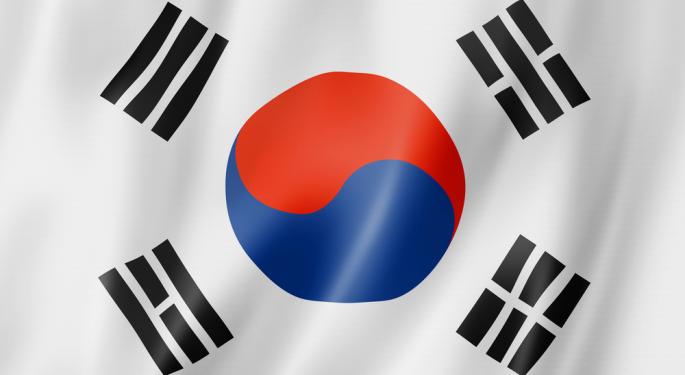 On another "sea of red" day for emerging markets ETFs, the already embattled iShares MSCI South Korea Capped Index Fund (NYSE: EWY) is holding up fairly well compared its ilk.
EWY is trading flat to slightly lower today and the ETF is showing some chops following some snarky comments aimed at South Korea by a Japanese official.
Earlier this week, Koichi Hamada, an economic adviser to Japanese Prime Minister Shinzo Abe, basically said South Korea needs to tend to its own monetary policy and stop blaming the weak yen for any economic woes it is currently experiencing.
In a press interview, Hamada said "Each country can take care of itself through its own monetary policy," adding that South Korea "shouldn't blame the Japanese central bank, they should demand the Korean central bank have a proper monetary policy," according to Bloomberg.
Hamada's comments are not having much of an impact on the $3.3 billion EWY, though it is worth noting that the weak yen has already hampered the largest South Korea ETF, a scenario that was forecast in this space nearly four months ago.
Since the yen started weakening in earnest last November, South Korea has been one of the most vocal critics of that slide and Abenomics, the economic policy named for the Japanese prime minister. South Korea has attempted to fight back and the Bank of Korea lowered interest rates by 25 basis points earlier this month to 2.5 percent.
Unfortunately for EWY, the ETF trades about $1 lower today than where it resided when the rate cut was announced on May 8. EWY's lack of positive response to the rate cut is concerning because the ETF does a good job of reflecting South Korea's advanced economy.
Unlike many emerging markets ETFs that have excessive weights to the financial services sector, EWY is an adequate play on South Korea's export-driven economy. The ETF allocates half its weight to technology and consumer discretionary names, according to iShares data.
And it is names such as Hyundai Motor and Kia Motors, two EWY top-10 holdings, that are proving vulnerable in the face of a weak yen. Perhaps that indicates the Bank of Korea is no match for the Bank of Japan. At least not yet.
"The Korean central bank can undo some of the negative effects from Japan's monetary expansion," said Hamada, according to Bloomberg.
For now, it can be said that Hamada's remarks amount to know more than chatter among export rivals and it is fair to say with rates at 2.5 percent, the Bank of Korea has plenty of room to move lower. Cautious investors should note it is also fair to say EWY has made a series of lower highs and unless it can break resistance at $58, the ETF could be vulnerable to more downside.
For more on ETFs, click here.
Posted-In: Long Ideas News Short Ideas Emerging Market ETFs Technicals Forex Global Intraday Update Best of Benzinga
View Comments and Join the Discussion!