Salesforce is One Investor's 'Favorite Stock to Hate'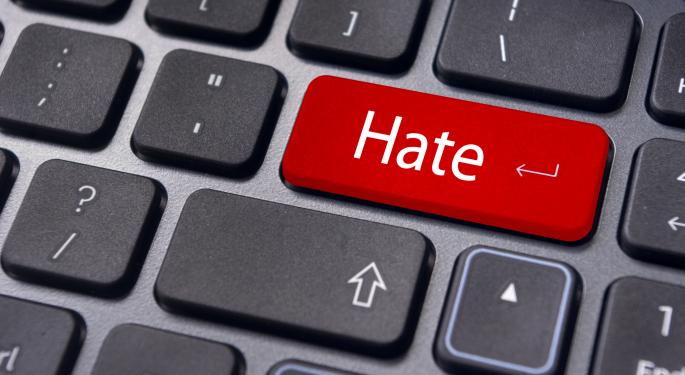 Is Salesforce (NYSE: CRM) worth the going rate of $168 per share? Many investors have already answered that question by investing in the stock.
Bob Auer, the Senior Portfolio Manager of SBAuer Funds, LLC, is not one of those investors. Before he is willing to buy a company, it must meet the following three characteristics:
"They had to have reported a quarter with 25 percent up earnings year-over-year."
"Sales had to be up 20 percent year-over-year."
"They had to be at below a 12 P/E."
Auer has examined Salesforce numerous times but it has yet to inspire him to take action.
"My favorite stock to hate that we've never owned is Salesforce.com," Auer told Benzinga. "It's a real head-scratcher to me. We're value investors and I don't get the thesis of it."
Salesforce currently trades at roughly 8.1 times sales and 10.66 times book value.
"We don't buy anything over 12 times profit, so even if you had eight times sales and no employees and no vendors to pay and it all went to the bottom line…" said Auer. "So let's say you took in a billion and your gross profit was a billion, then even after tax, you'd be down. So at eight times sales, it would just barely make our [requirement].
"It's got a $24 billion market cap. Total revenue is gonna be $3.8 billion on $24 billion market cap. The estimate from 42 analysts is $1.97 [per share]. I'm willing to go $1.97 times 12 -- that's a $23 stock to me, [but] it's hanging at [more than $160]."
Auer compared Salesforce's forward P/E to Cisco (NASDAQ: CSCO), which was once above $80 but has dropped to roughly $10.
"I'm not saying that Salesforce will eventually go to a $10 P/E, but I think that anyone who buys the stock at this level and doesn't pay any attention [is making a mistake]," Auer warned. "You might say, 'Well, P/E is for simpletons.' What about price-to-sales, price-to-book, price-to-cash-flow? Any other metric? Dividend yield is zero with a zero yield. Their trailing 12 months earnings is minus $1.90 EPS.
"I just don't get it. I just don't get what the thesis is there."
While Salesforce may never win Auer's vote, he has become a big fan of OmniVision (NASDAQ: OVTI).
"We've been in and out of that a few times over the last several years," he said. "They make the camera modules and sensors for tablets and smartphones."
Auer referred to OmniVision as the "Cadillac or Rolls Royce" of the camera world.
"Sony (NYSE: SNE) is probably their biggest competitor," he added. "But OmniVision is a pure play, and they have a new camera that's going in Google's (NASDAQ: GOOG) Nexus 5. It's going to be a 13 [Megapixel] camera module that does 4K video. For a little module in your smartphone to be able to record video at 4K, it's just amazing technology."
Auer thinks that the camera will be a huge selling point for the Nexus 5. He is also quite pleased with OmniVision's EPS estimates.
"It's estimated to make $1.30 EPS this year, $1.55 next year and $1.70 the following year," he said. "It's starting to have that growth that we needed."
Louis Bedigian is the Senior Tech Analyst and Features Writer of Benzinga. You can reach him at 248-636-1322 or louis@benzingapro.com. Follow him @LouisBedigianBZ
Posted-In: Bob Auer OmniVision Salesforce SBAuer FundsLong Ideas Success Stories Tech Trading Ideas Best of Benzinga
View Comments and Join the Discussion!