Does This Small Cap Machinery Company Deserve A Spot In Your Portfolio?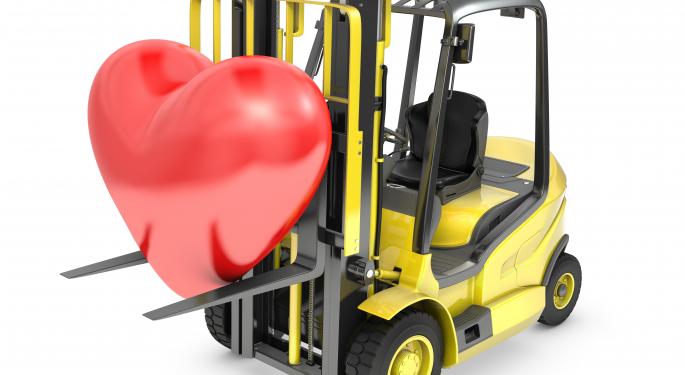 Hyster-Yale (NYSE: HY) designs and manufactures forklifts, with the majority sold at retail dealerships. The company also produces aftermarket parts, which accounted for 13 percent of its 2012 revenue.
Since becoming public in late 2012, the share price of Hyster-Yale has risen 25 percent with earning reports beating analyst expectations in both subsequent quarters. The company currently has a 1.86 percent annual dividend yield and paid a special dividend in December 2012.
As stated in the company's annual report, "Competition in the lift truck industry is intense." Top competitors include Toyota (NYSE: TM), Caterpillar (NYSE: CAT), and Linde.
One of Hyster-Yale's primary strategies to beat its competition is investment in research and development, which has increased from $48.6 million to $67.5 million over the last three years.
For the fiscal years ending in 2012 and 2011, operating income has increased from $70.6 million to $89.6 million, a 26.9 percent increase. Although profit increased, revenue decreased and expenses increased over the year. The company increased its profitability by reducing its cost of goods sold. If Hyster-Yale can maintain a lower cost of goods sold, its profitability has the potential to continue increasing.
In terms of valuation, Hyster-Yale's P/E ratio is only 9.11, significantly less than the industry average of 19.58. Price/Cash and Price/Book ratios follow a similar trend. These favorable valuation ratios can in part be credited to the short period of time the company has been public; investors are still establishing trust and building their knowledge of the firm.
Institutions purchased 8.2 million shares last quarter, compared to only 164 thousand shares in their first quarter of operation. Mutual funds purchased 1.5 million and 443,000 shares, respectively. These purchases bring institutional ownership to 66.8 percent.
Since its IPO, insiders have also been very active. While there have been no open market sales, there have been a significant amount of acquisitions and dispositions, which equal each other almost exactly.
Shares of Hyster-Yale are currently trading at $53.29.
Posted-In: Hyster-Yale LindeLong Ideas News Small Cap Analysis Small Cap Trading Ideas Best of Benzinga
View Comments and Join the Discussion!