Benzinga's M&A Chatter for Monday March 18, 2013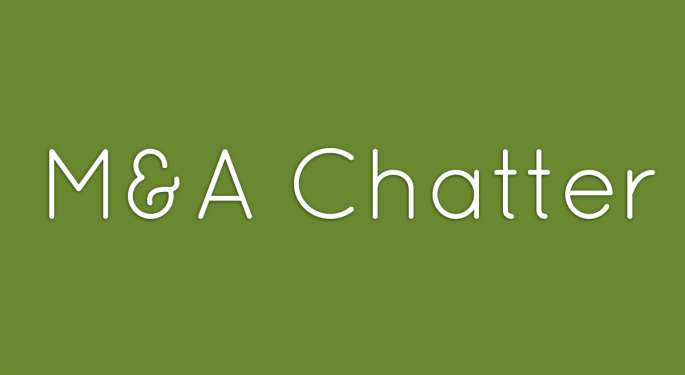 The following are the M&A deals, rumors and chatter circulating on Wall Street for Monday March 18, 2013:
Report Liberty Media to Acquire 25% of Charter Communications
The Rumor:
Shares of Charter Communications (NASDAQ: CHTR) surged higher Monday on a report from Wall Street Journal that Liberty Media (NASDAQ: LMCA) (NASDAQ: LMCB) is in talks to acquire a 25% stake in the nation's 4th largest cable operator for approximately $2.5 billion. Charter shares were halted for 5 minutes on a circuit-breaker.
A Charter Communications spokesperson declined comment on the report. A spokesperson for Liberty Media was not available for comment.
Charter Communications closed at $98.04 Monday, a gain of almost 9% on 5.5 times average volume.
Hearing Chatter First Solar Hired Goldman Sachs as Advisor
The Rumor:
First Solar (NASDAQ: FSLR) is rumored to have hired Goldman Sachs as an adivsor to handle a possible sale, according to unconfirmed market chatter. First Solar is frequently mentioned as a takeover target, with GE (NYSE: GE) mentioned most often as the rumored buyer.
A First Solar spokesperson was not available for comment.
First Solar closed at $26.93 Monday, a gain of 1% on lower than average volume.
Fusion-io Acquires ID7
The Deal:
Fusion-io (NYSE: FIO) announced Monday that it has acquired ID7, a pioneer in software defined storage and an open-source leader in shared storage systems, as well as the developers and key contributors of SCST, a Linux storage software subsystem utilized by many storage vendors throughout the world. ID7 has been collaborating with Fusion-io on software development for the ION Data Accelerator software that transforms industry standard servers into shared storage appliances.
The ID7 team, including the primary SCST developers, will join Fusion-io as a result of the acquisition. The teams will continue to collaborate with Fusion-io engineering from their current locations across Europe and the United States.
Fusion-io closed at $17.04 Monday, a loss of 2% on lower than average volume.
Cynosure to Acquire Palomar Medical Technologies for $13.65/Share in Cash and Stock Deal
The Deal:
Cynosure (NASDAQ: CYNO) and Palomar Medical Technologies (NASDAQ: PMTI) announced Monday that they have signed a definitive agreement, pursuant to which Cynosure will acquire Palomar in a cash and stock transaction valued at approximately $294 million. Palomar shareholders will receive $13.65 per share of Palomar common stock: $6.825 per share in cash and $6.825 per share in Cynosure common stock (subject to adjustment and collar provisions described in the definitive agreement). Cynosure will issue approximately 5.2 million shares in the transaction and fund the approximately $147 million in cash consideration through existing cash balances.
Palomar Medical Technologies closed at $13.17 Monday, a gain of 4% on 17 times average volume.
EDAC Technologies to be Acquired by Greenbriar Equity Affiliate for $17.75/Share in Cash
The Deal:
EDAC Technologies Corporation (NASDAQ: EDAC) announced Monday it has entered into a definitive agreement to be acquired by GB Aero Engine LLC, an affiliate of Greenbriar Equity Group LLC, for $17.75 per share in cash, pursuant to a cash tender offer and second step merger, for an aggregate equity value of approximately $104.1 million. Under the terms of the agreement, EDAC shareholders will receive $17.75 in cash for each share of EDAC common stock, representing a premium of approximately 29.6% over EDAC's average closing price during the 90 trading days ending March 15, 2013, and a 19.8% premium over EDAC's average closing price during the 30 trading days ending March 15, 2013.
EDAC expects the transaction to close in the second quarter of 2013. There can be no assurance that the tender offer will be completed, or if completed, that it will be completed in the second quarter of 2013.
EDAC Technologies closed at $17.70 Monday, a gain of 7.5% on 57 times average volume.
Posted-In: Long Ideas M&A News Short Ideas Rumors After-Hours Center Movers Trading Ideas
View Comments and Join the Discussion!