This Guy Raised His Salary 60% by Attending the Value Investing Congress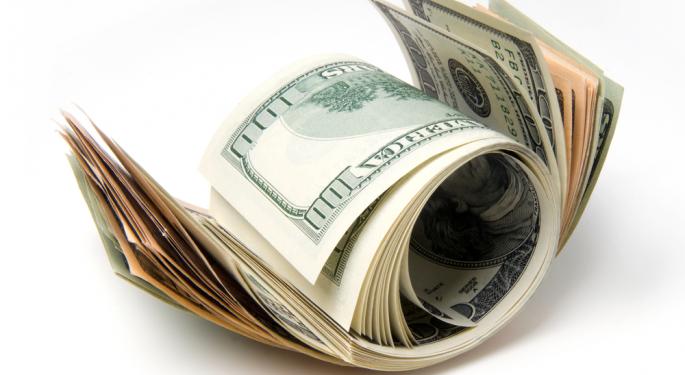 There are many reasons to attend the Eighth Annual Spring Value Investing Congress. In addition to the financially beneficial trading ideas, the Value Investing Congress also provides attendees with a unique opportunity to network.
"The networking part may very well be the most valuable part of the whole thing," John L. Schwartz, Co-Founder, Chairman and CEO of Schwartz Tilson Information, told Benzinga.
Schwartz, who co-founded the Value Investing Congress with Whitney Tilson (his partner at STI), spoke fondly of a man who advanced his career just by attending one VIC event.
"A guy sent me a really nice bottle of wine a few years ago," said Schwartz. "I called him to thank him and said, 'Why'd you do that?' He said, 'I came to your meeting, it was fabulous.' I said, 'Well, I'm not exactly giving it away. We charge a substantial amount of money to come.'
"He said, 'Yeah, but you don't understand. I came to your meeting and I was making $250,000 a year as an analyst at this fund. I met this guy, we talked, and then he invited me to have breakfast the next morning. We talked some more and I came out of there with a $400,000 a year job at a new fund.'"
This is one of the many reasons why Schwartz loves face-to-face meetings. "All these new media, all these new forms of communication are fabulous," he said. "But at the end of the day, all businesses are about human beings and human interaction and there really is something about getting to talk to somebody or being in physical proximity to them.
"There are all kinds of non-verbal cues that we human beings share and pick up on, so the interaction and networking, though it's kind of a clichéd term, is very important."
Rising Stars
One of the key differentiators of the Eighth Annual Spring Value Investing Congress is that it features a new show format.
"In terms of the new format, we've got a number of things happening," said Schwartz. "It's not only that we have more speakers, we're having what we call 'Rising Stars' -- people who have been performing very well but they run small funds and are sort of below the radar.
"We're bringing a bunch of them. I vet them pretty carefully to make sure that A) their record is solid and real, and B) that they're not only smart but they can speak and they're coherent. Part of teaching is just being able to relate to an audience. Some people can and some people can't, and we work very hard to make sure that everyone that comes to our meetings can."
Common Interest Tables
"Another thing we're doing, which I think should be useful as well, at lunch we're going to have common interest tables," Schwartz added. "About a month before the meeting, we will poll the attendees [and] get the 10 most interesting ideas, whether it's investing in India or investing in small caps or distressed debt or whatever.
"Then we will actually label 10 tables at lunch with those things and then choose a person who's interested in this and is a good, knowledgeable moderator and have them be there so people can choose the table they want and the topic they want and chat with other people about those ideas. We think this will be useful."
Scheduled to take place on May 6 and 7, 2013, the upcoming event will feature a number of other prominent speakers, including Whitney Tilson, Cara Jacobsen, Phillip Goldstein and John Hempton.
Benzinga readers can save $1,600 off the entry price if they register and enter code S13BZ6 by Thursday, February 28.
Follow me @LouisBedigianBZ
Posted-In: Value Investing CongressLong Ideas News Short Ideas Events Success Stories Trading Ideas General Best of Benzinga
View Comments and Join the Discussion!