Buffett Puts His Money Behind Newspapers, Should You?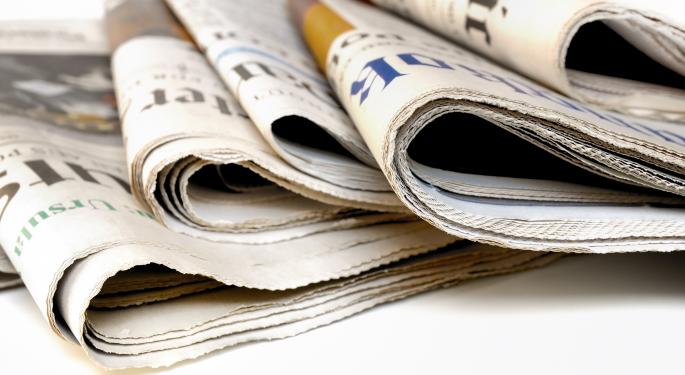 Gannett (NYSE: GCI) was down Monday along with The New York Times (NYSE: NYT), Lee (NYSE: LEE), McClatchy (NYSE: MNI), Journal Communications (NYSE: JRN), and Media General (NYSE: MEG).
As media companies have scrambled to reinvent themselves, their customers have discovered cable television news, the Internet, and texting. The media business has changed and that's not good for the newspaper business.
In the midst of this electronic information renaissance, Warren Buffett has been buying newspapers. And, mostly, not even large ones. Many of Buffett's acquisitions have circulations of around 60 thousand.
What does Warren know? What insight does the Oracle of Omaha have that the rest of the world does not?
Buffett's recent purchase of the News & Record in Greensboro is only the latest in a string of investments in daily newspapers made by him and his company, Berkshire Hathaway (NYSE: BRK-B).
The biggest buy came last year, when he bought several newspapers from Media General, including the Winston-Salem Journal. So, what's the attraction?
Buffett revealed both his newspaper philosophy and strategy to Howard Kurtz at the Daily Beast.
First, he is a fan of newspapers. He likes to hold them and he likes to read them.
He also has faith in them. He thinks newspapers have a specific role to play in society and serve a valuable purpose.
However, Buffett doesn't see the old school paper boy once again standing on street corners screaming, "extra, extra, read all about it" any time soon. He told Kurtz that he is not counting on newspapers to be a big part of Berkshire Hathaway's revenues or growth.
Still, he thinks there is profit potential. One of the reasons for this, Buffett believes, is because buying newspapers has become less expensive. The terms of the News & Record deal aren't publicly known, but it is almost certainly less than the owner was asking.
According to a report by Devin Leonard in Bloomberg Business Week, newspaper properties were selling for about nine times EBITDA prior to 2006. Bloomberg estimated that Buffett paid only four times EBITDA for the Media General papers.
Buffett further believes that newspapers must have a local focus. "They have to serve smaller markets where there is more a feeling of community," Buffett told Kurtz.
Finally, Buffet believes getting younger people to read the printed word is not a lost cause: "High school sports will pull them into the paper," he told Kurtz.
Buffett has backed up his faith in the printed word by amassing 27 daily newspapers all together.
The News & Record has a daily circulation of about 58,000 which fits nicely with BH Media's other newspapers, most of which are similar in size. BH Media Group is the division of Berkshire Hathaway that operates its newspapers.
Berkshire also holds stakes in Lee Enterprises, Gannett Co., and The Washington Post Co. (NYSE: WPO)
Posted-In: Bloomberg newspaper Warren Buffett Washington PostLong Ideas News Trading Ideas Best of Benzinga
View Comments and Join the Discussion!