Benzinga's M&A Chatter for Thursday January 17, 2013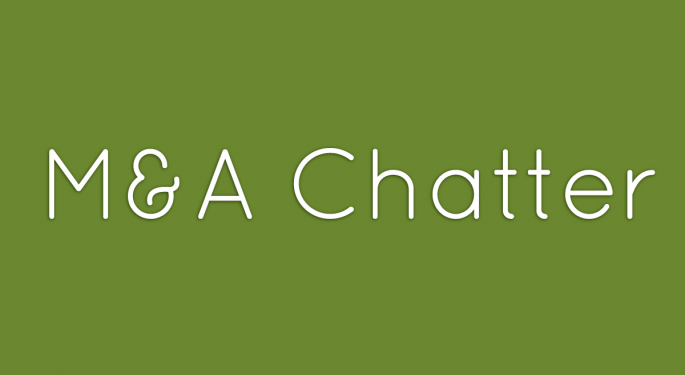 The following are the M&A deals, rumors and chatter circulating on Wall Street for Thursday January 17, 2013:
E.Land World to Acquire K-Swiss for $4.75/Share in Cash
The Deal:
K-Swiss (NASDAQ: KSWS) and E.Land World announced Wednesday entry into a definitive agreement pursuant to which E.Land World will acquire all of the outstanding common stock of K-Swiss for $4.75 per share in cash, or a total equity value of approximately $170 million.
Under the terms of the agreement, K-Swiss stockholders will receive $4.75 in cash for each outstanding Class A and Class B share of K-Swiss common stock they own, representing a 49% premium over the closing price for a share of Class A common stock on the NASDAQ Stock Market on January 16, 2013, and a 62% premium over the three-month, volume-weighted average trading price for a share of Class A common stock on the NASDAQ Stock Market as of January 16, 2013.
K-Swiss closed at $4.71 Thursday, a gain of 47% on 131 times average volume.
Big Lots Surges on Chatter of Renewed PE Interest
The Rumor:
Shares of Big Lots (NYSE: BIG) spiked higher on a report from Deal Reporter of renewed private equity interest.
A spokesperson for Big Lots was not available for comment.
Big Lots closed at $31.22 Thursday, a gain of almost 5% on 3 times average volume.
Weiss Family Raises Bid for American Greetings to $17.50/Share
The Offer:
American Greetings (NYSE: AM) CEO Zev Weiss and President Jeffrey Weiss reported in a 13D filing on Thursday that they have raised their offer to acquire the company for $17.50 per share. The Weiss family had offered $17.18 per share on September 25, 2012.
The Weiss family, who owns 63.6% of American Greetings, reported they have commitments for $700 million in financing.
American Greetings closed at $15.48 Thursday, but traded at $17 after-hours on the report.
Stryker Offers to Acquire Trauson Holdings for $764M in Cash
The Offer:
Stryker Corporation (NYSE: SYK) and Trauson Holdings Company announced Thursday that Stryker will make a voluntary general offer to acquire all the shares of Trauson for HK $7.50 per ordinary share for a total consideration of $764 million in an all cash transaction, representing an enterprise value of approximately $685 million. Trauson`s controlling shareholder, Luna Group, has undertaken to accept the offer from Stryker by tendering 61.7% of the Trauson shares towards the offer.
Stryker closed at $60.62 Thursday, a gain of 2% on higher than average volume.
Posted-In: Long Ideas News Short Ideas Rumors M&A Global After-Hours Center Movers
View Comments and Join the Discussion!