Herbalife Soars as Analyst Meeting Only a Week Away; Too Late to Get In?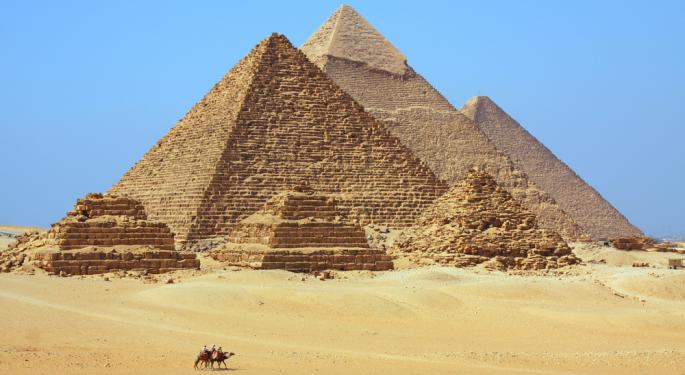 We've speculated that buying shares of Herbalife (NYSE: HLF) ahead of an analyst meeting in New York (scheduled for January 10) could prove prudent.
The stock, which has become an intense battleground pitting short-sellers against the company, opened Thursday slightly higher at $32.46.
Herbalife continued to soar all session, hitting an intra-day high of $37.10. In afternoon trade, HLF was up almost 12 percent to just under $37.00 after coming off of session highs as the market pulled back. Currently, the multilevel marketing company is the most volatile and talked about stock on the New York Stock Exchange and fortunes are being printed in the name on a daily basis.
On December 20, billionaire hedge fund manager Bill Ackman, the founder of Pershing Square Capital Management, revealed in a 342-slide PowerPoint presentation that he had shorted more than $1 billion worth of Herbalife stock. In the presentation, which lasted three hours and took place at the Ira Sohn investment conference, Ackman said that the company is running an illegal pyramid scheme and that he thinks the shares will go to $0.
He argued that despite consistent and prolific sales and profit growth, Herbalife will eventually come under intense regulatory scrutiny or collapse. Ackman added that his massive bet was the highest conviction short that he has ever had. As a multilevel marketer, Herbalife sells nutritional and weight-management products through third-party distributors who are compensated on both sales and recruiting of other distributors.
According to Ackman's thesis, the company's distributors are incentivized primarily to recruit other distributors as opposed to selling as much retail product as possible. This ever expanding base of Herbalife distributors (who buy product), is the way that the company drives sales growth, according to Ackman. He argues that actual retail sales by these distributors is much lower than what is reflected in the company's financial results and that the over-reliance of distributor recruiting to drive sales expansion makes Herbalife a pyramid scheme.
Prior to April 30, 2012 the stock traded above $70. At that time, another noted short-seller and billionaire hedge fund manager David Einhorn asked some pointed questions on an earnings conference call which spooked the market. The stock subsequently fell under $50 where it remained in a range until Ackman's short attack in December.
After the Pershing Square founder revealed his gigantic short bet against Herbalife, the stock plummeted to a low of $25 on the day before Christmas. Subsequently, however, HLF has been storming back as analysts and other investors have been critical of Ackman's argument against the company.
Herbalife has also gone on the attack. Herbalife CEO Michael Johnson accused Bill Ackman of "blatant market manipulation." He added that "This appears to be another attempt to illegally manipulate the market by a group of short sellers." On the company's investor relations website, Johnson also provides a detailed rebuttal to the short-seller's attacks in a video.
In addition, the company has hired boutique investment banking firm Moelis & Company and law firm Boies, Shiller & Flexner to defend itself against Ackman's accusations. Even more importantly, Herbalife has publicly disclosed that it has $950 million left on its existing share buyback authorization and it is very likely that it will use these funds to purchase its stock at today's rock-bottom valuation.
Heading into the all-important January 10th analyst and investor meeting where Herbalife's management will provide a point by point rebuttal to Ackman's blitzkrieg attack, there are numerous catalysts to push HLF higher. It also seems as if more and more investors are choosing to bet against the swashbuckling hedge fund manager.
On Thursday, Robert Chapman, the founder of investment company Chapman Capital, posted a compelling argument as to why he has decided to make a huge bet on Herbalife. The key to his thesis for the investment is that he believes Bill Ackman went public with his short crusade because he came to the realization that the FTC would not take action against the company.
As a result, he realized that he needed to do something to negatively impact current and prospective HLF distributors in order to crater the stock. As Chapman writes, "Indeed, without the FTC taking injunctive actions against HLF, Ackman's crusade toward 'zero' is doomed."
The bottom line for investors is that Bill Ackman's standoff has created a wealth of opportunity in this stock. When he initially revealed his big short position, there was ample time and opportunity to ride his coattails as the stock plunged for four straight trading days. Since finding a bottom on December 24th, however, the trend has clearly been up.
There are now four trading days left until the January 10 analyst meeting, and there may very well be more upside in the name during this time. Also, if things go smoothly at the meeting in New York, it is not inconceivable that HLF will be trading well over $40 by the end of next week. For investors who believe that there will be no regulatory action taken against HLF the stock continues to appear to be an attractive risk/reward play in the near-term.
The shares are trading at a near historical low valuation and Herbalife's reported financial results have been impeccable over the last five years. Although the publicity surrounding the company could impact sales and earnings in the near-term, the current valuation provides a considerable margin of safety assuming there is no regulatory action.
The stock trades at a forward P/E of roughly 8 and a PEG ratio of 0.48. This is quite a bargain for a company which is expected to post sales growth of 17.80 percent in the December quarter.
Wall Street analysts are not abandoning this company and the median price target on the stock is $76.00, implying well over 100 percent returns from current levels. While the situation is certainly rife with risk, HLF could be a game changing investment if the company and its shareholders are able to successfully fend off Bill Ackman and Pershing Square.
Posted-In: Long Ideas News Rumors Hedge Funds Movers & Shakers Management Intraday Update Movers Best of Benzinga
View Comments and Join the Discussion!