Benzinga's M&A Chatter for Thursday December 20, 2012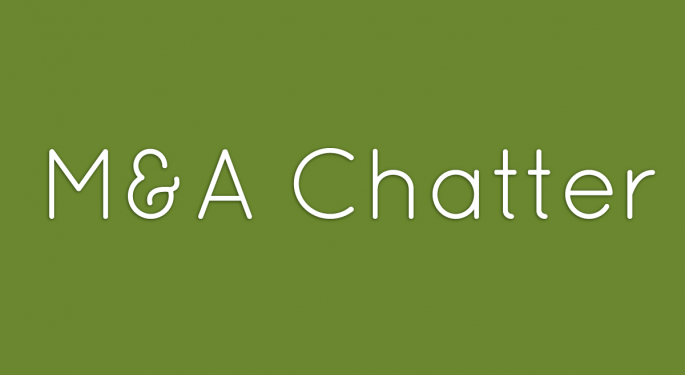 The following are the M&A deals, rumors and chatter circulating on Wall Street for Thursday December 20, 2012:
IntercontinentalExchange to Acquire NYSE Euronext For $33.12 Per Share in Stock, Cash Deal
The Deal:
IntercontinentalExchange (NYSE: ICE) and NYSE Euronext (NYSE: NYX) announced Thursday, a definitive agreement for ICE to acquire NYSE Euronext in a stock-and-cash transaction.
Under the terms of the agreement, which was unanimously approved by the Boards of both companies, the transaction is currently valued at $33.12 per NYSE Euronext share, or a total of approximately $8.2 billion, based on the closing price of ICE's stock on December 19, 2012. NYSE Euronext shareholders will have the option to elect to receive consideration per NYSE Euronext share of (i) $33.12 in cash, (ii) 0.2581 IntercontinentalExchange common shares or (iii) a mix of $11.27 in cash plus 0.1703 ICE common shares, subject to a maximum cash consideration of approximately $2.7 billion and a maximum aggregate number of ICE common shares of approximately 42.5 million.
NYSE Euronext closed at $32.25 Thursday, a gain of 34% on 32 times average volume.
Report Compuware Hires Goldman Sachs, Allen & Co to Review Elliot Bid
The Offer:
Compuware (NASDAQ: CPWR) has reportedly hired Goldman Sachs, Allen & Co to review Elliot Management's $11.00 per share offer, according to Detroit News. Elliot offered $2.3 billion for Compuware on December 17.
A Compuware spokesperson was not available for comment.
Compuware closed at $10.85 Thursday, a gain of $0.05 on lower than average volume.
Oracle Buys Eloqua for $23.50/Share
The Deal:
Oracle (NASDAQ: ORCL) announced Thursday that it has entered into an agreement to acquire Eloqua (NASDAQ: ELOQ) for $23.50 per share or approximately $871 million, net of Eloqua's cash.
The Board of Directors of Eloqua has unanimously approved the transaction. The transaction is expected to close in the first half of 2013, subject to Eloqua stockholder approval, certain regulatory approvals and other customary closing conditions.
Eloqua closed at $23.66 Thursday, a gain of 32% on 34 times average volume.
Posted-In: Long Ideas News Short Ideas Rumors M&A Global After-Hours Center Trading Ideas
View Comments and Join the Discussion!